Introduction to Earth Systems
Examination of active systems and processes that link the solid Earth to the hydrosphere, atmosphere and biosphere, achieved through laboratory and field activities. Entails a survey of the chemical and physical makeup of igneous, metamorphic, and sedimentary rocks, and processes of rock formation within the context of the plate tectonic framework. Acquaints students with local stratigraphic units and their paleoenvironments of formation, as a means to comprehend Earth time. Explores mountain building, and earth structures, as they relate to earth resources and to geological events that impact society. Meets the Critical Perspectives: Scientific Investigation of the Natural World lab or field requirement. Meets the Critical Learning: SA requirement.
Prerequisite: No credit after Geology 150.
Degree requirement — Critical Learning: SA, Critical Perspectives: Lab
1 unit — Gevedon, Grambling, Myrow
Previously Featured Offering
Physical Geology will make use of the local Rocky Mountain settings as a natural laboratory in order to investigate Earth history preserved in rocks. Students will learn to observe earth materials by collecting and interpreting geochemical & geophysical data. The course will involve a considerable amount of time in the field.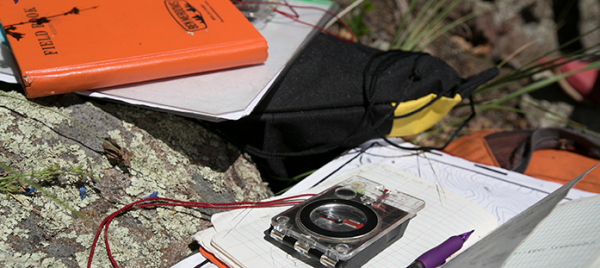 What can rocks tell us about the earth's history?
GY 140 is a one-block course that introduces the fundamentals of geoscience using the Rocky Mountain and Colorado Plateau settings as a natural laboratory. We will investigate the record of the Earth's history preserved in the rocks and the dynamic geologic processes active in the mountain and desert environments. We will also focus on how human activities are affected by and affect these processes.

We will (weather cooperating) spend more than half of our class time in the field, on trips ranging from a half-day to five-days length. The field trips will be project oriented and are probably the most important part of the class. We will be camping out all of the third week of the block, so you will need to be prepared, physically and psychologically, for the vagaries of Colorado weather (this holds for our other trips as well).

Our goal is that by the end of the class you will be able to "read the landscape" in the Rocky Mountain West and elsewhere. Whether this class is a first step towards a Geology major or your only venture into the earth sciences, we hope that you will carry away from it an appreciation of how this region has been shaped by geological processes and how those processes influence its human inhabitants.
Offerings
| Term | Block | Title | Instructor | Location | Student Limit/Available | Updated |
| --- | --- | --- | --- | --- | --- | --- |
| Fall 2022 | Block 1 | Introduction to Earth Systems | Michelle Gevedon | Palmer Hall 16 | 25 / -1 | 06/02/2023 |
| Fall 2022 | Block 2 | Introduction to Earth Systems | Paul Myrow | Palmer Hall 16 | 32 / -1 | 06/02/2023 |
| Spring 2023 | Block 7 | Introduction to Earth Systems | Paul Myrow | Palmer Hall 16 | 25 / 3 | 06/02/2023 |
| Spring 2023 | Block 8 | Introduction to Earth Systems | Michelle Gevedon | Palmer Hall 16 | 25 / 3 | 06/02/2023 |
| Fall 2023 | Block 2 | Introduction to Earth Systems | Michelle Gevedon | TBA | 25 / 6 | 06/02/2023 |
| Fall 2023 | Block 3 | Introduction to Earth Systems | Paul Myrow | TBA | 25 / 8 | 06/02/2023 |
| Fall 2023 | Block 4 | Introduction to Earth Systems | Tyler Grambling | TBA | 25 / 11 | 06/02/2023 |
| Spring 2024 | Block 6 | Introduction to Earth Systems | Michelle Gevedon | TBA | 25 / 25 | 06/02/2023 |