Parent and Family Giving
Parent and Family Giving plays an important role in providing opportunities for parents and families to engage in the life of the college.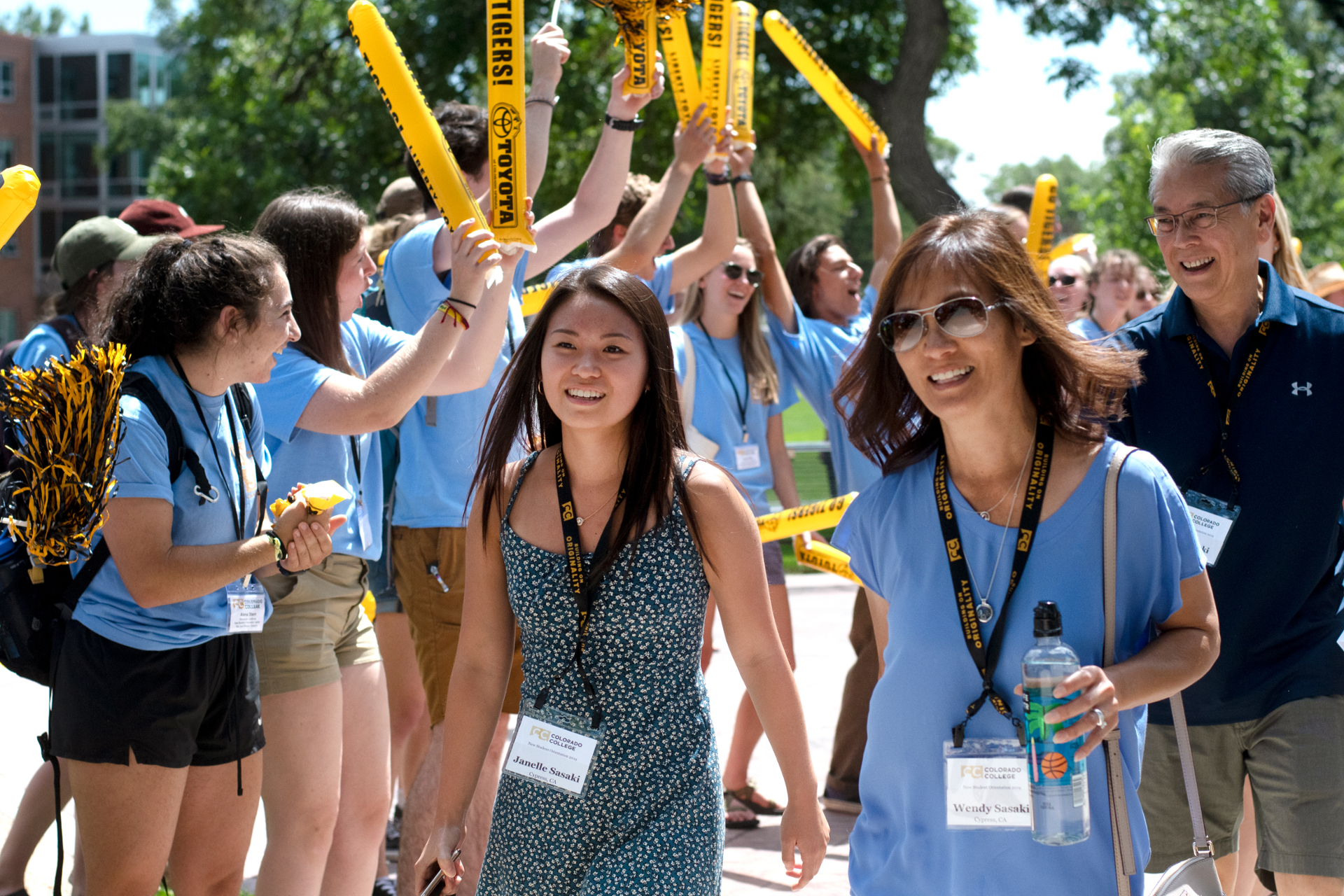 Our mission is to garner support for the Parents Fund. The Parents Fund was created to bridge the gap between what tuition covers and the rest of the cost of educating a CC student. This gap currently is approximately 30 percent. For generations, Colorado College parents and family members have given unrestricted gifts that reinforce every part of the CC experience.
The Parents Fund provides support for the college's annual operating budget, which helps maintain every part of the CC experience — including financial aid, faculty and academic programming, athletics, career placement, independent research, outdoor education programs, global study, and our beautiful campus. Gifts to the Parents Fund provide direct and immediate revenue in the year that they are given.


The CC Experience
At CC, students encounter a high quality, experientially and culturally based immersive education. The college's innovative Block Plan provides the flexibility to offer meaningful experiences on campus and off.
Whether it's a Keller Venture Grant that allows an undergraduate scholar to propose and complete an in-depth research project, a field study excursion to apply knowledge learned in the classroom, or a Dynamic Half Block course that helps prepare a student for the career of her dreams, there are many opportunities for engaged learning that extend throughout and beyond the academic year.
Tuition alone does not cover the costs involved in making such diverse and life-forming opportunities available, so the college must bridge the gap by raising funds through gifts from parents and families, alumni, friends, foundations, and corporations.
What Does a CC Education Really Cost?
It may surprise you to learn that the cost of a CC education adds up to more than tuition, fees, and room and board. Two-thirds of a CC student's education comes from tuition and fees. The other third comes from the endowment payout, annual giving, and other revenues.
Cost of a CC Education
The cost of the Colorado College experience per student per day is $239 (based on a 365-day average).

42% Faculty who love to teach and the staff who assist them: $100.50
23% Financial aid: $55.03
14% Instructional and out-of-classroom opportunities (student life, athletics, residential life): $33.50
11% Auxiliary (housing/dining): $26.32
10% College operations and campus infrastructure: $23.92
Arc of Family Giving
Optimize your philanthropy to Colorado College by structuring the size and complexity of your gifts each year. This outlines a giving strategy popular among CC families:
Parents Fund is your first gift
Consider increasing your gifts to Parents Fund in subsequent years
Add your support for special projects, according to your student's experiences and interests
Your capstone gift (Senior Family Giving Campaign)
a) Increase Parents Fund gift
b) Invest in special projects to celebrate your student's experience
c) As appropriate, involve your student in the philanthropic process
d) Consider gift planning opportunities
Ongoing
a) Continue Parents Fund giving
b) Consider gift planning opportunities
Parents Council
Approximately eight Parents Council members are selected per class. Parents Council households bolster the college at a giving level of $25,000 or more annually and meet twice during the school year. For more information, download this document or contact Molly Bodnar at (719) 389-6351.
Opportunities for Leadership Giving
Lead the way by participating in our recognition programs. Parents who give at the leadership level of $1,874-plus annually automatically qualify for one of Colorado College's Donor Recognition Societies. In appreciation of this involvement, members are invited to special donor-recognition events on and off campus.
Multiply your Impact through Matching Gifts
The impact of your gift to Colorado College may be doubled or tripled! Many employers sponsor matching gift programs and will match most charitable contributions made by their employees. To find out if your company has a matching gift policy, visit our Matching Gifts page or contact your employer's human resource department.
Contact Us

Molly Bodnar
Associate Vice President and Campaign Director
(719) 389-6351 
Parents and family members are encouraged to contact parents@coloradocollege.edu for support and for ways to stay connected to your student.