Welcome
Colorado College is a member of the Consortium for Faculty Diversity, which "is committed to increasing the diversity of students, faculty members and curricular offerings at liberal arts colleges with a particular focus on enhancing the diversity of faculty members and of applicants for faculty positions." Through robust and collaborative mentoring, the Riley Scholars-in-Residence Program at Colorado College offers one-year fellowships to predoctoral and postdoctoral scholars hired through the Consortium.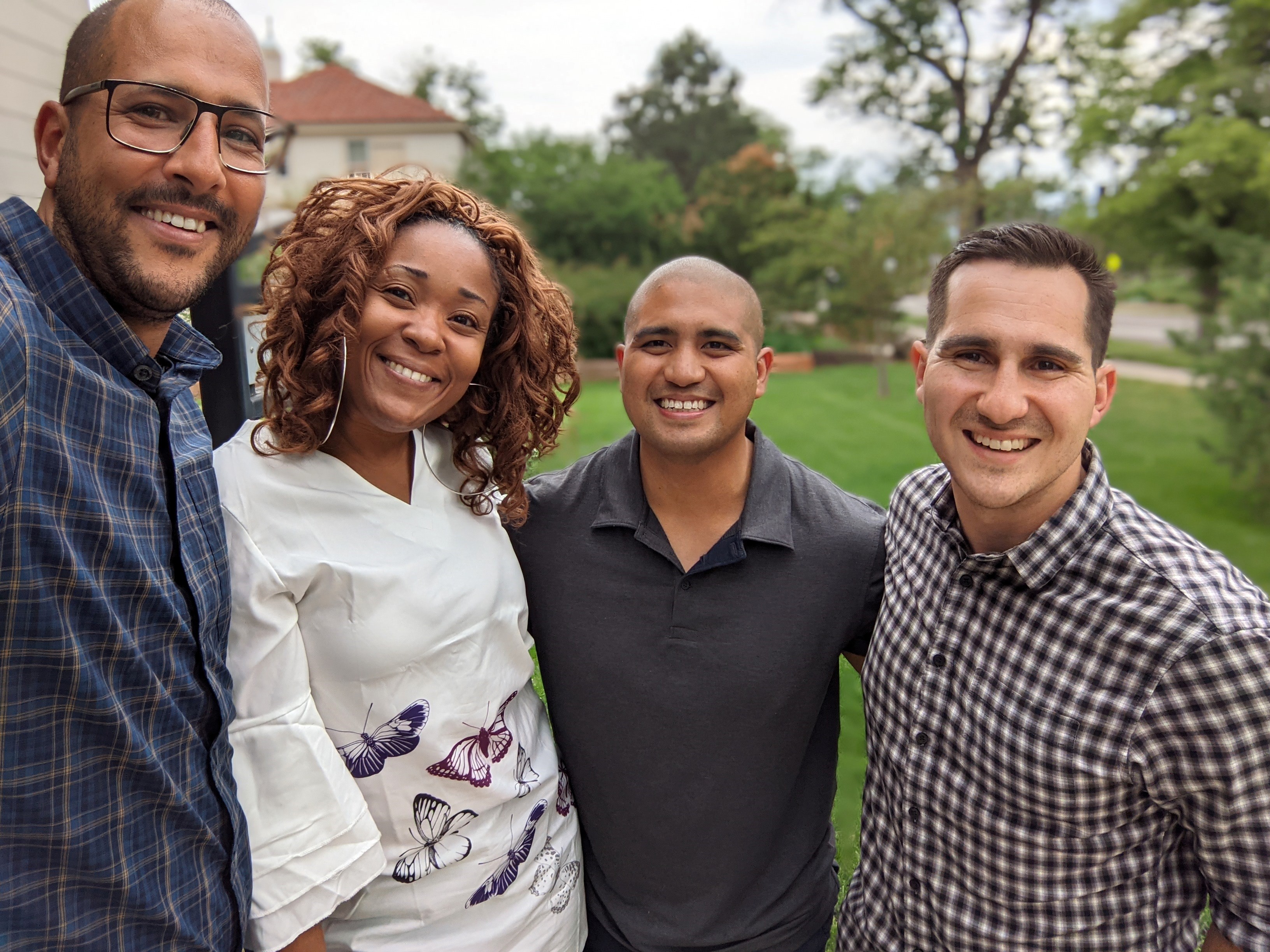 The 2020-2021 End-of-Year and Farewell Gathering
Left to Right: Solomon Seyum (Geology, 2019-2021), Heidi R. Lewis (Program Director), Ryan Buyco (Asian Studies, 2019-2021), and Juan Miguel Arias (Education, 2020-201). Not Pictured: Ahmad Alswaid (Arabic, Islamic, and Middle Eastern Studies, 2020-2022).
Mission
The Riley Scholars-in-Residence Program provides Riley Scholars with opportunities to complete their dissertation or cultivate their postdoctoral research and enter the academic job market, while gaining meaningful experience teaching undergraduates in a liberal arts educational setting. The program also provides participating departments and programs with opportunities to enhance mentoring skills, diversify their faculty, enhance course offerings, and improve departmental or programmatic climate.
Vision
The Riley Scholars-in-Residence Program aims to recruit and retain faculty with marginalized social identities in the professoriate, especially at liberal arts colleges and universities in the U.S. The program also aims to situate Colorado College as a premier site for faculty development, especially concerning undergraduate teaching excellence and quality scholarship.
Leadership
Heidi R. Lewis, Associate Professor of Feminist & Gender Studies, is the Coordinator of Early Career Faculty Development Programs, which includes directing the Riley Scholars-in-Residence Program, working directly with the Riley Scholars as they navigate the program. Peony Fhagen, Senior Associate Dean for Equity, Inclusion, & Faculty Development and Director of the Crown Faculty Center, works with departments and programs interested in or currently hosting Riley Scholars.