Colorado College Refugee Alliance
Mission
The CC Refugee Alliance exists to connect CC students, faculty, and staff in meaningful ways with refugees and asylum seekers in Colorado Springs. We also participate in activist and advocacy campaigns to support immigrants in the Colorado Springs community as well as the larger immigrant community in the United States.

In alignment with the Immigrant & Refugee Justice Coalition of the CC Collaborative for Community Engagement, we help connect individuals volunteer through Lutheran Family Services to help mentor and support refugees to achieve self-sufficiency in the US, provide ESL tutoring, attend events with speakers on issues relating to immigration on campus, and support other community movements, such as that of the Colorado Springs Sanctuary Coalition and the Colorado Springs Immigrant Accompaniment Program network.
Join Our Alliance Work!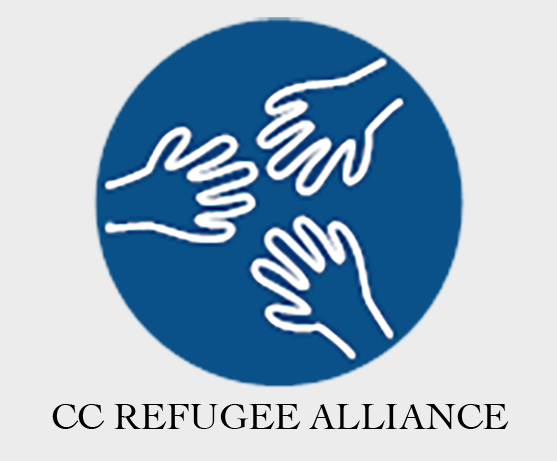 The CC Refugee Alliance is open to students, staff, and faculty (as well as recent alums!), and you may join any time. We are aligning this year (2020-2021) with the new "Immigrant & Refugee Justice" Coalition (one of ten new coalitions this year) at the Collaborative for Community Engagement (CCE).
In order to join us, please sign up for the Immigrant & Refugee Justice Outlook Group. We will also be holding joint meetings this year, through the CCE. The email group replaces the former Summit membership, and will be our primary way of communicating and connecting folks with the needs of our community partners working with immigrants and refugees in Colorado Springs, going forward!
If you are on Facebook, please follow the CC Refugee Alliance page for up-to-date information and a listing of all current events and trainings as well.
Update, Fall 2020:
Welcome to the new academic year from the CC Refugee Alliance! While this year definitely looks different than past years, we are still staying active as an alliance and looking forward to the ways we can continue to support our refugee and immigrant neighbors during this time.
Opportunities with Lutheran Family Services' Office of Refugee Resettlement this fall semester:
There is a need right now for individuals to work virtually to offer one-on-one to support refugee employment searches (finding jobs, helping clients to prepare for interviews, etc) in this difficult time where unemployment is high. No previous experience is necessary, we will offer support and training.


Similarly, we are also working to create one-on-one virtual pairings for overall mentoring and accompaniment to a local refugee, either new arrivals or those who may have been here for a while, to help with integration into new home culture and American systems --like housing or education or bureaucracy like the DMV. Again, we would provide guidance and support even if volunteers feel they may not be super knowledgeable in this area. We are looking for volunteers who are able to help navigate systems because of their English level.


There are potential needs for virtual academic subject tutoring with a refugee high-school or college student, one-on-one.


If you were already doing ESL tutoring and were paired with a client last year or this summer, those relationships can continue, and we will offer support and any training needed! No new ESL pairings for the time being, given the constraints of the virtual setting for beginning an ESL tutoring relationship.
We also look forward to working closely with the Immigrant & Refugee Justice Coalition on more projects this year. Please join the email list above to be kept informed!
Previous Updates: Watch the Films from the first CC Refugee Film Festival
The CC Refugee Alliance & CC Films for Social Justice held our first Refugee Film Fest & Story Sharing event on Sunday, December 3, 2017. If you missed it, all four of the excellent short films we screened are available to watch online for free:
Wrestling Za'atari (12 minutes)

The Island of All Together (22 minutes)
Feature film:
Fuocoammare (Fire At Sea)
Preview is here
, available for rent on Amazon Video and other platforms