Calendar
2015-16 Fall Semester
Block 2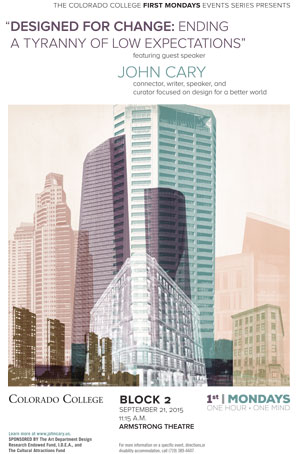 Designed for Change: Ending a Tyranny of Low Expectations
John Cary, Author, Curator, and Architect
Sponsors: The Art Department Design Research Fund, IDEA, and The Cultural Attractions Fund
Originally trained as an architect, John Cary characterizes himself as a connector who focuses on design as a pathway for social justice. Cary's work as a writer, speaker, and curator engages with areas of public health, reproductive rights, philanthropy, and social justice. He is an advisor to Aspen Global Health & Development, a global advisory board member of Possible Health in rural Nepal, and a member of the venture capital firm Kleiner Perkins Caufield & Byer's Design Council. He also served as the founding executive director of Autodesk Foundation, a first-of-its-kind foundation focused on design for impact. His first book, The Power of Pro Bono, was published in 2010. Cary's First Monday presentation will examine the ways in which architecture, landscape design, and industrial design can catalyze social change within communities. The talk is presented in conjunction with the "Beyond the Building," an exhibition at IDEA Space that examines the socially engaged work of architectural firm MASS Design Group.
Block 3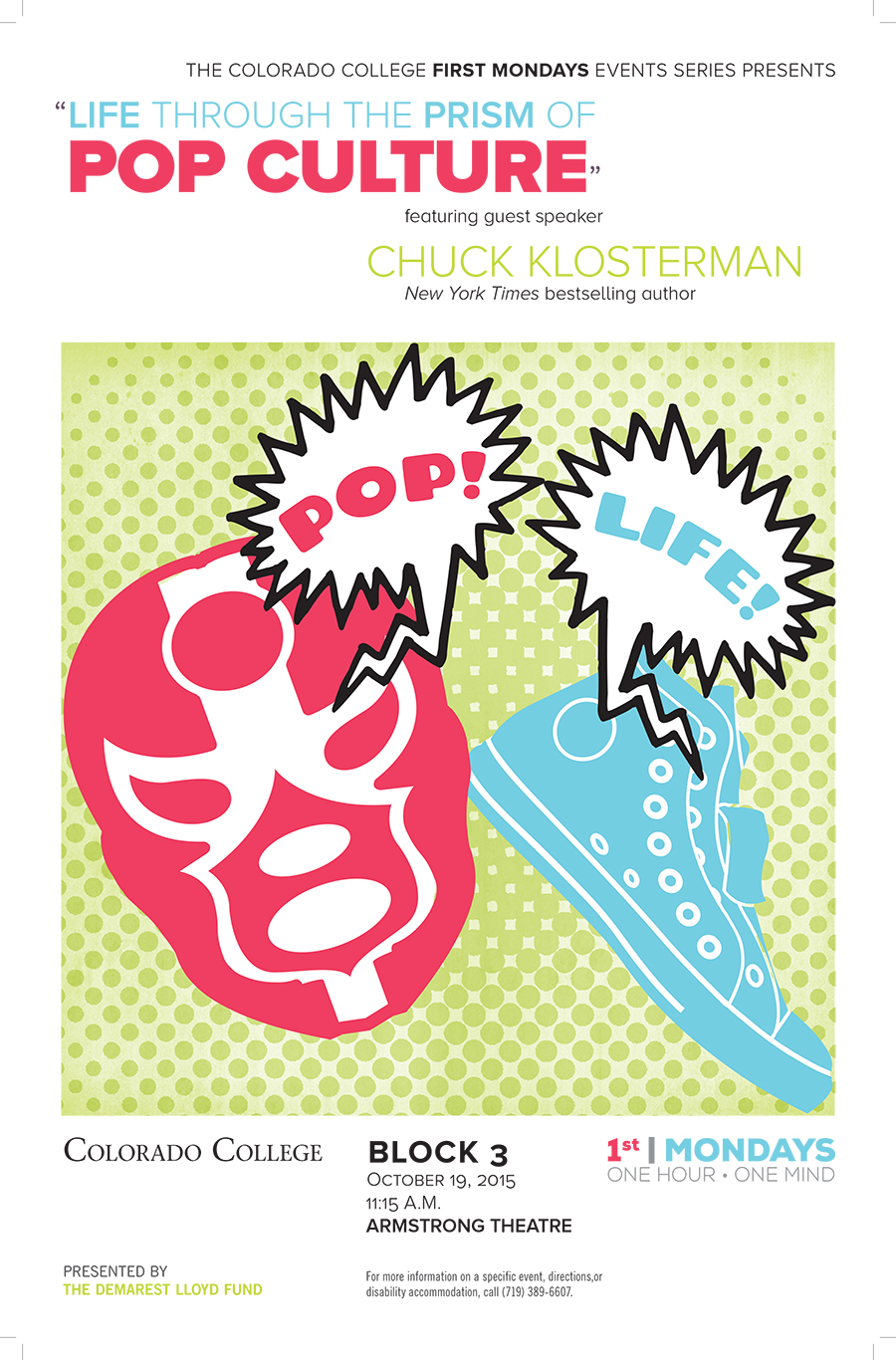 Life Through The Prism of Pop Culture
Chuck Klosterman, Author of Sex, Drugs, and Cocoa Puffs
Sponsor: Demarest Lloyd Endowed Lecture in Humanities
In this talk, New York Times bestselling author Chuck Klosterman discusses how pop culture shapes a person's identity. Why do so many of us define ourselves by the media we consume—the music we love, the movies we obsessively reference, the television we can't stop watching? With inspired leaps of logic and a sense for relatable minutiae, Klosterman shows us how pop culture becomes inextricably linked with our memories, how it helps us understand the world, and what this says about us, as individuals and as a society. Bright with provocation, hilarious non-sequiturs and good-natured debate, an evening with Klosterman will help you see our accelerating world, and the little connections that make it fascinating, in a newly appreciative light.

Chuck Klosterman is the New York Times bestselling author of six books of nonfiction (including Sex, Drugs, and Cocoa Puffs and I Wear the Black Hat) and two novels (Downtown Owl and The Visible Man). His debut book, Fargo Rock City, was a winner of the ASCAP-Deems Taylor Award. He has written for GQ, Esquire,Spin, The Washington Post, The Guardian, The Believer, andThe A.V. Club. He is the former writer of "The Ethicist" column in the New York Times and currently covers sports and popular culture for Grantland.
Block 4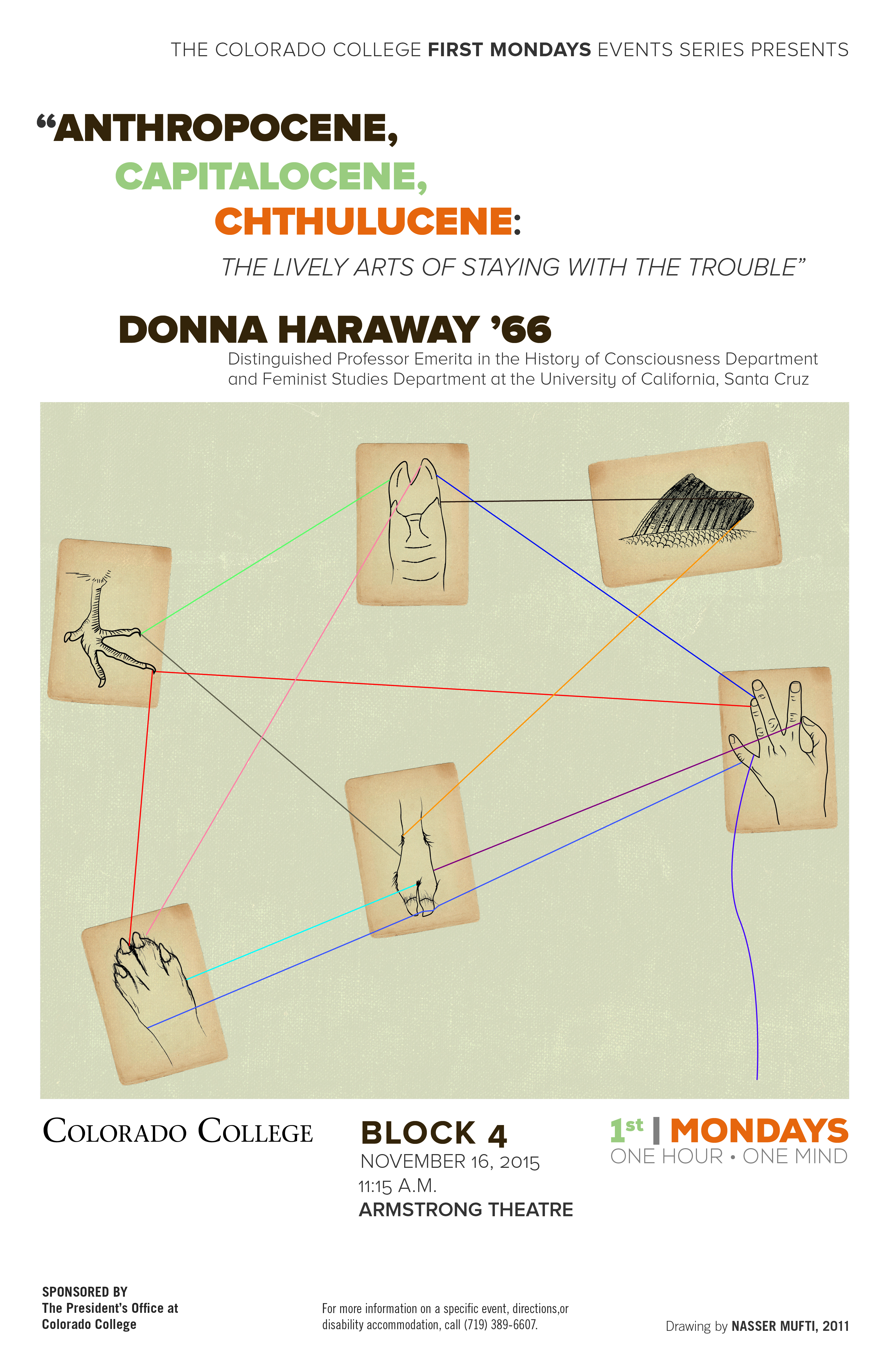 Canceled
Anthropocene, Capitalocene, Chthulucene: the Lively Arts of Staying with the Trouble
Donna Haraway '66, Distinguished Professor Emeritus in the History of Consciousness Program, UC Santa Cruz
Sponsors: The President's Office and the Department of Philosophy
Who lives and who dies and how inside our urgent times? What webs of times, places, and beings are at stake, and how might living well with each other still be possible? This lecture explores three names for the current age of the earth, when excess death abounds across species, and refugees without refuge, also across species, seek viable homes. Sym-poiesis—making-with, becoming-with—is the core process that shapes all living beings. Rooted in ecological, evolutionary, developmental biology (EcoEvoDevo) and in potent art science activisms, the lecture argues for staying with the trouble and for recrafting possibilities for flourishing in the teeth of ecological and social urgencies. The lecture asks how to nurture durable, multigenerational, non-biogenetic kin-making, while humans everywhere transition to vastly less reproduction and vastly richer practices of care across kinds. The lecture ends with sf—a string figure, speculative fabulation, science fiction, speculative feminist story about new sorts of sympoiesis in Communities of Compost.
2015-16 Spring Semester
Block 5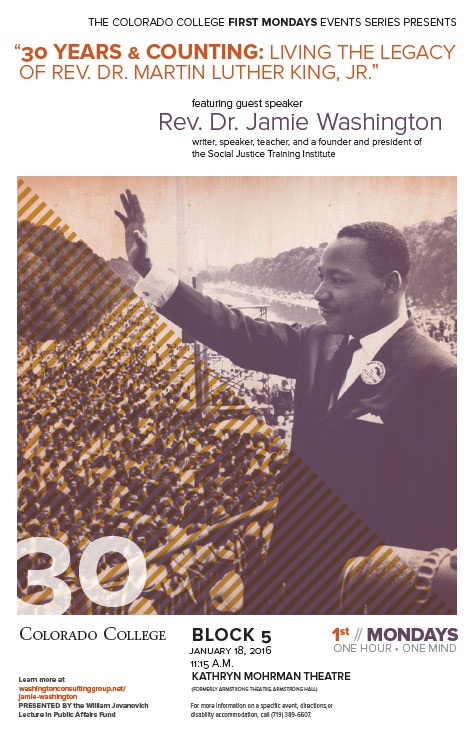 30 years and Counting: Living the Legacy of Rev. Dr. Martin Luther King, Jr

Known as "The Engagement Specialist," Rev. Dr. Jamie Washington sees himself as an instrument of change and he'll visit CC to start Block 5 as the First Mondays speaker on Monday, Jan. 18, at 11:15 a.m. in Kathryn Mohrman Theatre.
Washington serves as the president and founder of the Washington Consulting Group, a multicultural organizational development firm out of Baltimore, Maryland. He is also the president and a founder of the Social Justice Training Institute and serves as visiting assistant professor of religion and social ethics at Winston-Salem State University.
Block 8
Honors Convocation