Ticket and Parking Information
Seniors who have applied to graduate received an email on Friday, May 5, 2023, with instructions for how to claim guest tickets for Commencement weekend events through Ticketmaster. Tickets are required for guest entry to the following events and must be claimed by Friday, May 19, at 5 p.m., Mountain Time:
Saturday, May 27: Baccalaureate Ceremony, Shove Memorial Chapel: Two tickets per graduate in Shove, with overflow in Kathryn Mohrman Theatre.
Sunday, May 28: Commencement Ceremony, Ed Robson Arena: Seven guest tickets per graduate (five in reserved seating, two standing room only). Graduates will select specific guest seats in Ed Robson Arena on a first-come, first-served basis.
This year, all Commencement weekend tickets will be distributed via Colorado College's Ticketmaster system. Please read the information below thoroughly before claiming tickets to ensure a successful process.
Graduates do not need a ticket, but they do need to claim all complimentary tickets on behalf of their guests. To claim tickets, graduates must first create an account or log into their existing account at am.ticketmaster.com/coloradocollege. Students must claim their needed number of guest tickets in one transaction on Ticketmaster (you cannot go back and claim more tickets at a later time). Graduates must claim all guest tickets by Friday, May 19, at 5 p.m., Mountain Time.

After claiming tickets, graduates will then transfer those tickets directly to their guests using the Colorado College Ticketmaster app.
Please note:
There are no paper tickets for Commencement. A Ticketmaster account will be required for 1) all graduates claiming guest tickets; and 2) all guests receiving transferred tickets, in order to access the tickets. You can create a free account at ticketmaster.com/coloradocollege anytime.
Colorado College Ticketmaster is separate from the main Ticketmaster system. Do not use the main Ticketmaster App. Instead, access at ticketmaster.com/coloradocollege.
We recommend adding your tickets to your Apple Wallet or Google Pay account for a smooth process at entry.
Ticket Claiming and Transfer Instructions
Click "Sign In/Sign Up" in the upper righthand corner to create an account, or to log into your existing account. (This is the same ticketing system used for hockey events in Ed Robson Arena, so if you have used the system for this purpose before, you may already have an account).
After creating an account or signing in, click "Buy Tickets" in the upper menu bar. Note: while the link says "Buy," tickets are complimentary for all events.
Select the events you want to attend. (Graduates, you will have the option to claim all guest tickets for Commencement and Baccalaureate. Note: ADA and limited mobility seating in Ed Robson Arena is available as part of the ticket claiming process.
Graduates will transfer tickets to specific guests by entering their guest's email address. Note: one guest may hold tickets for multiple people, as long as they enter the venue at the same time.
Guests will be notified that they have received a transferred ticket via email. The email will contain a link to the Colorado College Ticketmaster system and further instructions.
Guests will then need to create a free account in the Colorado College Ticketmaster system to access their tickets.
Guests may also transfer tickets to another guest if they choose.

Ticket Troubleshooting and Will Call
Will Call will be available at the main box office of Ed Robson Arena located within the main entrance at the corner of E. Cache La Poudre St. and N. Tejon St. A ticket troubleshooting station will be available outside the main box office.
Questions about the ticket-claiming process? Visit am.ticketmaster.com/coloradocollege and click "Contact Us." 


---

Ed Robson Arena: Know Before You Go

Updated COVID-19 Protocols
Guests are no longer required to wear masks in Ed Robson Arena. Masks are now optional.
Parking
Commencement attendees may park anywhere on campus (no fees or permits apply), except the first floor of the Ed Robson Arena parking garage on East Dale St., which is reserved for guests with limited mobility.
The first level of the Ed Robson Arena parking garage is reserved for guests with limited mobility who require parking close to the venue. Additionally, accessible parking is available on all levels of the Robson Arena parking garage and in other parking lots on campus.
Golf carts will be available from other parking areas across campus to transport guests to Ed Robson Arena.
The Zeb free downtown shuttle will run beginning at 7 a.m. from downtown Colorado Springs to the CC campus.
Entry, Accessibility, and Guest Services
Doors to Ed Robson Arena will open at 7:30 a.m. on Sunday, May 28, for the Commencement ceremony. The program begins at 8:30 a.m. and will take approximately three hours. Please plan accordingly.
Entry to Ed Robson Arena is through the main doors on the corner of E. Cache La Poudre St. and N. Tejon Street, or via the west entrance inside garage for those tickets with 200 level seating.
All tickets are electronic and must be scanned from a mobile device (no printed tickets).
Ushers will help you find your reserved seat.
Sign language interpreters will be visible from the center-hung video scoreboard in Ed Robson Arena. Guests may also view captions on their mobile devices by pulling up the livestream at https://www.coloradocollege.edu/live.
American Medical Response will be located at Guest Services in the arena.
Ed Robson Arena Prohibited Items
Clear Bag Policy
For the enjoyment of all guests, Ed Robson Arena has a clear bag policy that will be enforced during Commencement weekend. Only clear bags and small clutch-sized purses will be allowed at entry. For more details on this policy, click here. Clear bags can be purchased at the Tiger Store just south of the area.
No Smoking
Colorado College is a smoke free campus. Smoking is not permitted on campus or in any campus buildings.
No Weapons
The college forbids weapons of any kind to be brought onto campus, to include Robson Arena and parking garage, including but not limited to firearms, ammunition, pellet guns, Air guns, paintball guns, stun guns, tasers, smoke devices, bows/arrows, swords, large knives, explosives, and fireworks.
Parking Map
In addition to the lots marked below, street parking will also be available.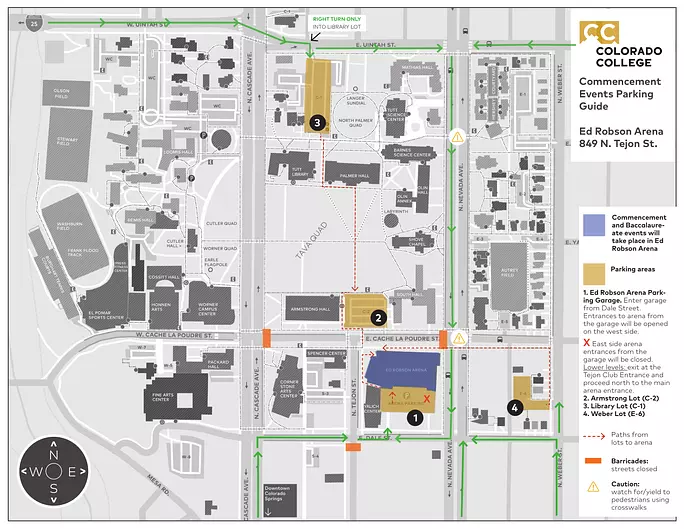 (click to view, download, or print the parking map as PDF)
Road Closures
On Sunday, May 28, the following roads will be closed for Commencement activities:

E. Cache La Poudre St. from N. Nevada Ave. to N. Cascade Ave. 
N. Tejon St. from E. Dale St. to E. Cache La Poudre St.