Public Achievement
Overview
Public Achievement (PA) is a youth civic engagement program in which CC students mentor local middle school students through the process of community organizing to better their communities. Our processes come from the American Black Civil Rights leadership and anti-oppressive practices. In teaching and reproducing their pedagogy, we give students the language and tools to combat the injustices within their own generation and location.
We draw on a longer tradition of organizing to learn how we might show forth an example of active and engaged democratic practice. Our notion of democracy goes beyond voting and politics, and is centered around the idea that democracy and politics are the work of everyday people co-creating the communities we envision.


Community Partner
North Middle is an underserved school in District 11 of Colorado Springs. Either in-class or with the after-school club, the students join PA to help fulfill their IB requirements. Coaches meet with students to help them develop and execute a social or environmental justice project of their choosing. Students investigate aspects of their identities as individuals and as a part of the greater community. Through research into the issues, students co-create solutions to specific problems of interest. North hopes that PA will help combat the school-to-prison pipeline, by challenging all participants to think of themselves as capable, successful students and productive citizens.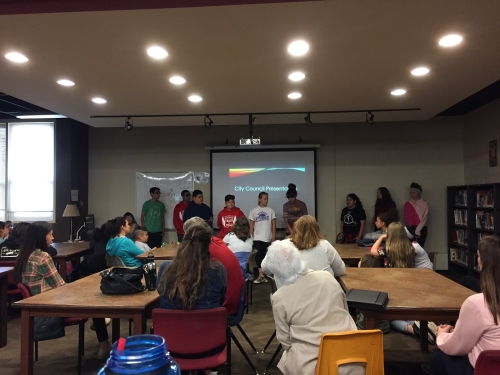 Above: Students share with their parents and guardians a presentation they gave to City Council in support of closing the Martin Drake coal power plant
Adjunct
In this course, you will learn the basics of community organizing for the purpose of leading a community organizing process. Students participating in the Public Achievement will be trained as "coaches" to work with k-12 aged youth to form PA Teams. This course includes one 90 minute class meeting per week on campus, in addition to preparing lesson plans and coaching a Public Achievement Team each week at a local school.

Adjunct Syllabus


Program Eligibility
This opportunity is a volunteer position for CC students who can consistently dedicate a minimum of 4 hours per week in preparation and classroom time. Because class sessions are held on Tuesdays during the school day, we discourage students who take lab or afternoon class-heavy course schedules. Coaches should be comfortable addressing a class of 20-30 middle schoolers on their own. Coaches must demonstrate strong communication skills with multiple stakeholders, including: middle school students, fellow coaches, partner school faculty and staff, Public Achievement Intern, and Program Supervisor and Team Lead.

PA Recruitment Timeline - 2019 - 2020
Week 3 Block 4: PA Info Session, Tuesday, 10 December at 12:15 p.m. in the CCE
Week 1 Block 5 - end of Block 6: PA coach application open to current students and Early Decision incoming first
Week 1 Block 5: Team Lead Apps due Monday, 10 February at 5 p.m. - please send a cover letter and resume to Sophia Pray spray@coloradocollege.edu.
May 1-13: Application open to regular decision, incoming first year students

Additional Resources

Contacts
Sophia Pray Civic Leadership Paraprofessional
Max Blackburn, Program Intern
Testimonial:
My first contact with Public Achievement was at the Community Engagement Fair during my freshman year, when I saw a sign that read: "Are you interested in social justice? Do you like working with kids?" I am passionate about both of these things; naturally, I immediately applied for the job. By pairing social justice advocacy with a middle school classroom, however, this work has become exciting, new, and fun. For one, I have developed close relationships with numerous middle schoolers with whom I talk about the latest video gone viral or entertaining sports event on a weekly basis. At the same time, we also collectively grapple with the power dynamics, social norms, and on-the-ground need. Public Achievement has been a win-win-win for me: I have developed strong student-oriented relationships, honed teaching and leadership skills within the classroom, and made an impact on the Colorado Springs community.
-Elam, '20
Left: North student and coach at the climbing gym during a visit to CC's campus