Public Achievement
What is Public Achievement?
Public Achievement (PA) is a youth civic engagement program in which college students guide local middle schoolers through the process of researching and organizing around issues they identify in their communities. The program was developed in 1990 by the Center for Democracy and Citizenship at the University of Minnesota (now at Augsburg College) and is informed by and indebted to the organizing practices of the Civil Rights Movement. We strive to center the voices, identities, and agency of youth as they work to enact local change, recognizing that youth impacted by oppression have the most transformative visions for justice.
Mission
At Colorado College, PA students lead programming that promotes the voices of students at North Middle School through organizing around place-based social issues. Our coaches work with youth to research and carry out projects that make meaningful impacts in their communities and build civic skills to work towards justice throughout their lives.
The Process
CC students participating in Public Achievement are called coaches, and work with small groups of middle schoolers to develop and execute a social or environmental justice project of their choosing. Very generally, coaches guide students through the following processes:
Articulating their intersectional identities as individuals and as part of communities

Locating self-interest in issues of injustice

Choosing issues to address through a process of civic deliberation, and forming working groups based on those issues

Researching how those issues manifest locally

Identifying local partners working on the issues

Understanding community assets, challenges, and sources of power

Practicing community-based research strategies

Narrowing issues down to a specific problem to address within their schools or communities

Generating specific goals and an action plan

Collaboratively executing a project

Celebrating their work and promoting sustainability
Community Partner
North Middle is located just a few blocks away from Colorado College, and is part of Colorado Springs District 11.
Visit North's "About Us" page and explore their website here.
Either during class time or with an after-school club, North students join PA to help fulfill their IB requirements. North hopes that PA will challenge all participants to think of themselves as capable, successful students and citizens who hold power to enact change.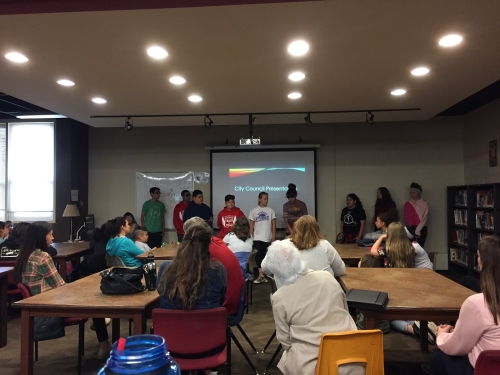 Above: Students share with their parents and guardians a presentation they gave to City Council in support of closing the Martin Drake coal power plant
Testimonial:
My first contact with Public Achievement was at the Community Engagement Fair during my freshman year, when I saw a sign that read: "Are you interested in social justice? Do you like working with kids?" I am passionate about both of these things; naturally, I immediately applied for the job. By pairing social justice advocacy with a middle school classroom, however, this work has become exciting, new, and fun. For one, I have developed close relationships with numerous middle schoolers with whom I talk about the latest video gone viral or entertaining sports event on a weekly basis. At the same time, we also collectively grapple with the power dynamics, social norms, and on-the-ground need. Public Achievement has been a win-win-win for me: I have developed strong student-oriented relationships, honed teaching and leadership skills within the classroom, and made an impact on the Colorado Springs community.
-Elam, '20
Program Eligibility
Coaching is a volunteer opportunity for CC students and consists of a minimum of four hours a week of preparation and class time. Because class sessions are held during North's school day, we discourage students who take afternoon class-heavy course schedules. Consistent commitment to students and to preparation time is required. Coaches should demonstrate a passion for social justice and be prepared to engage in reflection and action to build meaningful relationships with youth.
In the 2022-2023 school year, coaches will have class sessions at North on Mondays & Tuesdays from 1:34-2:14pm
Additional Information
Public Achievement Core Concepts
Contacts
Tyra Voget, CCE Civic Leadership Program Coordinator
Lily Brazil, Student Director of Public Achievement