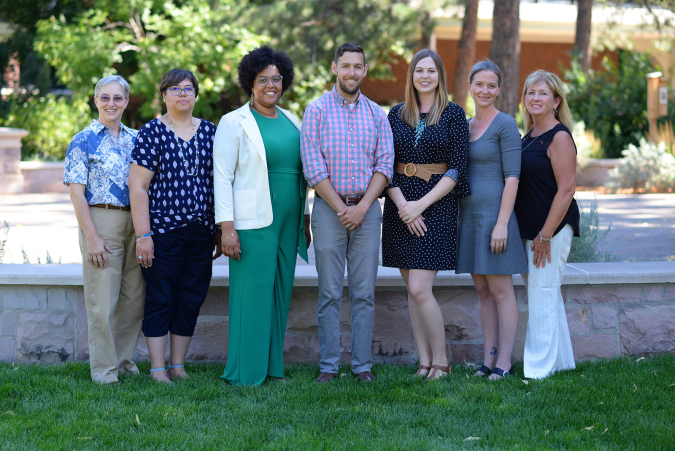 The Charge: Our students know that the liberal arts residential experience is enriched through the sharing of diverse viewpoints, experiences, and backgrounds. To integrate academic and co-curricular experiences, our strategies will engage students with additional advisors and mentors, including staff mentors, to help them integrate their academic and co-curricular experiences and use their time wisely. Additionally, by creating small groups of faculty and staff to explore the connections between academic and co-curricular experiences, Colorado College can put an emphasis on problem-centered learning and developing deeper connections between theory and practice.
What's Happening: The Student Opportunities and Advising Hub opened with the start of the 2019-20 academic year as part of CC's efforts to be equitable, inclusive, and supportive of all students. This resource will serve as the center of holistic support for all CC students, academically and personally.
"The Student Opportunities and Advising Hub (the hub) offers academic and personal advising for all students from their first year through graduation," says Teresa Leopold, who joined CC over the summer as director of the hub. "We will strive to ensure that all students have access to information about resources and opportunities on campus and beyond, which supports our goals at the hub as well as our goals at CC to become an antiracist institution. Our staff members work with students to help them develop their skills of self-reflection, problem-solving, and self-advocacy. We help students engage fully in the community in order for them to take full advantage of their CC experience."
Faculty advisors will continue to advise as they have in the past; the hub will provide students with additional academic support and will help students learn about academic opportunities and resources at CC. The hub staff will work in collaboration with pre-major faculty advisors, all offices, and academic departments on campus to support first-year students throughout their CC career. As a supplement to a student's faculty advisor, the hub staff will facilitate students' access to the range of resources available at CC, including grants, fellowships, research, study abroad, academic support, and co-curricular experiences. And it will help them to explore their interests, goals, and personal aspirations, and connect with advisors, faculty members, career coaches, and other staff members.
The hub is also a resource for student research and fellowship opportunities. Studying on the Block Plan gives students the flexibility to pursue and participate in research opportunities that enhance and expand their in-class learning with practical experience. From tips on how to start exploring an interest in research to navigating the grants and scholarships that might be available, the student opportunities wing of the hub supports student collaborative research.
"The SCoRe program provides an excellent opportunity for students to experience both the excitement and struggle of research. Many students have done short research projects in their courses at CC, but for most students, the SCoRe program is their first chance to fully immerse themselves in a full-time, long-term research project," says Amy Dounay, associate professor of chemistry and biochemistry and a faculty participant in the 2019 Summer SCoRe program. "Through this longer exposure to a research problem, students not only hone their technical skills and learn to become independent problem-solvers, but they also learn how to navigate the highs and lows that come with the rare breakthroughs and frequent failures of research. Learning about both the technical and human aspects of research are crucial in preparing students for graduate school and beyond."
Research-active faculty scholars mentor students in collaborative research during the academic year, as well as in the summer. A dynamic dashboard of collaborative research tracks the Student Collaborative Research Program back to 2017, with student participants' demographic data, areas of research, and academic departments. More than 50 faculty members actively participate in collaborative research both on and off campus with CC students; 143 students participated in Summer 2019, up from 120 in 2017.
As part of the recommendation to "think outside of the block by fusing curricular and co-curricular experiences," a Block Project team came together during the summer of 2019 to develop a plan to leverage the Colorado Springs Fine Arts Center at Colorado College, Outdoor Education, Arts and Crafts, Wellness, and Innovation to encourage students in building creativity, taking risks, and recovering from failure. In addition to those co-curricular programs, others like the Collaborative for Community Engagement, the Butler Center, and the Career Center could also be included in the overall vision of the initiative. The team, made up of staff and faculty, gathered information on all of the co-curricular programs which could be fused with the curriculum, with the aim of developing a single online gateway that faculty can use to learn about all of the opportunities available to them for co-curricular fusion and how to tap into these programs. The "collaboration gateway" informs and inspires individuals interested in pursuing collaboration by highlighting examples of successful projects, providing a directory of campus resources and partners, and offering best practices for implementation. View the team's report and recommendations.