The sounds of music from a multidue of genres filled the southwest corner of Colorado College's campus last week as all four of the Music Department's academic classes during Block 7 culminated in student performances.
In Packard Hall on Tuesday, April 25, both the American Folk Music course, co-taught by Keith Reed and Ofer Ben-Amots, and the Projects in Digital Music course, taught by Iddo Aharony, began their class finals at 1 p.m. on opposite sides of the music building. On Wednesday, April 26, Joyce Hanagan's Music Learning Theories students performed in Packard Hall at 10 a.m., followed by an 11 a.m. performance in the Fine Arts Center Music Room by students from The Revolution Will Be Sung: Music and Social Protest in Latin America, taught by Andrés Carrizo.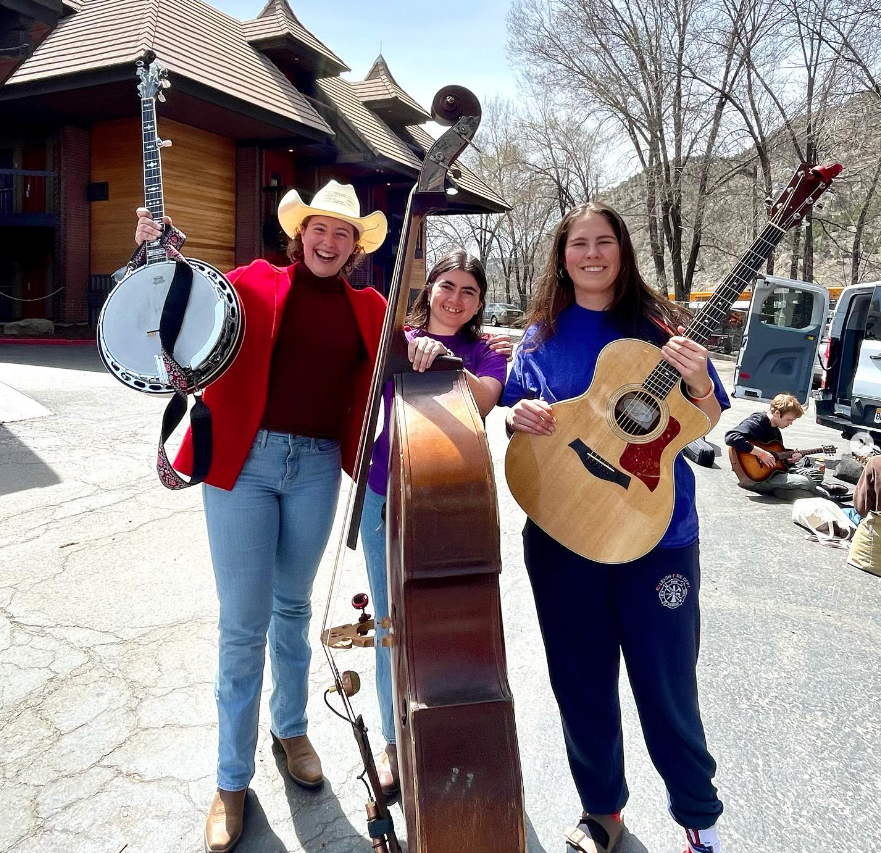 For students in the American Folk Music class, it was the end of a rigorous weeklong trip across the state, first to CC's Baca campus and then straight to Durango for the annual Durango Bluegrass Meltdown. Participating in the festival has been a CC bluegrass tradition since 2009.
"We had a great class this year," Reed said. "At Baca, we spent almost a week songwriting, practicing, presenting, and performing a concert for the town of Crestone."
In Durango, the CC bluegrass program's top two student ensembles were a prominent piece of the festival. The Rocky Mountain Tops were featured performers on the main stage, and The Tumbleweeds won the band competition, earning $500 in prize money and eight hours of recording studio time with a professional studio in Durango, as well as a slot to perform on the main stage at next year's festival. Reed also performed on banjo at the festival along with longtime fellow professional musicians who form a group called Tunnel Drive.
After returning from Durango on Sunday evening, members of the American Folk Music class regrouped in Packard the next day and formed back into their small ensembles to rehearse their written songs and standard folk/bluegrass repertoire in all corners of the building to ready for Tuesday's concert in front of a large, rowdy audience in the performance hall.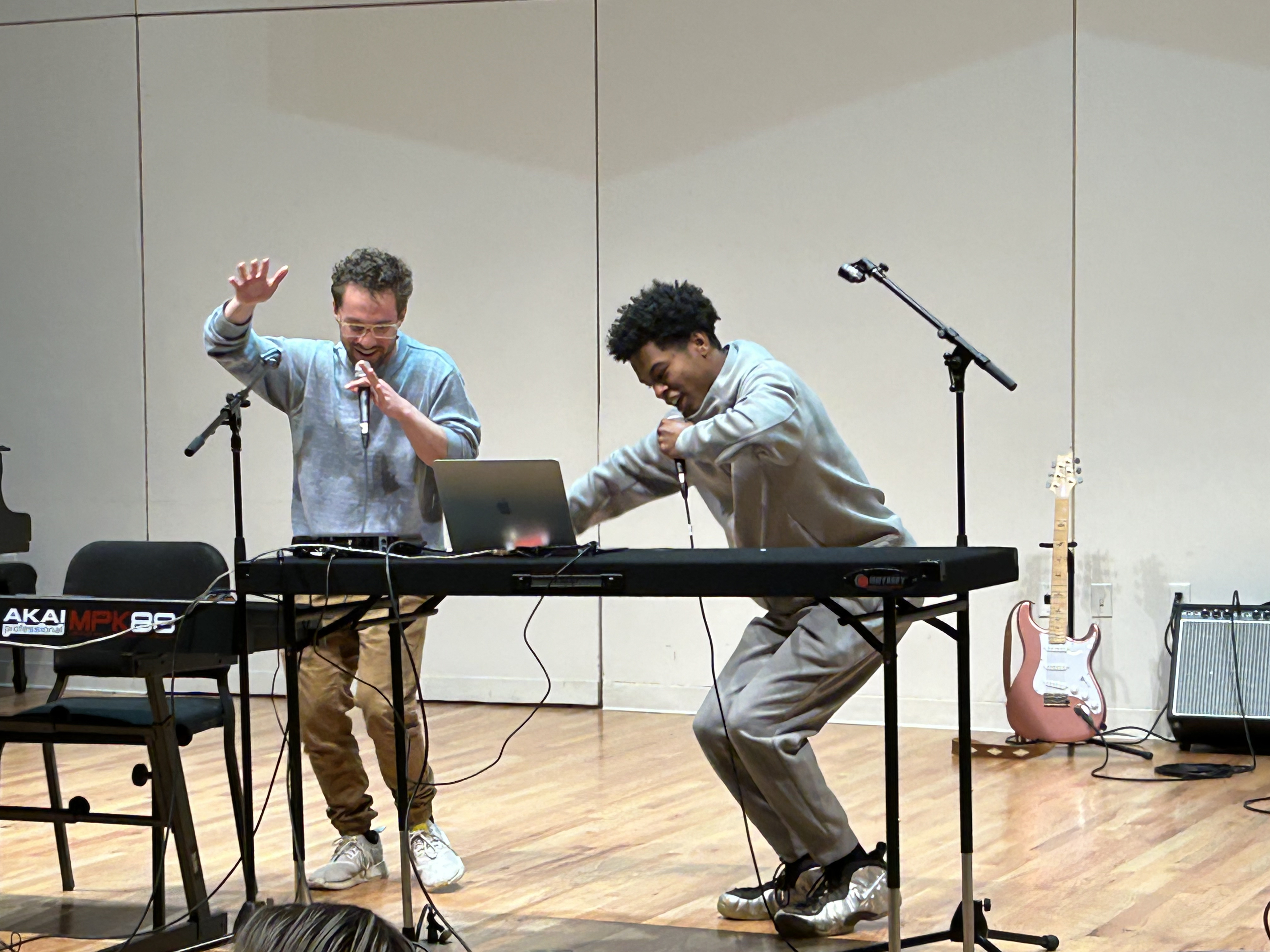 At the same time downstairs in Packard room 9, Aharony's Projects in Digital Music class had shifted from original plans to host an informal listening party outdoors on the Worner Quad. Aharony said despite moving indoors due to rainy weather, he enjoyed a chance to hear and share "the high level of the students' works, aesthetically and in regard to production quality, and the variety of styles and creative approaches between their works."
The Projects in Digital Music course invites digital music makers with some prior experience to design their own advanced creative projects, "expanding their practice into new territories," Aharony said. One of the projects in Block 7 brought students together into groups of three to create live electronic performances — incorporating live instruments and voices, looping, and a variety of controllers — during the Capstone Concerts event in Packard Hall on April 15.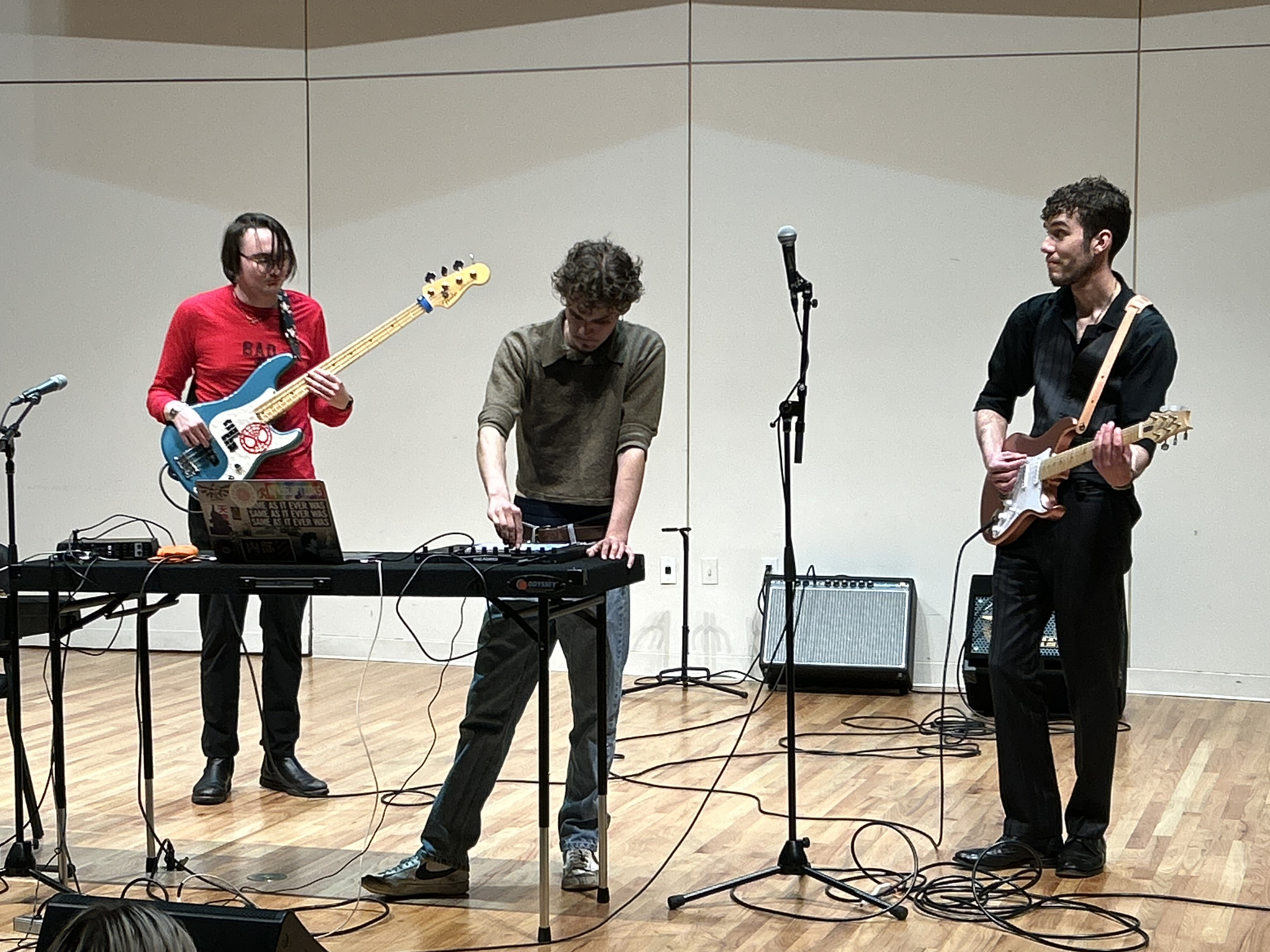 While the class' listening party wasn't a formal performance, it was open to to the CC community to attend, and presenting their digital music in a relaxed setting after a demanding block was a fulfilling way for students to celebrate their work. Aharony said he was proud to be part of the Music Department's dynamic presence at the end of the block.
"Having attended the performances this week that I was able to, it was a pleasure to see (and hear!) how engaged the students seemed to be, with the freshly-learned musics they were performing, and with the opportunity to share them with an audience, all in different styles and within different contexts," he said. "Overall, it exemplified a truly exciting meeting place between embodied learning and community music-making and sharing — one that we hope the Music Department can continue building upon and growing moving forward."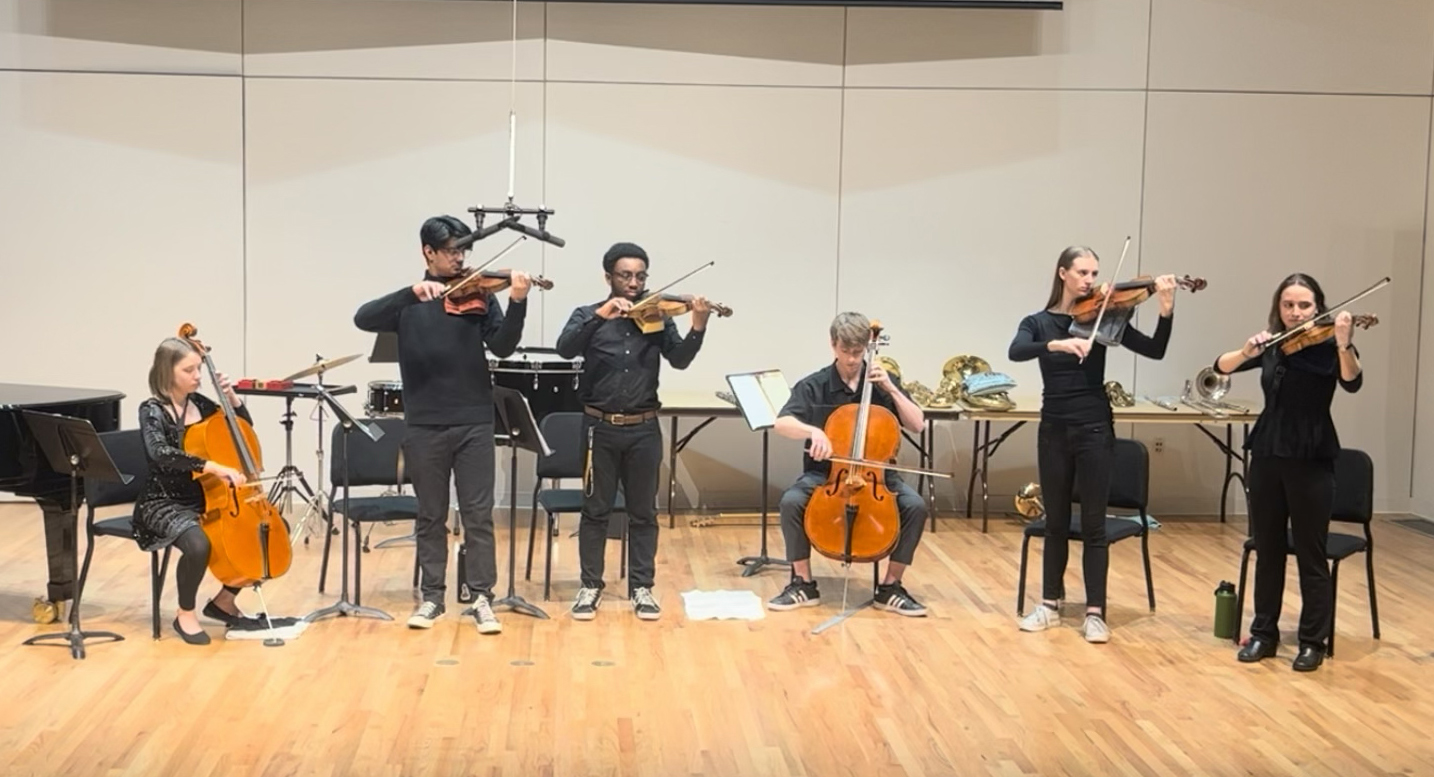 For Hanagan, teaching MU/ED 217 annually in Block 7 is one of the highlights of her teaching year. She has been a visiting lecturer at CC since 1996 as a champion for the music education program. The MU/ED 217 course teaches students how to play band and orchestra instruments. By the end of the block, students have intermediate performance skills on at least two band instruments and one orchestral instrument, and they present a recital in small groups and as an ensemble on a variety of instruments.
This semester's program included students pairing up to perform elementary-level pieces such a When the Saints go Marching In and Jolly Old St. Nick, as well as the entire class coming together to perform Grade 1 concert band music on wind instruments and variations on Twinkle Twinkle Little Star from the Suzuki book on string instruments.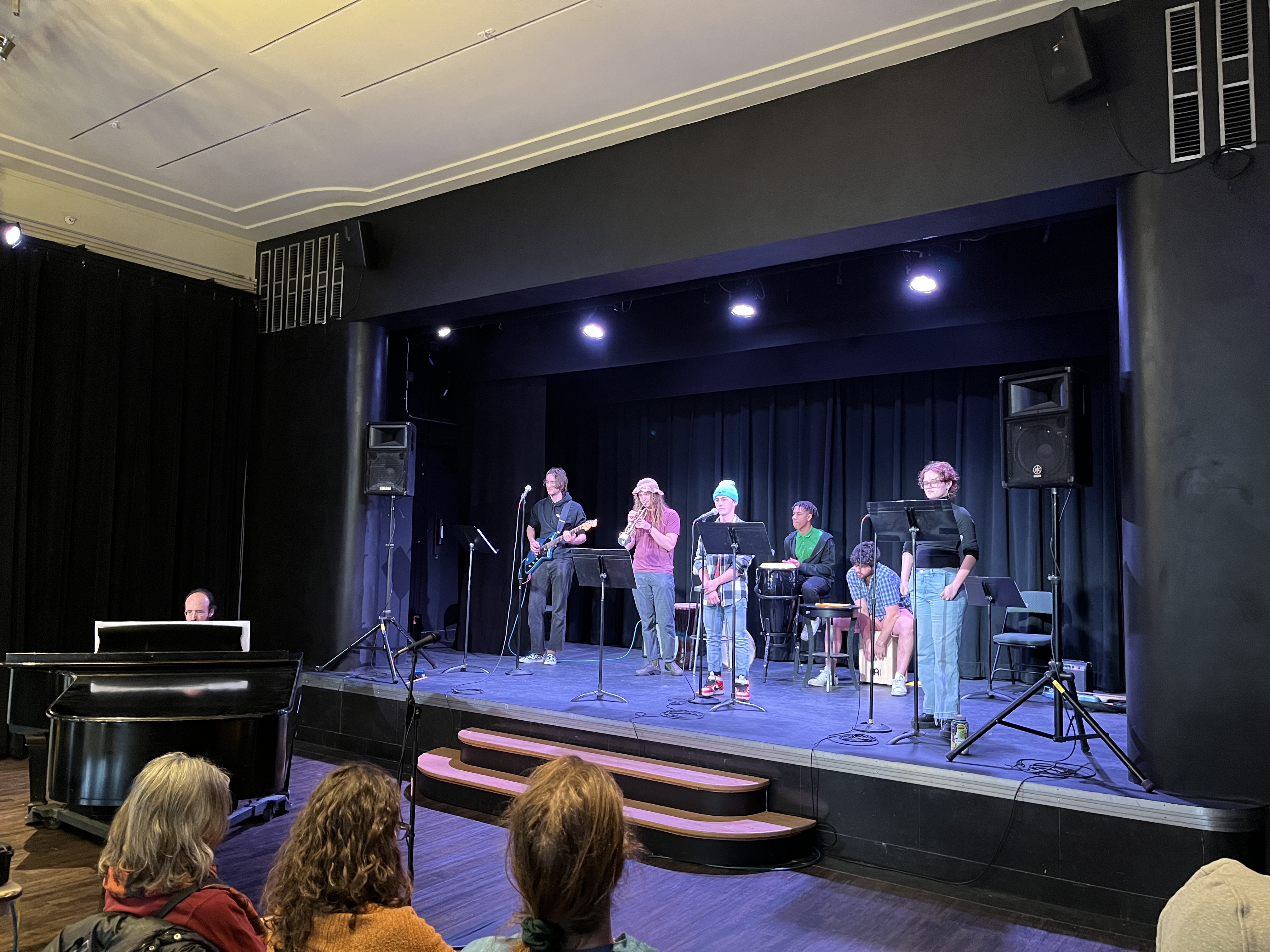 Rounding out the performances at the end of Block 7 was Carrizo's Protest Music in Latin America class in the FAC Music Room. The program included several seminal protest tunes from Latin America performed by the students, as well as two original songs written by members of the class.
Carrizo, a block visitor, said he was pleased to see his students dive into the two primary goals of the course: to study protest music in the region and actually engage with that music from a performance aspect.
"We sought to wear that music, and make it our own, in order to express our own discontent both with that happened historically in Latin America and what's happening in our own society today," he said. "Our performance was a beautiful conclusion to an extraordinary class: it brought the students and the instructor together, and cemented powerful lessons about the performance of protest music in communal settings."