About 20 Colorado College students had the opportunity to have lunch with Oliver Hart, Nobel Prize laureate, on Sept. 29.
In 2016, Hart, of Harvard University, was awarded the Sveriges Riksbank Prize in Economic Sciences in Memory of Alfred Nobel. Hart has developed theories on contracts, including on the theory of incomplete contracts.
"The Carey Lectureship brings Nobel laureates in economics to the college, an opportunity unique among liberal arts colleges, making it possible for both students and faculty, as well as for members of the Colorado Springs community, to learn at first-hand about fundamental issues of the day," says Timothy Fuller, political science professor and former president of CC. "Professor Oliver Hart is the twentieth Carey lecturer in this distinguished series, speaking on 'corporate social responsibility' a topic in wide discussion today."
Elsa Alnebeck '23 is a co-chair of the Political Science Student Advisory Committee and attended the lunch with Hart and later shared that one of her favorite parts of the lunch was how friendly and open to answering questions Hart was.
"Mr. Hart had a number of really interesting things to say during the lunch. He spoke about the success of the liberal arts model and answered questions around the nature of pursuing further education in the United States versus the United Kingdom."
One topic that especially stood out to Alnebeck was when Hart spoke about the specific aspects of the private and public sectors that lend themselves to addressing environmental concerns and the necessity for the private and public sectors to cooperate.
"Although he briefly reviewed his work on contract theory, and how ownership should be allocated, and when contracting is beneficial over ownership, the topic of corporate responsibility was more tangible. I also appreciated his positive outlook on the role corporations can have in the future," says Alnebeck, who is a political science major and Arabic, Islamic, and Middle Eastern studies minor.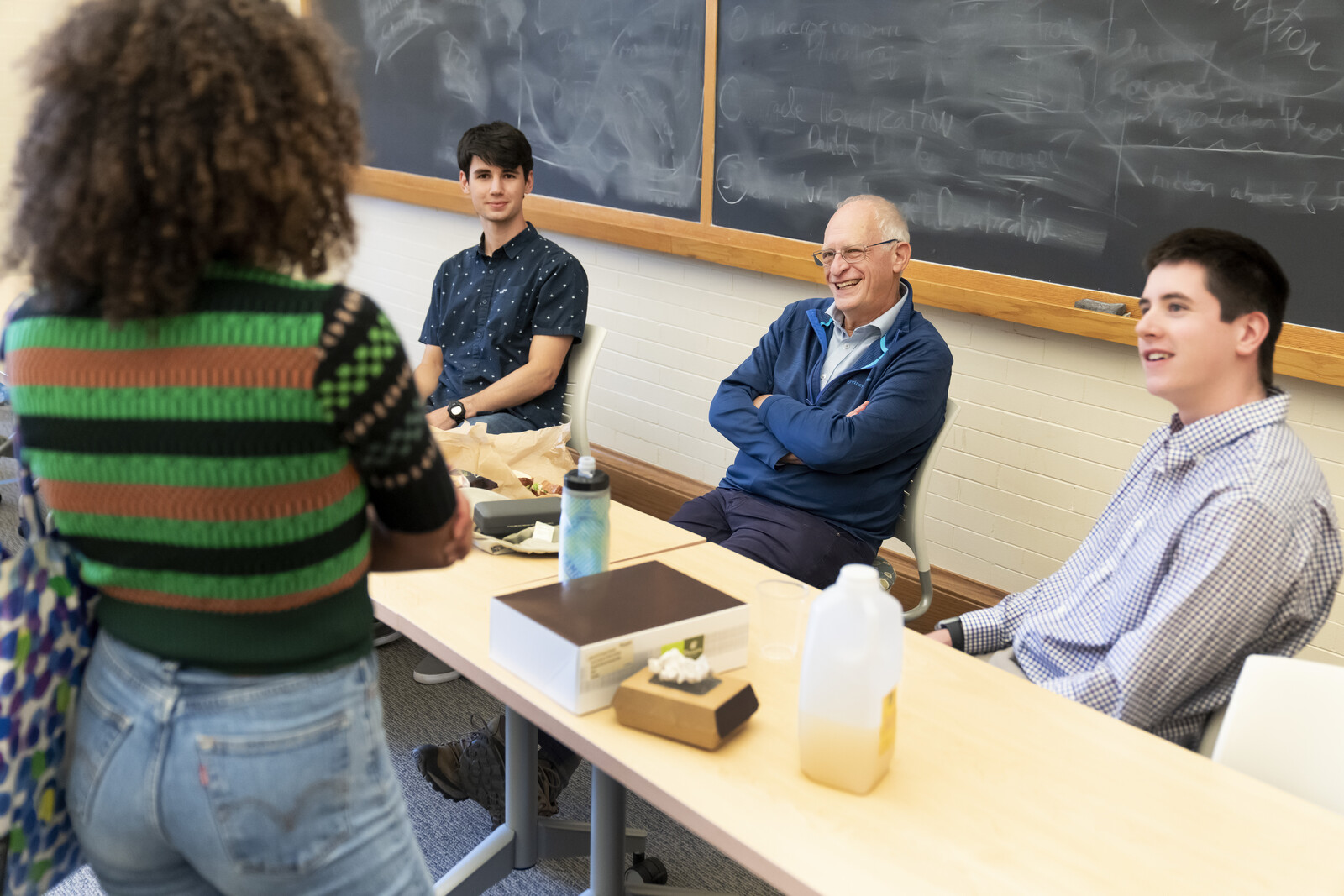 Andy Fresen '23, who used to run the CC Investment Club, also attended the lunch with Hart.
"While running the club, I would have to deal with questions over what would be the standards for our social impact portfolio. The intersection of corporate reasonability, finance, and law were vital to our assessment and Oliver Hart is a pioneer in those topics." says Fresen, an economics major. "The best part of the lunch was the opportunity to ask Dr. Hart questions directly. It was exciting to be able to engage in a discussion about his research," says Fresen. "Dr. Hart was very generous with his time and welcomed the opportunity to teach."
Hart taught students about the changing incentive between a diversified investor, like what most people are today, and one with a concentrated position for social good, says Fresen.
"Hart went through the math to show logically that a rational investor invested across many companies wouldn't want one company to have an outsized detrimental societal effect, like pollution, because the profit of the decision is spread out over its many shareholders," says Fresen. "Furthermore, those many diversified shareholders who receive a limited profit also have to live with the outsized environmental consequences. As a result, the duty of a company to follow the wants of its shareholders have changed."
Hart recommended focusing as much on math as economics because math is the base that all economic research is built upon, says Fresen.
Oliver Kraft '23 says during the lunch, he learned from Hart that small shareholders may be incentivized to be more ESG and environmentally conscious. Kraft also shared that he learned from Hart that "owning equity in ESG and environmentally conscious organizations is not necessarily the best way to invest your money to make change," says Kraft. ESG stands for "environmental, social, and governance," and is a term used to describe socially responsible investing.
Saigopal Rangaraj '23, who attended the lunch with Hart, said it was useful to also attend Hart's evening lecture, because, as with any complex economic model, no one understands their premise the first time around.
"The most interesting points from Dr. Hart's conversation were the evolution of education in the United Kingdom and the United States, as well as his contrary view to the divestment trend," says Rangaraj, who is a mathematical economics major and comparative politics and anthropology minor. "Regarding the second point, I was an ardent believer in investing where your beliefs lie, but Dr. Hart really made me challenge this notion as his argument was that a greater positive impact could be made using shareholder voting powers."
Fuller has been responsible for the Carey lectures for the past 20 years, and organized this one as well, says Alnebeck. Several political science, economic and business, and international political economy majors were invited to the lunch.
"We were incredibly fortunate to have Nobel Laureate Oliver Hart visit our campus. His talk on corporate social responsibility had broad appeal. His visit came at exactly the right time for our community, as students and community members are increasingly confronting what it means for business to be socially responsible," says Christina Rader, associate professor and chair of the Economics and Business Department.
In addition to having lunch with students, Hart gave a talk to the Colorado College and Colorado Springs community about corporate social responsibility in Cornerstone Arts Center.
Hart advised the students who attended the lunch to read "On Liberty," by John Stuart Mill, says Alnebeck.