Topics in Hispanic Literature and Culture
Study of Hispanic authors, genres, literary periods, cinema or cultural trends not represented in the regular curriculum. The structure of the particular course is determined by the nature of the topic and the preference of the instructor.
Prerequisite: Spanish 306.
1 unit — Wood
Previously Featured Offering
SP316: Three Faces of Latin America introduces students to Pablo Neruda, Gabriel García Márquez, Jorge Luis Borges and Julio Cortázar, reading and learning about the works of these Hispanic literary closely and with an analytical eye.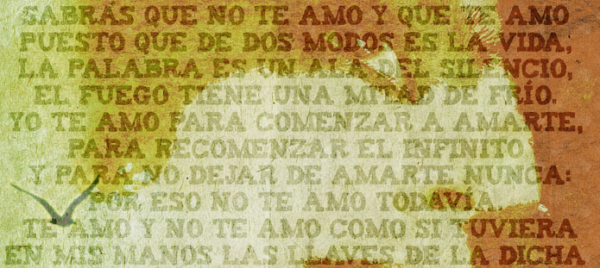 SP316: Three Faces of Latin America is an intense focused three and a half weeks on Spanish literature. The work of poet and Nobel Prize winner, Pablo Neruda, and novelist Gabriel García Márquez will be read, along with two short story writers, Jorge Luis Borges and Julio Cortázar. Normally, the class centers around the first three authors, but the fourth "face," Cortázar is being featured this year since this year marks the 50th anniversary of one of his most well renowned novels, Rayuela. No one can deny that Neruda, for poetry, Borges, for short stories, and García Márquez, for the novel, are three of the biggest superstars from South of the Americas. This course is a language, literature and area program. In order to get the most out of this course, students should be very familiar with the Spanish language. This class sets out to analyze and deconstruct the works read and interpret them in a variety of ways, looking at the authors' intentions at different angles. The three authors are still the focus of the course, with the Cortázar as an added treat this year.
Offerings
| Term | Block | Title | Instructor | Location | Student Limit/Available | Updated |
| --- | --- | --- | --- | --- | --- | --- |
| Fall 2022 | Block 3 | Topics in Hispanic Literature and Culture: New Mexican Culture and Identity through the Performing Topic Details | Karen Roybal, Carrie Ruiz | Tutt Library 105 | 32 / 11 | 03/26/2023 |
| Spring 2024 | Block 5 | Topics in Hispanic Literature and Culture: Queer Latinoamérica Topic Details | Naomi Wood | TBA | 25 / 25 | 03/26/2023 |