Topics in Anthropology:
Courses taught occasionally by visiting or permanent faculty; topics will vary and may be thematically or geographically focused
1 unit — Chandrani, Khan, Schwartz
Previously Featured Offering
Cultural Astronomy of the Southwest investigates the diversity of ways both ancient and modern peoples integrate celestial objects into their worldview.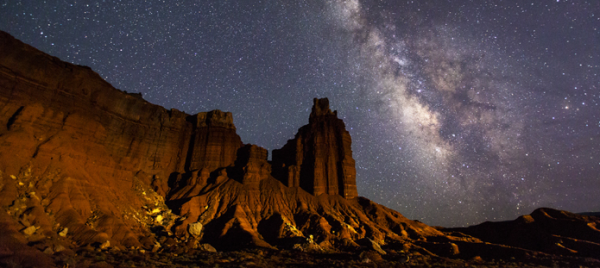 The sky of the Southwestern U.S. is used as a time keeper, an inspiration for art, an image in ritual, and a focus of scientific study. Cultural astronomy, the study of past and present astronomical systems, engages astronomy, anthropology, and archaeology and requires us to think and integrate ideas and data from a variety of academic disciplines. We will learn the standard astronomical model: the motion of the "fixed stars," the planets, the Moon and the Sun. We will consider the meaning and influence of the movement of these celestial objects on ourselves and the past and present peoples of the Southwest. We will calculate a few things, use planetarium software to "see" the sky as it was seen at Chaco Canyon around 1100 CE, and learn from Bernard Second of the Mescalero Apache tribe, Copernicus, Newton, and others. We will also investigate relationships among astronomy, rock art, ritual, oral narratives, social patterns, and belief systems. A central theme of the course is "how do we know what we know?" and "why does it matter?"
Global Health: Biosocial Perspectives explores global health from medical anthropologic and public health perspectives. Students will examine a variety of cases in order to understand the biological, social, and cultural factors that determine health and well-being.
Ebola, disaster relief, mental health, aging populations, and primary health care are key issues in a world where diseases cross borders rapidly, but health care resources may not. This course introduces students to the dynamic, complex field of global health. The course examines improvements in global health, health inequalities, the legacy of colonial medicine, and social justice in health from the perspectives of medical anthropology and public health. Drawing from cases across the globe, from wealthy and poor nations, from nations with well-functioning health systems and those struggling to meet people's basic health care needs we will explore the biological, social, and cultural factors that determine health and well-being.
Offerings
| Term | Block | Title | Instructor | Location | Student Limit/Available | Updated |
| --- | --- | --- | --- | --- | --- | --- |
| Fall 2022 | Block 2 | Topics: Intro. to Classical Archaeology and Cultural Heritage Management Topic Details | Stephanie Kimmey | Worner Center Hall | 25 / -2 | 06/04/2023 |
| Fall 2022 | Block 4 | Topics in Anthropology: Colonialism & Religion | Yogesh Chandrani | Armstrong Hall 259B | 25 / 3 | 06/04/2023 |
| Fall 2022 | Block 4 | Topics in Anthropology: The Other Russia: The Indigenous Peoples of the North Topic Details | Natalia Khan | See Prof. 003 | 25 / 6 | 06/04/2023 |
| Fall 2022 | Block 4 | Topics in Anthropology: Sustainable Development & Agriculture in Antiquity | Stephanie Kimmey | Worner Center Hall | 25 / 0 | 06/04/2023 |
| Spring 2023 | Block 5 | Topics in Anthropology: Indigeneity in Latin America Topic Details | Steven Schwartz | Barnes Science Center 412 | 25 / 15 | 06/04/2023 |
| Spring 2023 | Block 6 | Topics in Anthropology: Politics, Religion and the Secular | Yogesh Chandrani | Armstrong Hall 257A | 25 / 7 | 06/04/2023 |
| Spring 2023 | Block 7 | Topics in Anthropology: Energy Worlds: From Fossil Fuels to Renewables Topic Details | Steven Schwartz | Barnes Science Center 407 | 25 / 5 | 06/04/2023 |
| Spring 2023 | Block 8 | Topics in Anthropology: Mesoamerican Art Topic Details | Meghan Rubenstein | Packard Hall 125 | 25 / 10 | 06/04/2023 |
| Summer 2023 | Block C | Topics in Anthropology: Introduction to Field Archaeology Topic Details | Scott Ingram | Barnes Science Center 410 | 25 / 21 | 06/04/2023 |
| Fall 2023 | Block 3 | Topics in Anthropology: The Other Russia Topic Details | Natalia Khan | TBA | 25 / 10 | 06/04/2023 |
| Spring 2024 | Block 5 | Topics in Anthropology: Colonialism & Religion Topic Details | Yogesh Chandrani | TBA | 25 / 25 | 06/04/2023 |
| Spring 2024 | Block 5 | Topics in Anthropology: Introduction to Classical Archaeology and Cultural Heritage Management Topic Details | Stephanie Kimmey | TBA | 25 / 25 | 06/04/2023 |
| Spring 2024 | Block 7 | Topics in Anthropology: Energy Worlds: From Fossil Fuels to Renewables Topic Details | Steven Schwartz | TBA | 25 / 25 | 06/04/2023 |