Rising Indigenous Liberation
Indigenous and Native Peoples are thriving, resilient, and contributing members of American society, despite centuries-old campaigns to eradicate their existence, degrade their humanity, and desecrate their traditional ways of life. Issues impacting Indigenous and Native Peoples are pivotal in this moment as a wave ripples across the nation to reconcile with its racist and destructive past.
View the recorded video on YouTube or read the transcript.
Indigenous and Native Peoples have been battling these issues for generations that are now taking prominence on the national stage: issues of dignity as the Washington football team finally agrees to end its racist name and mascot featuring Native imagery, and as statues of colonizers and white supremacists fall across the globe.
Another issue is control over sovereign lands in Oklahoma, as upheld by the recent Supreme Court McGirt ruling, and resistance on the Tohono O'odham Nation as Trump's border wall crosses their sacred, transnational territories.
And, yet another issue is safety, both in the environment as recent court rulings contend that building the Dakota Access Pipeline was illegal -- a victory for Lakota land and water protectors -- and a plague on the very heart of Tribal Nations as hundreds of Indigenous and Native women and girls are murdered or go missing every year, more than likely as victims of sex trafficking.
Join our illustrious panel of Indigenous and Native faculty, activists, artists, and scholars as they gather to discuss what many are seeing as a rising Indigenous liberation from centuries of racist U.S. policies and encroachments on sovereignty and human dignity:
Christina Leza (Yoeme/Chicana), Host
Associate Professor & Chair,
Department of Anthropology

Dwanna L. McKay (Mvskoke)
Assistant Professor,
Race, Ethnicity, & Migration Studies and Indigenous Studies

Anna Tsouhlarakis (Diné)
Assistant Professor,
Department of Art at the University of Colorado-Boulder

Natanya Ann Pulley (Diné)
Assistant Professor of English
---
Moderator
Christina Leza
Christina Leza will be the moderator and is associate professor and chair of anthropology at Colorado College. She is a linguistic anthropologist and Yoeme-Chicana activist scholar whose research interests include Indigenous peoples of the Americas, Indigenous rights, discourse and identity, racial and ethnic discourses, grassroots activism, cognitive anthropology, and the U.S.-Mexico border. Her publications include "Divided Peoples: Policy, Activism and Indigenous Identities on the U.S.-Mexico Border" and "Hip Hop is Resistance: Indigeneity on the U.S.-Mexico Border." She also serves on the Board of Directors for Citizen's Project, a local nonprofit organization committed to empowering our community to engage in local democracy and to embrace equity and inclusion.
---
Panelists
Dwanna L. McKay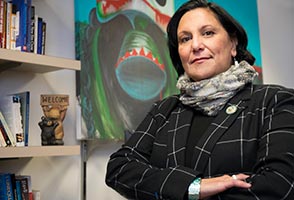 Dwanna L. McKay is a citizen of the Muscogee (Creek) Nation and an assistant professor in the programs of Race, Ethnicity, and Migration Studies and Indigenous Studies at Colorado College. McKay holds a Ph.D. in sociology, a graduate certificate in Indigenous studies, an M.S. in sociology, an MBA in management science, and a B.A. in political science.
Culturally raised within the boundaries of her tribal nation in Oklahoma, McKay understands the definitive disadvantage of growing up in an area steeped in discrimination, and how that manifests in environmental racism and constrained access to basic needs like housing, healthcare, employment opportunities, and equitable education for Native and Indigenous Peoples. McKay seeks to inspire others to understand, disrupt, and overcome such obstacles, and therefore centers her teaching, research, service, and activism on an overall commitment to social justice.
McKay's research focuses on social inequality and Indigenous identity, and has been published in numerous scholarly journals. She has also authored multiple published book chapters, poems, essays, and opinion editorials. McKay was a regular columnist for Indian Country Today for five years, served as the executive producer for the 2017 documentary film, "Force/Resistance: From Standing Rock to Colorado Springs," and has been featured on radio shows like "Calling Native America," "Mixed Race Radio," and Minnesota's National Public Radio.
---
Anna Tsouhlarakis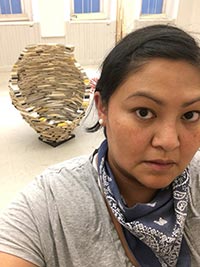 Anna Tsouhlarakis works in sculpture, installation, video, and performance. She is interested in challenging and redefining the boundaries of aesthetic and conceptual expectations within Native American art. It is her goal to make work that speaks to and from Natives and create dialogues that utilize unexpected vehicles to help grow the trajectory of Native American art. Tsouhlarakis is of Greek descent and an enrolled member of the Navajo Nation.
Tsouhlarakis received her B.A. from Dartmouth College with degrees in Native American studies and studio art. She went on to receive her MFA from Yale University with a focus in sculpture. Tsouhlarakis has participated in various art residencies including Skowhegan School of Painting and Sculpture, Yaddo, and was the Andrew W. Mellon Artist-in-Residence at Colorado College for the 2019-20 academic year. Her work has been part of national and international exhibitions at venues such as Rush Arts in New York, the Art Gallery of Ontario in Toronto, Art Mur in Montreal, the Nasher Museum of Art at Duke University, Crystal Bridges Museum, the Museum of Contemporary Native Arts, the Heard Museum, and the Smithsonian's National Museum of the American Indian. In 2011, she was a recipient of the Eiteljorg Fellowship for Native American Fine Art. Her recent awards include fellowships from the Harpo Foundation, the DC Commission on the Arts and Humanities, and the Native Arts and Cultures Foundation.
Tsouhlarakis currently is an assistant professor at the University of Colorado Boulder.
---
Natanya Ann Pulley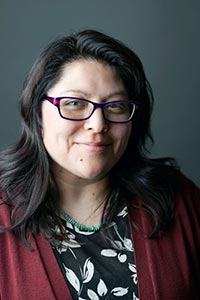 Natanya Ann Pulley is a Diné (Kinyaa'áani dóó Táchii'nii) writer of fiction and nonfiction and an assistant professor of English. She teaches fiction writing, texts by Native American writers, and ethnic American literature with an emphasis in the evolution and de-evolution of narrative and experimental forms. Her short story collection, "With Teeth," is the winner of the 2018 Many Voices Project competition and was published by New Rivers Press in 2019. She's published work in numerous journals including Split Lip, The Offing, Waxwing, and As/Us. Her essays have been anthologized in Counternarratives from Women of Color Academics, #NotYourPrincess: Voices of Native American Women, Women Write Resistance, and most recently Shapes of Native Nonfiction. A former editor of Quarterly West and South Dakota Review, she is the founding editor of Colorado College's literary journal Hairstreak Butterfly Review.
---