Annual Report 2022
CC'S ENDOWMENT PERFORMANCE

A Report from the Senior Vice President for Finance and Administration

Dear Friends,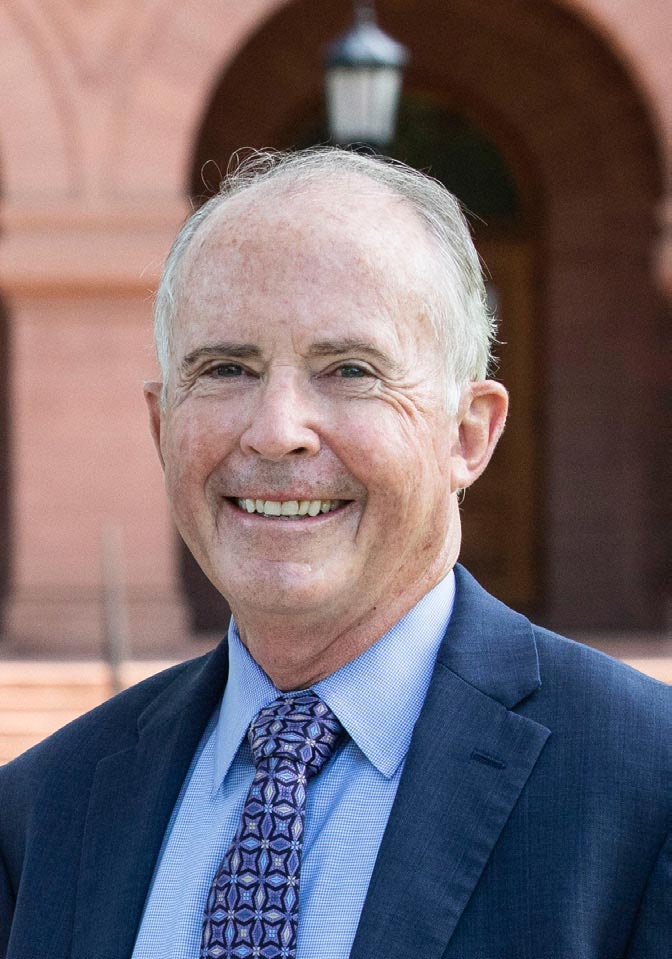 Colorado College's endowed funds provide significant and impactful support for the college. Your gifts and careful investment of these funds ensure that the endowment continues to create opportunities for Colorado College students, now and in the future.
The college's well-diversified endowment investment portfolio ended the fiscal year on June 30, 2022, with a negative 7.5 percent net annual return in a very difficult investment environment. We compared the Colorado College endowment performance to an annual 70 percent equity/30 percent fixed income benchmark, and that return was negative 11.3 percent. During the past 10 years, the college endowment has earned an average return of 8.8 percent. Currently, the endowment allows the college to provide an annual payout equal to 5 percent of the calculated value of each endowment, while also maintaining the inflation-adjusted value of the endowment.
As of June 30, 2022, the Colorado College endowment and perpetual trust market value was $861.1 million. The endowment and trusts provided a payout of $38.6 million, which — when combined with annual operating gifts received — provided 19 percent of the college's annual budget.
Your generosity continues to make a difference, and your actions inspire others to give, as well. Thank you for your commitment to Colorado College and our students.
Sincerely,
ROBERT G. MOORE P'13
Senior Vice President for Finance and Administration
---
COMPARATIVE DATA TOTAL RETURNS
Endowment and Perpetual Trusts
Timeline

Colorado College
as of June 30, 2022

70/30 Benchmark
(MSCI World AC NR LC/Barclays US 5-10 Year Treasury TR)

1 Year

-7.5%

-11.3%

3 Years

6.6%

5.2%

5 Years

7.6%

6.0%

10 Years

8.8%

7.6%
U.S. COLLEGE & UNIVERSITY AVERAGE ANNUAL RATE OF RETURN
| Endowment Amount | 10 Year |
| --- | --- |
| > $1 Billion | 9.4% |
| $501 Million-$1 Billion* | 8.6% |
| $250-$500 Million | 8.3% |
| $101-$250 Million | 8.0% |
| $51-$100 Million | 8.0% |
| $25-$50 Million | 9.0% |
| < $25 Million | 8.3% |
*Colorado College's endowment is in this group.
Source: National Association of College and University Business Officers (NACUBO) 2021 Survey
CC'S ASSET ALLOCATION
Global Equities - 36%
Hedged Equities - 15%
Private Equity - 15%
Absolute Return - 15%
Cash - 8%
Private Debt - 6%
Fixed Income - 3%
Private Equity Real Estate - 2%
HOW COLORADO COLLEGE MANAGES ITS ENDOWMENT
The college's endowment is overseen by the Colorado College Board of Trustees Committee on Investments in accordance with college policy, Unified Prudent Management of Institutional Funds Act, and the rules of prudence. The committee seeks superior investment returns through strategic asset allocation and professional investment management. The committee monitors the 62 external investment firms that manage the college's assets and makes changes when appropriate to rebalance the college's portfolio, with guidance from Monticello Associates, the college's investment consultant.
ENDOWMENT AND PERPETUAL TRUSTS PORTFOLIO MARKET VALUE AND INVESTMENT RETURN
(In Millions)
Market value amounts (in millions) include market return, gifts received, payout, and fees. Excludes Pledges.
TOTAL FISCAL YEAR PAYOUT
(In Millions)
Source: Statements of Activities. Does not include BIPT payouts.
HOW SPENDABLE INCOME IS CALCULATED
The college's Board of Trustees develops a spending policy that balances the current needs of the school with the prudence of saving for the future. The policy defines how spendable income is calculated for the college's overall endowment portfolio. These funds are vital to the support of scholarships, professorships, research, the library, and other academic programs and operations.
Spendable income is defined as the amount available to spend during a given fiscal year to support the fund's purpose. Spendable income is five percent of the 12-quarter trailing average as of the prior December 31, with change from year to year capped at five percent up and one percent down.
COLORADO COLLEGE FISCAL YEAR 2022 ENDOWMENT AND PERPETUAL TRUST SPENDING
Financial Aid - 37%
General Budget Support - 23%
Academic Departments - 21%
Professorships - 16%
Library - 3%
ENDOWMENT PER STUDENT
How Colorado College Stacks Up to Peer Institutions (Fiscal Year 2021)
College

Endowment Per Student*

Overall Endowment in Millions**

Bowdoin College

$1,530,460

$2,720

Hamilton College

$737,244

$1,399

Davidson College

$676,443

$1,341

Whitman College

$638,581

$840

Carleton College

$603,745

$1,158

Colby College

$583,637

$1,258

Wesleyan University

$524,567

$1,573

Middlebury College

$472,188

$1,511

Macalester College

$442,172

$894

Colorado College

$431,862

$909

Lafayette College

$429,623

$1,064

Colgate University

$415,486

$1,263

Kenyon College

$338,538

$546

Bates College

$248,410

$466

Pitzer College

$208,502

$179

College of the Holy Cross

Not included in 2021 NACUBO survey
*The endowment per student is the overall endowment as reported by the National Association of College and University Business Officers (NACUBO), divided by the number of undergraduates cited in the Common Data Set.
**Source: NACUBO 2021 Survey