Cornerstone Arts Week 2020
Central Questions
Who decides

what "art" is, who gets to make it, and who it's for?

What space exists between dominant and marginalized communities with regard to what art is seen, heard, published, or produced?

How does art navigate the spaces that exist between people, confront the inequities that emerge, and the power structures that drive them?
Cornerstone Arts Week Events
Monday January 27th
Performing Arts Community Meeting
An open forum and dialogue on Performing Arts at CC. All members of the campus and community are welcome!
Cornerstone Screening Room, 4:00pm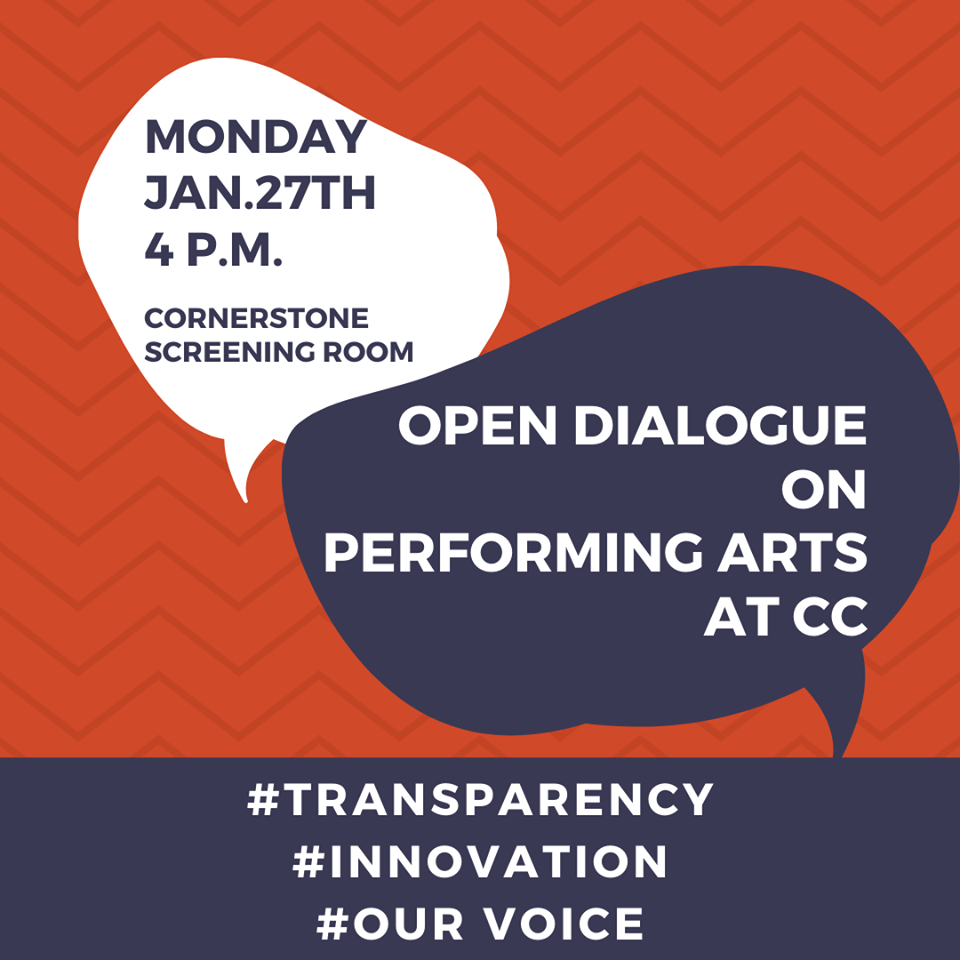 ---
Tuesday January 28th
Panel Discussion: Finding the Foothold: Artist in Conversation on Art and Inclusion
Participants: Raven Chacon, William Cordova, Baseera Khan, and Anna Tsouhlarakis
Celeste Theatre, 7:30pm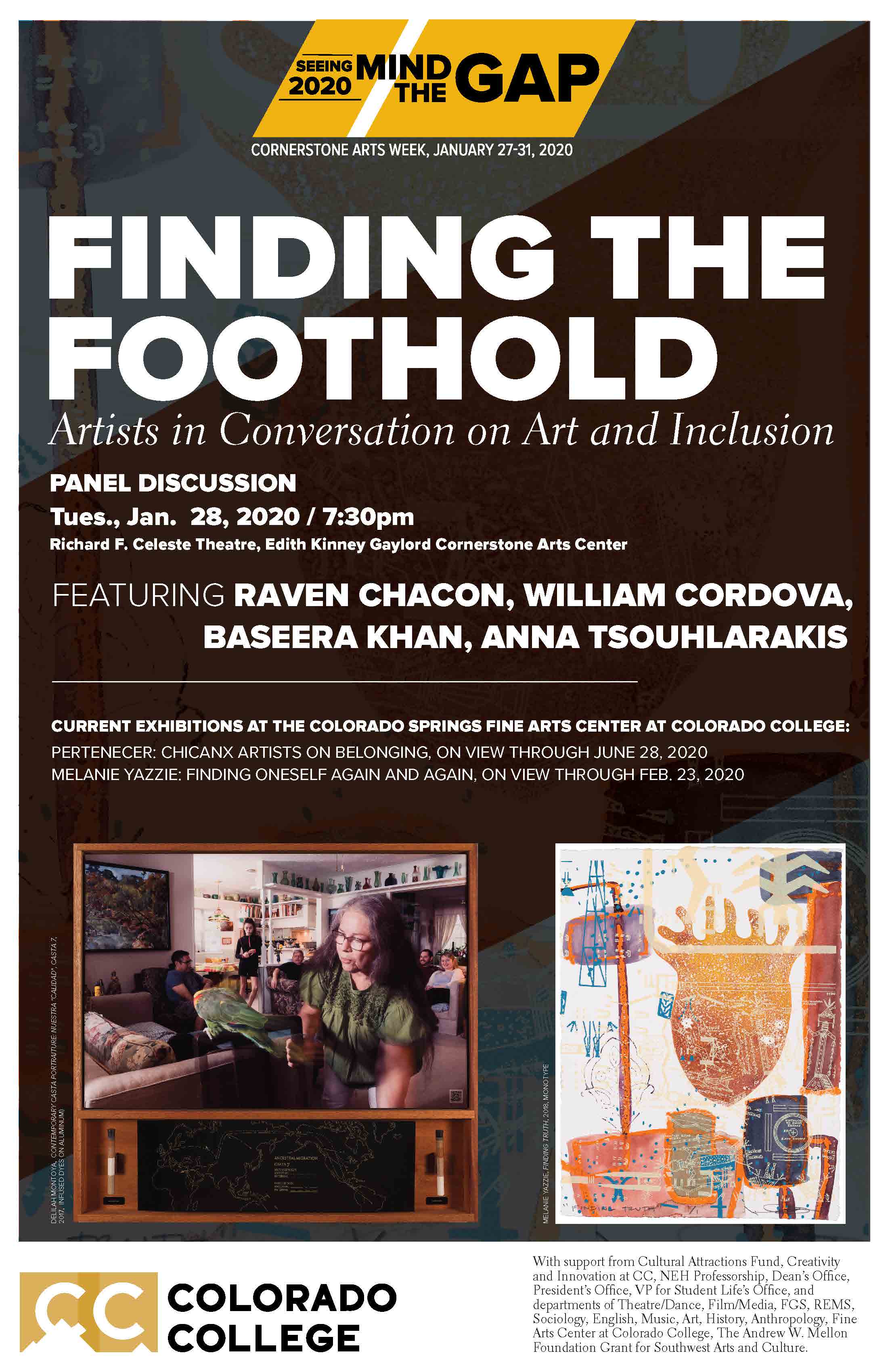 RAVEN CHACON
Raven Chacon is a composer, performer and installation artist from Fort Defiance, Navajo Nation. As a solo artist, collaborator, or with Postcommodity (2009-2018), Chacon has exhibited or performed at Whitney Biennial, documenta 14, REDCAT, Musée d'art Contemporain de Montréal, San Francisco Electronic Music Festival, Chaco Canyon, Ende Tymes Festival, 18th Biennale of Sydney, and The Kennedy Center. Every year, he teaches 20 students to write string quartets for the Native American Composer Apprenticeship Project (NACAP). He is the recipient of the United States Artists fellowship in Music, The Creative Capital award in Visual Arts, The Native Arts and Cultures Foundation artist fellowship, and the American Academy's Berlin Prize for Music Composition. Chacon was the inaugural Andrew W. Mellon Artist-in-Residence for the Colorado Springs Fine Arts Center at Colorado College in 2017.
WILLIAM CORDOVA
William Cordova is a multimedia artist whose work notably reshapes ideas of transition and displacement. Cordova earned a BFA from the Art Institute of Chicago and MFA from Yale University. Cordova grew up in both Lima and Miami, and the impact of his multicultural childhood experience manifests in his politically charged art. Cordova's work offers a narrative which refracts from the conventional understanding of history through the pairing of found objects, which he believes bear their own history. From paintings to sculpture, Cordova disputes the idea of art as solely for aesthetic reasons and, in turn, wields art as means to prioritizes voices and histories that are never heard or told.
BASEERA KHAN
Baseera Khan is a New York-based artist who sublimates colonial histories through performance and sculpture in order to map geographies of the future. Khan opened their first solo exhibition at Simone Subal, New York and a two-person show at Jenkins Johnson Projects. They have exhibited in numerous locations such as Sculpture Center, Aspen Museum, Participant Inc., Moudy Gallery at Texas Christian University, Fine Arts Center of Colorado College, and has performed at several locations including the Whitney Museum of American Art and Art POP Montreal International Music Festival. Khan was an artist in residence at Pioneer Works and Abrons Art Center, was an International Travel Fellow to Jerusalem/Ramallah through Apexart, and attended the Skowhegan School of Painting and Sculpture. Khan was a recipient of the BRIC Colene Brown Art Prize and the Joan Mitchell Painters and Sculptors Grant in 2019, they were granted by both NYSCA/NYFA and Art Matters in 2018. Her work was recently acquired by the Solomon R. Guggenheim permanent collections and Kadist, San Francisco. She is published in Artforum, Art in America, BOMB, OSMOS Magazine, unbag, Brooklyn Rail, The New Yorker, The New York Times, and TDR Drama Review. She received an M.F.A. from Cornell University and a B.F.A. from the University of North Texas.
ANNA TSOUHLARAKIS
Anna Tsouhlarakis earned a BA from Dartmouth College and MFA from Yale University, and since then has been challenging the Anglo-imposed canon of Native art. Working across a range of media, Tsouhlarakis has developed an artistic practice that explores themes of Native American identity through resolutely contemporary means. With a body of work that includes sculpture, video, performance, photography, and installation, Tsouhlarakis aims to expand the terms of what constitutes Native aesthetics, pushing viewers to confront and rethink their own cultural expectations when encountering the work of Native artists. The focus of her work is to create and uncover new truths.
---
Wednesday January 29th
Keynote Address: Lift Every Voice
Kevin Young
Celeste Theatre, 7:30pm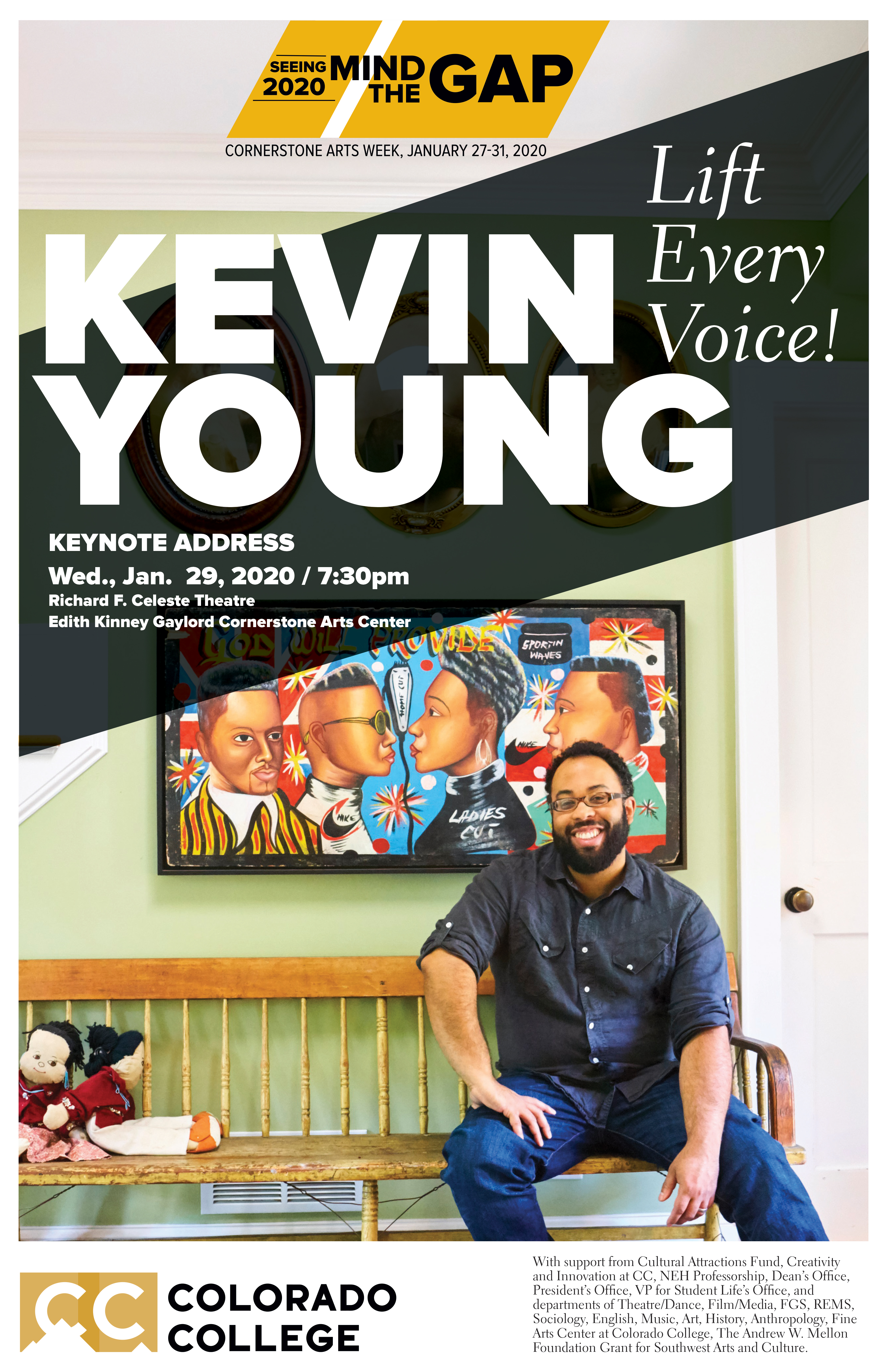 ---
Thursday January 30th
Reading by from Split Tooth
Tanya Tagaq
Cornerstone Screening Room, 3:00pm
Split Tooth is the debut novel by Canadian musician Tanya Tagaq, published in 2018. Based in part on her own personal journals, the book tells the story of a young Inuk woman growing up in the Canadian Arctic in the 1970s. The book has been described as a blend of fiction, memoir, poetry and Inuit folklore.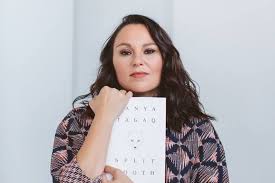 ---
CC Composer Concert
Featuring: Iddo Aharony, breathwatersoundcannon (World Premiere) featuring poet Layli Long Soldier, Ofer Ben-Amots, Songs from the Pomegranate Garden, Grace Hall'20, Thorne Miniatures (World Premiere) Jordan Schrage'20, Arc of the Lunar Pedigree (World Premiere).
This concert features the premier of "breathwatersoundcannon," a work for bass-flute, live electronics, and video. This collaborative piece will be performed by Chicago-based flutist Shanna Pranaitis, with CC music professor Iddo Aharony, controlling the live electronic processing of the bass-flute in real-time. The video for the piece was shot and directed by filmmaker Arom Choi, visiting professor at CC's Film and Media Studies. The video merges images of the natural and personal, including a performance by CC theatre professor Mónica Sanchez. "breathwatersoundcannon" was inspired by the poetry of Layli Long Soldier, and specifically by her poem "Resolution 2" which is woven into the fabric of the piece in different ways, including through Long Soldier's own recorded voice.
NOTE: Composer and artists discussion panel from 6:45-7:15 (before the concert) for those interested.
Packard Hall, 7:30pm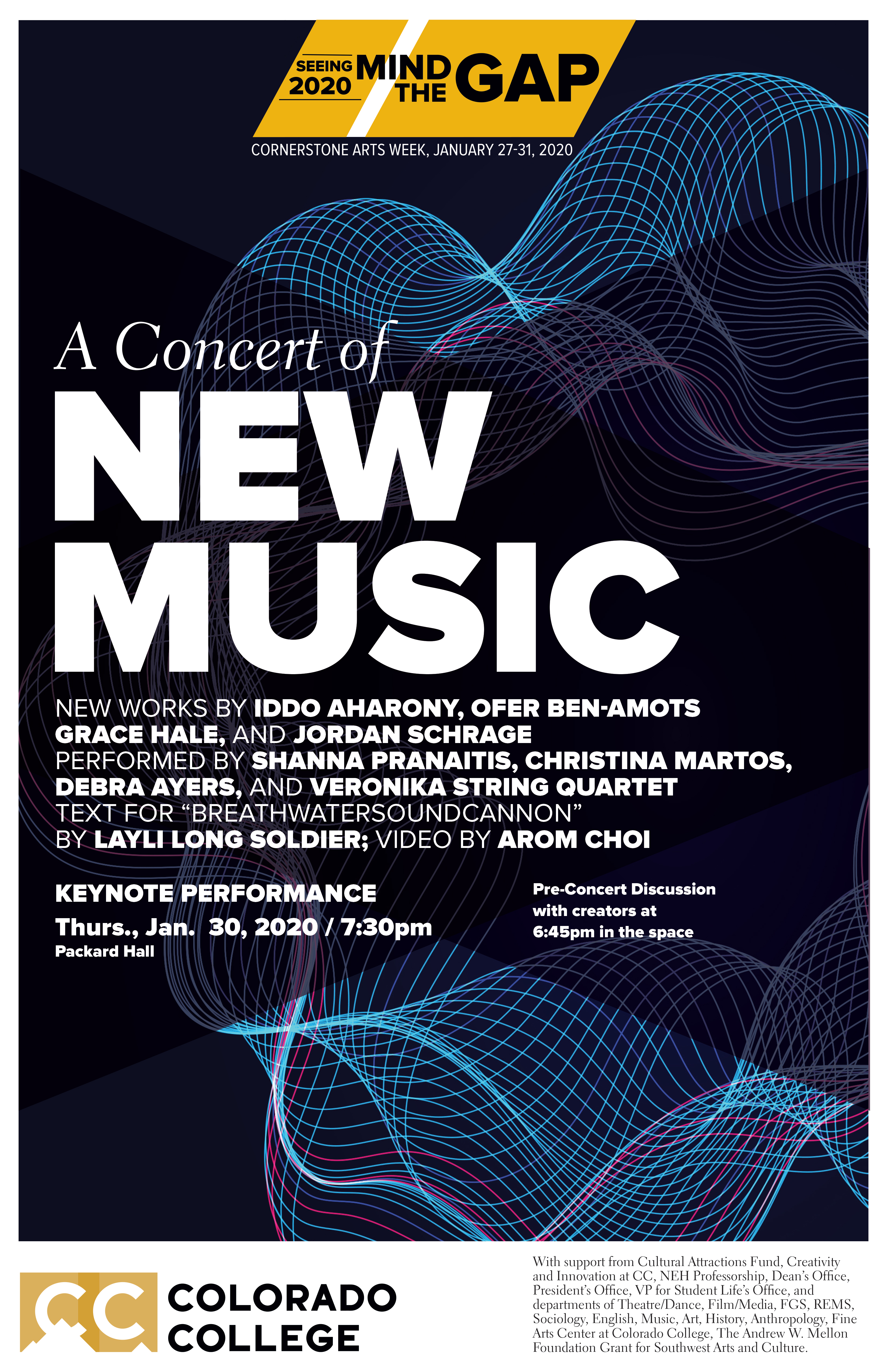 ---
Friday January 31st

Vocal Master Class
Christina Martos (soprano) and Debra Ayers (piano)
Packard Hall, 3:00pm
---
Keynote Performance:

Retribution
Tanya Tagaq and Ensemble
Celeste Theatre , 7:30pm