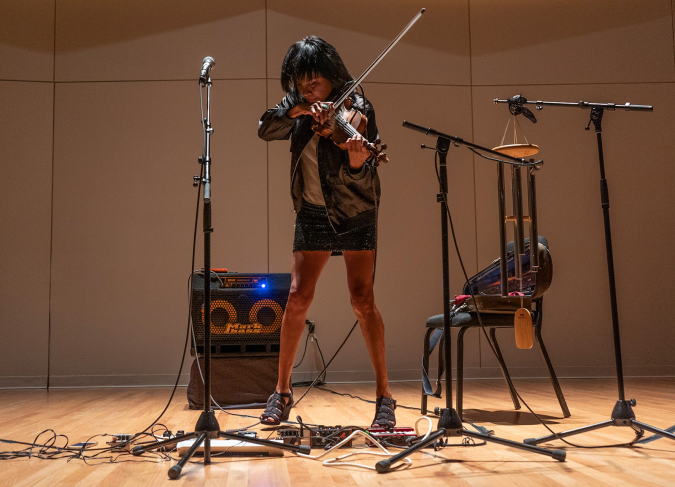 The Charge: The FAC's sense of place is one of its most distinctive features including its physical location, its Southwest and Spanish Colonial collections and the many local, regional, national, and global interaction it supports through exhibits, theatre productions and visiting artists. The FAC aims to underscore its sense of place by designing dynamic programs that connect audiences to historical and contemporary cultures in new or unexpected ways.
What's Happening:
On August 29, an audience of nearly 200 was enchanted and astonished by the musical performance of experimental violinist Laura Ortman (White Mountain Apache). Ortman, who is a Brooklyn, NY-based composer, musician, and artist, describes herself as a sound sculptor. Using instruments as varied as a piano, electric guitar, megaphone, and four-track tape recorder to play back from her vast audio catalogue, Ortman's experimental improvisations create emotive atmospheres. She opened this performance by whistling through a recorder as if to wake up the single electric violin that she used in the concert. Next, she tapped out a short piece on a hanging wind chime, which led to a meditative composition on the violin. As she performed, Ortman seemed to dance across a set of amp pedals creating ambient sound textures. At that point, no one in the audience expected that she would intensify her performance with a stabbing kick that sent the wind chime pipes flying. Dozens of first-year students were in attendance, experiencing music on the Colorado College campus for the first time, as well as the excellence that can come from innovative risk-taking.
Thanks to Colorado College's strategic commitment to innovation, Ortman was invited to perform as part of the Fine Arts Center Museum's Great Performances programming, which is funded by a five-year grant from the Andrew W. Mellon Foundation in support of Southwest art and culture. Polly Nordstrand, curator of Southwest art, identified Ortman as an ideal artist to bring to campus to exemplify the talent originating in the Southwest. The Whitney Museum of American Art in New York recently announced that Ortman would be included in its 2019 biennial. Her "My Soul Remainer" video collaboration with choreographer/dancer Jock Soto (Diné) and filmmaker Nanobah Becker (Diné) is a star of the show. The Colorado Springs Fine Arts Center at Colorado College is committed to presenting artists of Ortman's stature to inspire and stimulate learning experiences for the entire community. The museum builds on their rich history of presenting art of the Southwest by continuing to offer new ways to appreciate this region.
CC and the Fine Art Center are united in their attention to a sense of place. The museum's focus on the Southwest not only celebrates the nationally recognized collection, but helps broaden their audience's understanding of the region to include artists like Ortman who challenge our perceptions and beliefs. According to Professor and Museum Director Rebecca Tucker, "The FAC Museum is deeply honored to present Laura Ortman's performance of her singular sound sculptures. Ortman's work bears witness to the transformative power of art - to alter perspectives and minds, to upend expectations, and to illuminate beautiful and radical creative possibilities."
An Indigenous woman, Ortman has had the opportunity to play in an urban symphony, exhibit at the center of the art world, and attend traditional ceremony with her family in Arizona. Her music and art reflect the richness that comes from this diversity. Through exhibitions, artist visits, performances, and education programs, the museum seeks to present a dynamic sense of place that is as rich and diverse. And by doing so, the community is enriched, and creativity is supported.