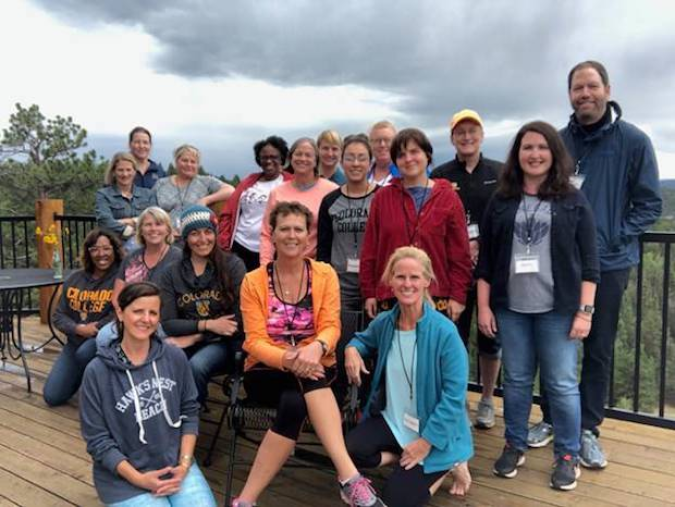 The Charge: Because people are our greatest asset and our Rocky Mountain location is an essential part of our identity, we have a deep appreciation for holistic well-being. CC strives to one of the best places in the nation to learn and work. We value creativity and innovation, which require reflection and exploration. To make time to reflect, explore, and innovate, we recognize the role of a healthy community in individual wellness. Supporting staff and faculty wellness from a holistic perspective - as we do for students - could increase productivity and model healthy behaviors for students.
What's Happening: The college's second year in partnership with State of Slim was equally successful as year one. Twenty participants entered the 16-week journey in January 2018 and emerged on the other side with an average of more than 20 lbs. of weight lost and a wealth of healthy knowledge gained. "The State of Slim program has helped me stay motivated with physical activity and adventure. Because of this program, I have summited my first 14er, climbed the Manitou Incline, and have sustained a gym membership/attendance for well over a year. These are things that I never pictured as results of the program and I am so grateful for the opportunity! I would absolutely tell others about the college's wellness efforts. We are lucky to work at a place that supports so many aspects of employee wellness, including the State of Slim program," says Sara Rotunno, assistant director of accessibility resources. Rotunno is not the only participant who has conquered the mountains of Colorado as a result of the program. Lynette DiRaddo, manager of the Worner Information Desk, who participated in the inaugural year of the program, is featured on the State of Slim website telling her amazing success story. State of Slim is not just for staff, Professor of Music Ofer Ben-Amots participated in year one and has this to say about the program: "The State of Slim Program had a great and wonderful impact on me: after losing over 35 pounds I felt so much better and healthier. More importantly, however, it encouraged me to make an effective change in my lifestyle and eating habits. I am very thankful to Colorado College for providing this amazing wellness program and encourage any of my colleagues in the faculty and staff to try it out!"
The State of Slim program is only one of many new wellness programs the college offers. A "Wellness State of Mind" track was added to the Excel@CC professional development program in 2016. Classes in the track vary from Meditative Wheel Throwing (offered through the Fine Arts Center), Art Journaling, to Money at Work, and Personal Financial Planning just to name a few. Just this past August 3, a group of faculty and staff went to the CC Cabin to learn self-care practices at a day-long retreat.
The new wellness programs initiated as part of the college's strategic plan workplace excellence recommendation is in addition to the already wide spectrum of benefits and opportunities available at the college. The college offers a comprehensive benefits program, free onsite gym access, free access to the FAC museum, free-onsite annual biometric screenings, a smoke- and tobacco-free campus, and a free employee assistance program that provides services on substance abuse, counseling, and legal advice, just to name a few. For a complete list of all the college's benefits and to view the complete lineup for the Wellness State of Mind, visit https://mybensite.com/coloradocollege/. The college's chapel offers several weekly programs also geared toward wellness. Those include - Meditative Mondays, Oigong Tuesdays and Zen Buddhist meetings and meditation.