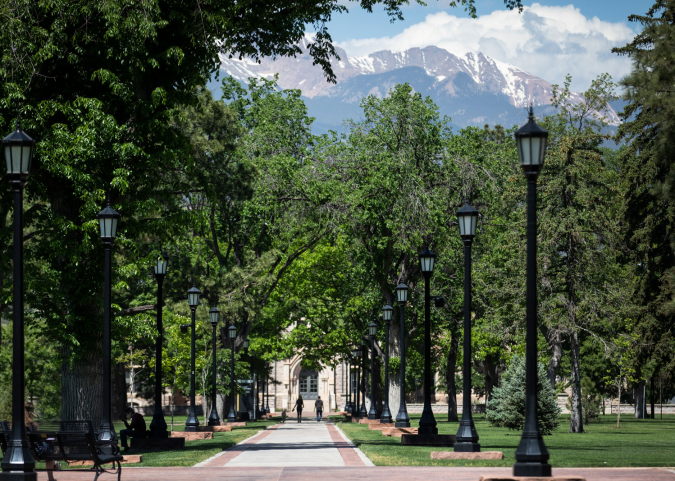 Board of Trustees Chair Susie Burghart '77 has generously initiated Susie B's Challenge to match gifts of $50,000 and more that are directed to the Colorado Pledge, an initiative to make Colorado College more accessible for lower- and middle-income students from Colorado. Gifts made through the challenge will create endowment funds for these scholarships, which will be used to support CC students in perpetuity.
"Our sense of place in the Rocky Mountain West factors prominently into the CC experience. As the only liberal arts college in the region, we need to ensure that Colorado College is financially accessible for students from Colorado," says Burghart.
The college aims to raise $20 million to enact the Colorado Pledge. Currently, 15 percent of CC students are from Colorado.
Colorado College Student Government Association President Ethan Greenberg '20, a Boettcher Scholar from Denver, believes the Colorado Pledge marks a turning point for the institution that affirms its commitment to Colorado
"Certainly, we're fortunate to have perspectives from a lot of other states and a lot of other countries at Colorado College," he says. "At the same time, I'm proud of what we are doing through the Colorado Pledge because it's bringing more of that foundational Colorado element and commitment to CC by bringing more Colorado students here.
"We recognize this state as our home," says Greenberg, "and we recognize that we have a service to this place because it gives so much to us.
In addition to Burghart's commitment, Alumni Association Council member Susan Burgamy '66 recently established the first scholarship through the Colorado Pledge (see Summer 2019 Bulletin). Gifts of any amount can be made to the Colorado Pledge Endowed Scholarship Fund.
For donors interested in participating in Susie B's Challenge for the Colorado Pledge, contact Meghan Yingling at (719) 389-6741 or myingling@coloradocollege.edu for more information.