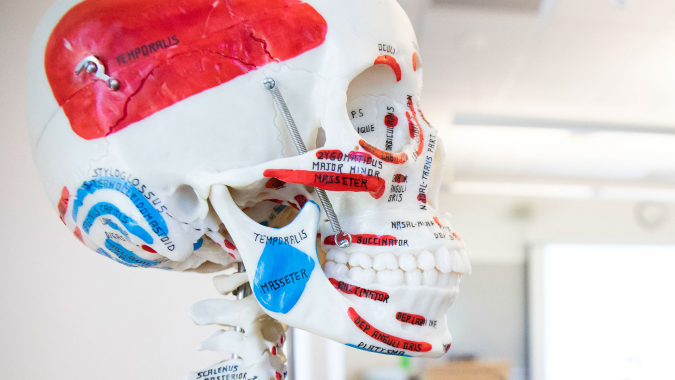 by Laurie Laker '12
They were supposed to be in the lab. There were supposed to be cadavers to examine and learn from. Senior lecturer Dan Miska's Block B class, Advanced Joint Anatomy, had to stretch and strain itself into continuing, to forging ahead. With the COVID-19 pandemic, the Summer Session class was one of the many that were directly affected, and one of the many at CC that thrived and succeeded in spite of the situation that impacted us all.
"Sure, I was definitely disappointed to not be in-person - the opportunity to examine and learn from cadavers was a big appeal of the class for me. That said, we used a phenomenal online software to get a digital representation of the joints and their workings; almost as good as the real thing, and certainly the best way to do it from a safe distance and remotely," says Tayla Wheeler '21, the senior CC Tiger's women's soccer player and Organismal Biology and Ecology (OBE) major.
Miska designed the Summer Session class as "something that was slightly easier for students to get into than my Advanced Anatomy and Advanced Head and Neck classes - it presented a real opportunity for a group of students," he says.
"Obviously, I wanted it to be a lab-based class, utilizing the human cadavers we have on campus in the lab to help the students gain a really deep understanding of how joints function, and play into the overall health of us as people. Then, you know, COVID happened…" he says, trailing off slightly.
As with every CC class since Block 7 of last year, this one has been dramatically impacted and affected by the ongoing pandemic.
"Some things are just easier to emphasize in person," Miska explains.
"What I learned quickly from Block A, when I taught Introduction to Anatomy, is that I have to select other things that are better suited for a Zoom learning environment, for the medium we're all using now. By Block B, I was really aware I needed interaction - I couldn't just record my lectures and have that be it. 'Zoom fatigue' is very real, for sure, but we need a face to see and talk to, which is why I made the choice to switch to live Zoom classes for this block."
For Madeline Ng '21, a senior Molecular Biology major with a Chemistry minor who is on the pre-med track, the class represented a chance to continue "making the best of my circumstances" over the course of the uncertain summer.
"I know that the course was originally supposed to be dissection-based, but I registered after all of Summer Session was made virtual, and so I knew what I was signing up for," Ng says.
"Despite the constraints of teaching remotely, Dan did a wonderful job of adjusting the class to fit our needs; he worked with us to find meeting times that fit our schedules. I anticipated a lot of long Zoom lectures. I was pleasantly surprised when Dan split up our weeks between material for us to study independently, synchronous lectures, quizzes, and presentations."
Bea Pierrepont '22, another Organismal Biology and Ecology major, says one of the strongest points of the class was self-diagnosis and reflection.
"Honestly, the best part about this class was learning more about the injuries I have sustained," she says. "One example was that I tore my ACL freshman year playing lacrosse and I was able to do a case study on the various forms of ACL reconstruction."
The diagnosis and treatment element of the class, which helps bridge the clinical side with the human side of the medical field, was a key component for Wheeler, who has plans to attend medical school after CC and then work in physical therapy.
"Every time I've learned anatomy at CC, and especially in Dan's classes, it's always been paired with a human treatment element - teaching us to be able to handle patients as people, not case studies," she says.
"People are at their absolute worst when they're in pain and injured - they are not themselves," explains Wheeler.
"This is why Dan grades us on the verbiage we use, how we would talk to patients - it ensures that we're presenting our work, projects, and discussions through a human-first lens. I think a lot of times, people forget that the cadavers we're learning from, they're our first patients - we have a duty of care to them, and to our future patients as well."