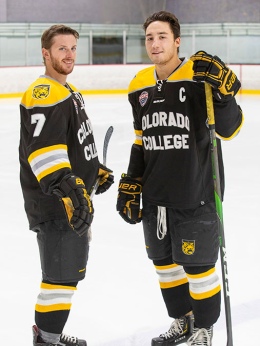 Ice is a hot topic at Colorado College right now, ice as in the surface of Ed Robson Arena, the planned venue for Tigers hockey that's slated to open for the 2021-22 season.
Seems everyone has something to say about it, including the newly appointed CC hockey co-captains of the 2019-20 team: Alex Berardinelli '20, a senior history major, and Grant Cruikshank '22, a sophomore economics major.
Cruikshank will likely play on Robson's ice; Berardinelli will not, but he remains upbeat about what the arena might mean for CC and the community. "It's going to be amazing for this program, great for the players, and a great recruiting tool," he says. "It also has the possibility of being able to pull the CC community together."
Cruikshank, too, believes the arena will have a communal effect. "It will bring our school, hockey program, and campus together," Cruikshank says. "I'm super excited to have the chance to play on campus in front of our friends and classmates."
No matter where they play, there are the 35 hours a week of workouts, practice, video sessions, and games. But both students say the Block Plan meshes well with their schedules and is a plus for their academics.
Cruikshank says, "By only having one class and one professor, it makes it much easier to learn and remember the content. The classes move very fast so when we have a road trip, we talk to the professor to make sure we stay up to speed. I can't imagine having three or four other classes while playing hockey."
Berardinelli admits the Block Plan was hard at first, but he says, "You get better at being more disciplined with the time you spend away from the rink. Coach [Mike] Haviland expects 110 percent every day. When you give that kind of effort toward hockey and see the results, it makes it easy to translate that work ethic to the classroom."
After he completes his studies, Berardinelli hopes to keep playing hockey. "I still have dreams of playing for a living, and if that doesn't work out, I'd love to stay involved in the game any way I can, scouting, coaching, etc."
Cruikshank wants to go pro, too. "It's my passion and what I get most excited about."
Both also see good days ahead for CC hockey.
"I believe that we have all the ingredients to have sustained success here at CC for many years to come," Berardinelli says.
Cruikshank says CC hockey will be in the conversation for national championships every year.
"Within five years, especially with the new rink, being a contender every year is very realistic."
The arena will be named for Ed Robson '54, who has generously supported the arena and CC hockey.