Students in MU275 - Songwriting Creative Workshop walked into their Block 3 course this semester with varying levels of songwriting experience and diverse musical backgrounds. What instructor Iddo Aharony offered to all students was an enriching environment to grow not only as songwriters, but also as creative individuals — together.
"Songwriting is arguably impossible to 'teach'; however, a supportive environment that encourages students to both refine and find new ground within their practice, while becoming more sensitive listeners, can hopefully be meaningful and productive," said Aharony, assistant professor in the Music Department. "With no genre or style limitations regarding what a song could be, this class aims to support and help grow each student's individual creative expression, through a series of creative and analytical projects and exercises. However, it is also designed for students to collaborate with each other along their creative process."
One of the main projects for this course called on students to create songs utilizing texts written by persons incarcerated at the Women's Ward at the El Paso County Jail. The texts were written at the Women's Ward as part of a workshop offered by Aharony and poet Alison Rollins, who guided participants through a series of creative prompts revolving around moments in their lives in which they felt most free.
"The texts they ended up writing were striking and personal, and their creators were clearly excited about the notion of having their words resonate outside the jail by having students transforming them into songs and performing them," said Aharony. "In past iterations of this project, pre-covid, the students were also able to perform the finished songs at the jail, for the text-writers as well as the rest of the ward. Those performances were some of the most moving moments I've ever experienced."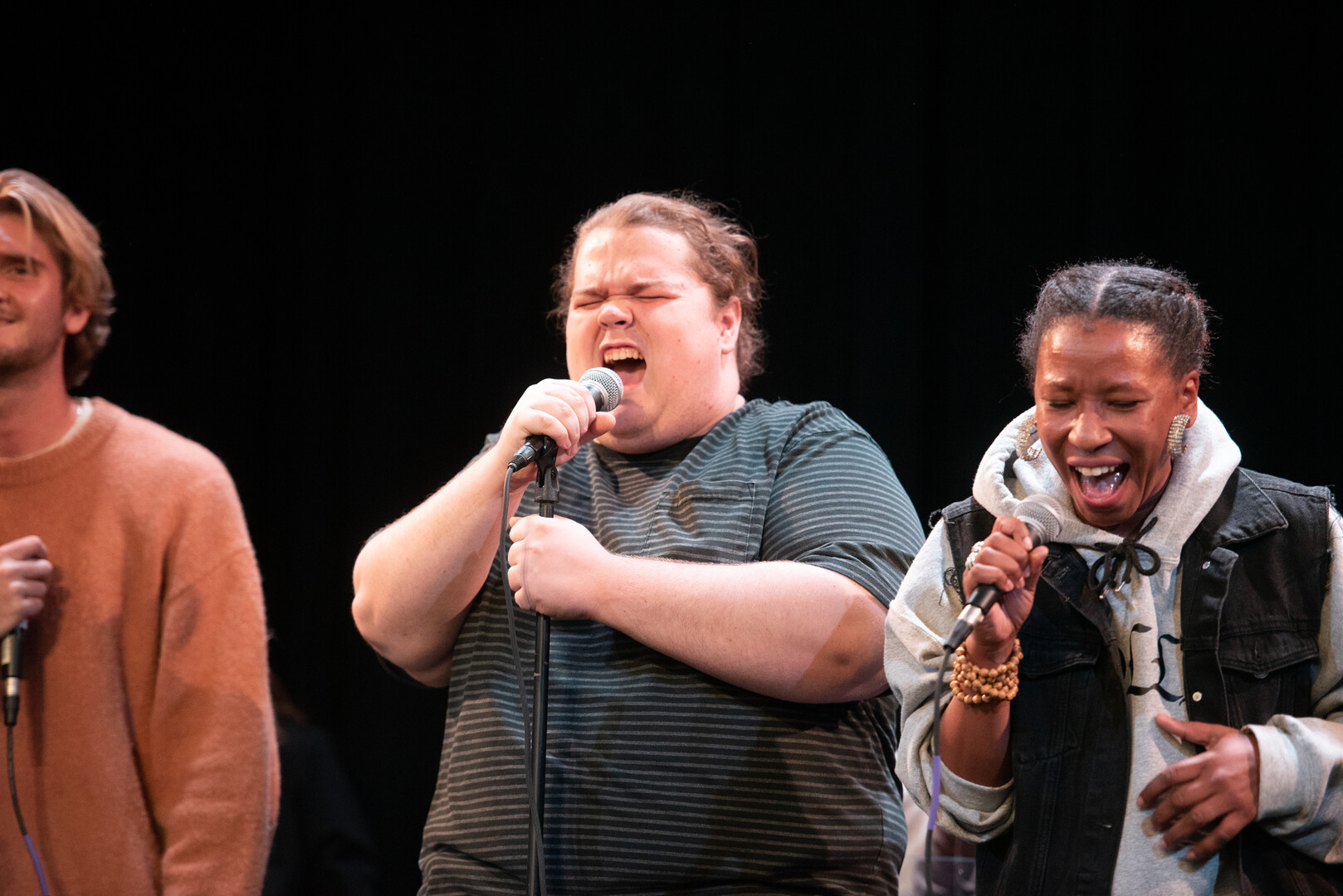 Eight individuals from the Women's Ward participated in the workshop and shared their work to be transformed by the CC students, who divided into four groups that each created two songs based on two different texts. Aharony said the students faced a few challenges in completing this project; besides collaborating with peers they had only just met at the beginning of the block, they had to create music around a given text that could not be adjusted or changed, and consider how to best treat this deeply personal text with respect, care, and sensitivity.
"I could not have been more impressed with how the students found ways to work through all of these challenges," Aharony said. "Each team of students found a unique way to collaborate and create together, even if for some of the teams it took some time and effort to find the 'key' to how to make the collaboration work. And the songs they ended up creating are truly beautiful, each following a different musical trajectory to bring to life, in sound, the words by the persons incarcerated: to bring to life a longing for freedom that feels simultaneously very personal — each of us might define and experience freedom differently, as these texts exemplify — and universal."
The students received an additional tool to assist in their creative process: Hip-hop duo The Reminders — Big Samir and Aja Black — were invited into the classroom to workshop with students on their songs during class sessions and for a joint performance at the end of the third week of the block, thanks to support from CC Mobile Arts, program director Naomi Wood, and Nancy Rios.
Aharony said the timing of The Reminders' involvement with the class couldn't have been better.
"The Reminders are wonderful communicators, and have that relatively rare gift where they can provide meaningful feedback for someone else's creative process, and you know that the feedback has nothing to do with their own aesthetic and everything to do with that someone's musical goals and vision," he said. "I've learned a ton from witnessing that, and the students always seem to respond strongly to it. And then there is their sheer energy and passion for music. Most of us at CC are familiar with the energy slump that hovers over the block about midway through, and that can hit especially hard on Block 3 with accumulative exhaustion and the weather getting cold. I've never before seen a pretty tired group of students in 'one of those days' transform, in a matter of minutes, into a singing, dancing, clapping groove-machine, huge smiles on everyone's faces as The Reminders reminded all of us of the sheer life-affirming joy of simply making music together."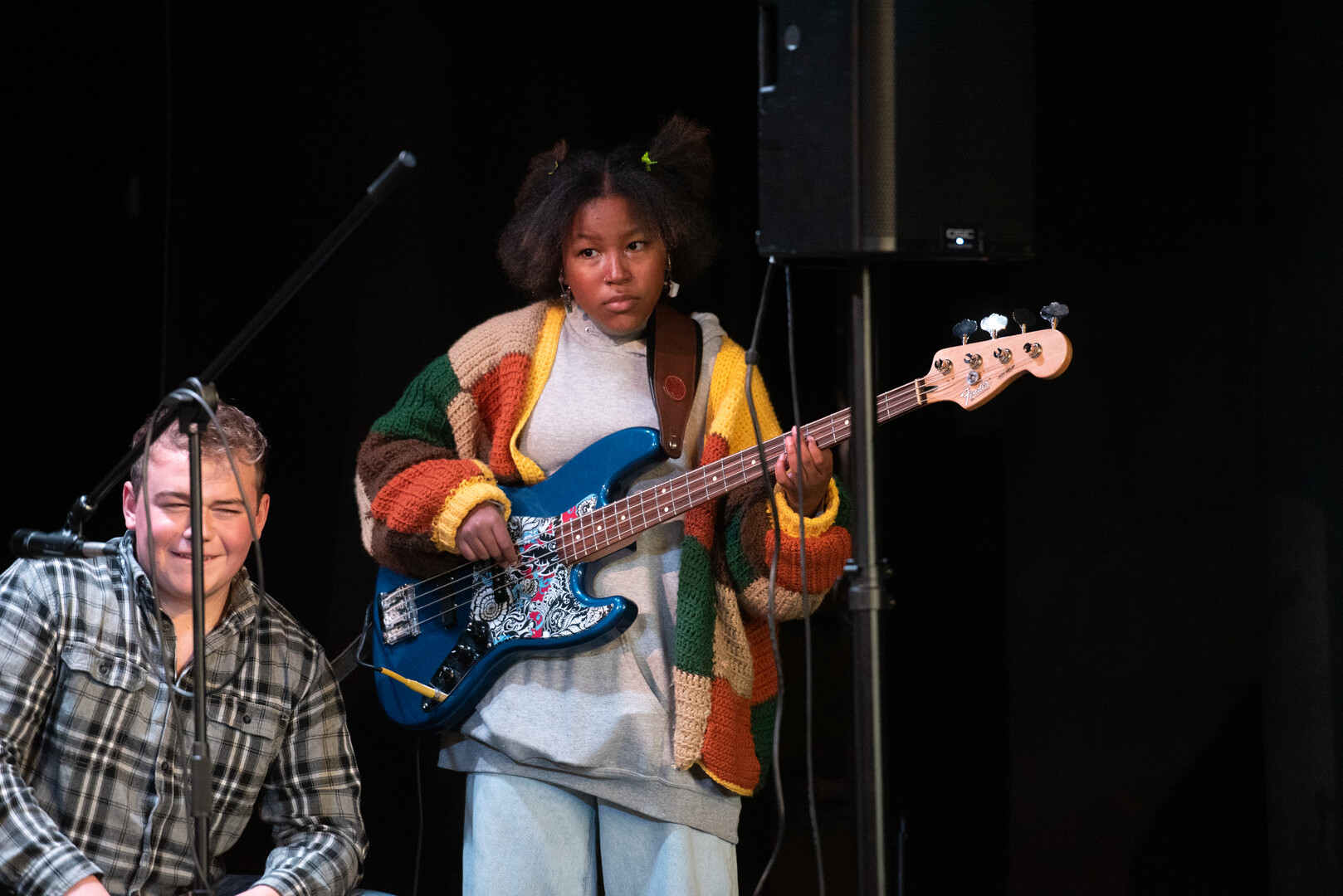 Samir and Aja are no strangers to sharing their craft. The duo has worked with CC students before, and via "The Reminders University," they offer lectures and workshops involving Ethno-American studies, diversity in cultural heritage, storytelling, creative writing, and more — all while continuing to create their own music and perform across the U.S. and internationally.
"They brought a wealth of experience, both in collaborative songwriting (Aja and Big Samir write together often, and also sometimes collaborate creatively with others) and in regard to performing, something that many of the students had very little experience with before this block," Aharony said. "They met with each of the teams every few days along the creative process, from the earliest stage in which all the teams had were mere grains of ideas, to the dress rehearsal for the performance. In those sessions, they helped each team build on their ideas on their way to becoming actual songs, while helping the students work through and think through the vulnerable process of creating together as a team. In other words, they helped them realize the goal of amplifying the words written by the persons incarcerated, while also helping each student have a meaningful voice and role along this process."