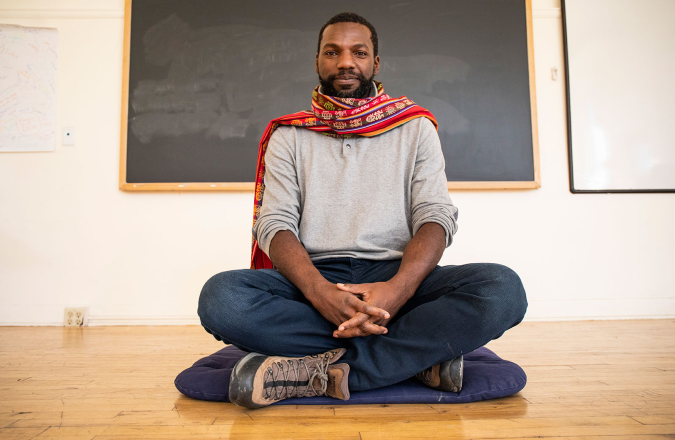 In the classes he teaches at Naropa University and elsewhere, Ramon Gabrieloff-Parish '00 brings the mind and body into relationship, giving a unique, body-centric focus to mindfulness practice and helping to educate students on how to become fully integrated people whose bodies, minds, and hearts are all in communication.
To me, innovation is bringing different elements together in a common space to create something new," Gabrieloff-Parish '00 says.
For the last seven years, Gabrieloff-Parish, who was recently featured in Colorado College's Faces of Innovation series, has practiced authentic movement, somatic-based mindfulness, men's work, and contemporary rites of passage with Melissa Michaels, as a leader in Surfing the Creative International Rites of Passage Youth Camps and more recently with the Men's Leadership Alliance.
aropa's general educational philosophy is to try to bring together the liberal arts traditions developed in Western Europe and the contemplative traditions that were developed from parts of the Buddhist east," he says. "In all of our classes, we try to bring in some elements of mindfulness, of meditation, of creative practices."
Gabrieloff-Parish also has brought his innovative perspective to Colorado College students, in 2018 presenting an Innovative Minds Workshop series entitled, "One Eye In, One Eye Out: Change, Innovation, and Relationship," along with his wife, Michelle Gabrieloff-Parish '00, who also was recently featured in the Faces of Innovation series.
He is a second-year adjunct instructor in Naropa's environmental studies department currently teaching a course on environmental justice. At Prescott College in Prescott, Arizona, where Gabrieloff-Parish worked previously, he developed an interdisciplinary study utilizing ritual and ceremony as tools for community development, inter-cultural understanding, ecological awareness, and personal transformation.
Innovation at Colorado College includes four main areas of emphasis, Creativity, Design Thinking, Risk/ Failure/Resilience, and Mindfulness, all practices that lead students into the change making space where ideas become actionable.
To watch the full Faces of Innovation interview with Gabrieloff-Parish visit, https://2cc.co/rgp.
For more information about Innovation at Colorado College, including how you can help support programming and a new building, contact Laura Rosendo '06 at (719) 389-6270 or laura.rosendo@coloradocollege.edu.