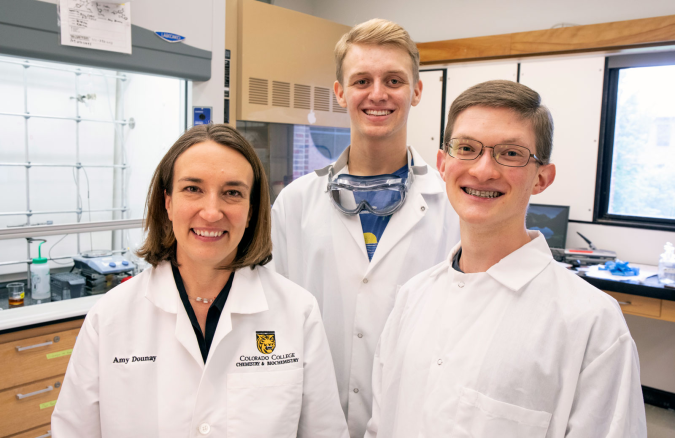 Associate Professor Amy Dounay '96, Ben Sokol '22, and Tyler Walker '21 are in the lab where they spent the summer performing experiments hoping to perfect a drug that could be used to treat African sleeping sickness.
The work of a Colorado College professor and two students this summer could alleviate suffering for thousands of people.
They're examining molecules that show potential for fighting an organism that causes African sleeping sickness. The disease is widespead in 36 sub-Saharan countries and without treatment, is fatal. What's more, scientists say climate change may raise the number of people at risk for contracting the illness.
The researchers are Amy Dounay '96, associate professor in CC's Chemistry and Biochemistry Department, and students Ben Sokol '22 and Tyler Walker '21.
Two grants are supporting their work: a $4,000 faculty-student collaborative grant, and a $4,100 George and Elizabeth Lindeman Science Research Award that was created by Elizabeth Van Valkenburgh Lindeman '46 to recognize her late husband, George Munro Lindeman '44.
CC's Natural Science Division and the Department of Chemistry and Biochemistry gave additional funding for supplies.
"I'm very grateful for these grants that let the students immerse themselves in authentic research," Dounay says. "It's rewarding and energizing to be able to work with creative, enthusiastic, innovative students like Ben and Tyler and to help give them a sense of what research in drug discovery looks like."
The students are grateful, too, both for the funds and the experience for their careers.
"It is extremely rewarding to know the work I do in the lab each day will play a role, however large or small, in developing a new treatment option for this disease," says Sokol, a chemistry major who plans to pursue a Ph.D. in chemistry and is leaning toward a career in medicinal chemistry. "I have the rare opportunity to help make a difference in the world by doing something I'm passionate about."
Walker, a biochemistry major, calls the experience "a spectacular foundation" for both biochemistry and physical chemistry. "This experience shifted my career focus toward computational chemistry. Cross-disciplinary depth is part of what draws me to medicinal chemistry," he says.
Dounay says both students are showing dedication and enthusiasm. "It's been exciting to watch them develop their unique interests and talents - they complement each other well in bringing important skills and strengths to the research team."
She's also optimistic about the work. "We've made good progress in preparing a number of new molecules and in understanding how the molecules interact with specific targeted proteins in the parasite."