Gale Murray
Professor
Art
Gale is an authority on Toulouse-Lautrec. She's currently working on articles about his song illustrations and his altered paintings, as well as on a sequel to her first book which dealt with his early career. This one covers his mature and later years (1892-1901) and addresses subjects in his work such as the theater, popular song, prostitution, and the representation of Jewish subjects. Her newest project is a study of the cycle of monumental sculptures of French Queens and famous women that was installed in the Luxembourg Gardens in Paris in the 1840s.
Contact Info
(719) 389-6371
Packard Hall #127
Areas:
19th and 20th Century Art History
Professional Experience
Professor, Colorado College, 1991-; chair, Art Department 2004-2007,1998-2002;1992-96; associate chair, 2003-2006
Nancy Bryson Schlosser and C. William Schlosser Professor in the Arts, 2006-2009
Judson M. Bemis Professor of the Humanities, Colorado College, 1994-97
Associate Professor, Colorado College, 1985-90
Assistant Professor, Colorado College, 1978-84, tenured 1984; acting chair, Art Department 1983-84
Instructor of Art, Colorado College, 1976-78
Visiting Instructor in Art, Oberlin College, Oberlin, Ohio, Spring 1976
Adjunct Assistant Professor of Art History, Brooklyn College of the City University of New York, Autumn 1975, 1973 -74
Teaching Preceptor in Art History, Columbia University, 1973-74, 1972-73
Fellowships and Grants
Burlington Northern Faculty Achievement Award, 1993
American Philosophical Society Grant, 1989-9
Colorado College Benezet Summer Fellowship, 1999, 1995, 1994, 1992, 1989, 1987
American Council of Learned Societies Grant-in-Aid, Summer 1983
Columbia University, Noble Foundation Fellowship, 1974-75
French Government Grant, Spring 1975
Fulbright-Hays Fellowship to France, 1971-72
Columbia University Kress Foundation Grant, 1970-71
Publications
Books
Toulouse-Lautrec: The Formative Years, 1878-1891,
Oxford University Press, Clarendon
Studies in the History of Art, 1991.
Awarded a subsidy by the Millard Meiss Publication
Fund of the College Art Association of America
Toulouse-Lautrec: A Retrospective,
an anthology of witness accounts of the artist, Hugh Lauter Levin Associates and Macmillan Press, 1992 (French edition:
Toulouse-Lautrec: Un peintre,
une vie, une oeuvre,
Belfond, 1992)
Articles and Essays
Article/review of Richard Thomson, et al,
Toulouse-Lautrec and Montmartre
, exh. cat., National
Gallery
of Art, Washington DC, 2005.
CAA Online Reviews
, 2006
"Music Illustration in the Circle of Bonnard: From Naturalism to Symbolism," in Dennis Cate, Gale B. Murray, and Richard Thomson,
Prints Abound: Paris in the 1890s
, exhibition catalogue, National Gallery of Art, Washington, 2001
"Toulouse-Lautrec's Illustrations for Victor Joze and Georges Clemençeau and their
Relationship to French Anti-Semitism of the 1890s," in Linda Nochlin and Tamar Garb, eds.,
The Jew in the Text.
Modernity and the Politics of Identity,
London, Thames and Hudson, 1995
"A 'Flattering Project': Toulouse-Lautrec's Illustrations of Victor Hugo's Poetry,"
Actes du
Colloque Toulouse-Lautrec,
1992, Albi, Musée Toulouse-Lautrec, 1994
Review of Richard Thomson et al,
Toulouse-Lautrec,
exh. cat., Hayward Gallery, London, and Grand Palais, Paris, Yale University Press, 1991,
Drawing
14, no. 4 (Nov.-Dec. 1992):85-87.
Introduction to The
Letters of Henri de Toulouse-Lautrec,
ed.
Herbert Schimmel, Oxford
University Press, 1991 (French edition:
Henri de Toulouse-Lautrec: Correspondance,
"The Theme of the Quadrille Naturaliste in the Art of Toulouse-Lautrec,"
Arts Magazine
5 (Dec. 1980):68-75
"Henri de Toulouse-Lautrec: A Checklist of Revised Dates, 1878-1891,"
Gazette des
Beaux-Arts
95 (Feb. 1980):77-90
Article/review of M. G. Dortu,
Toulouse-Lautrec et son oeuvre
(6 vols.),
Art Bulletin 60
(Mar. 78):179-82
Regular Classes
Nineteenth Century French Art, summer course in Paris.
Committees & Governance
Assessment Committee
Semester in the Arts Committee
Previous chair of Art Department and of Faculty Executive Committee.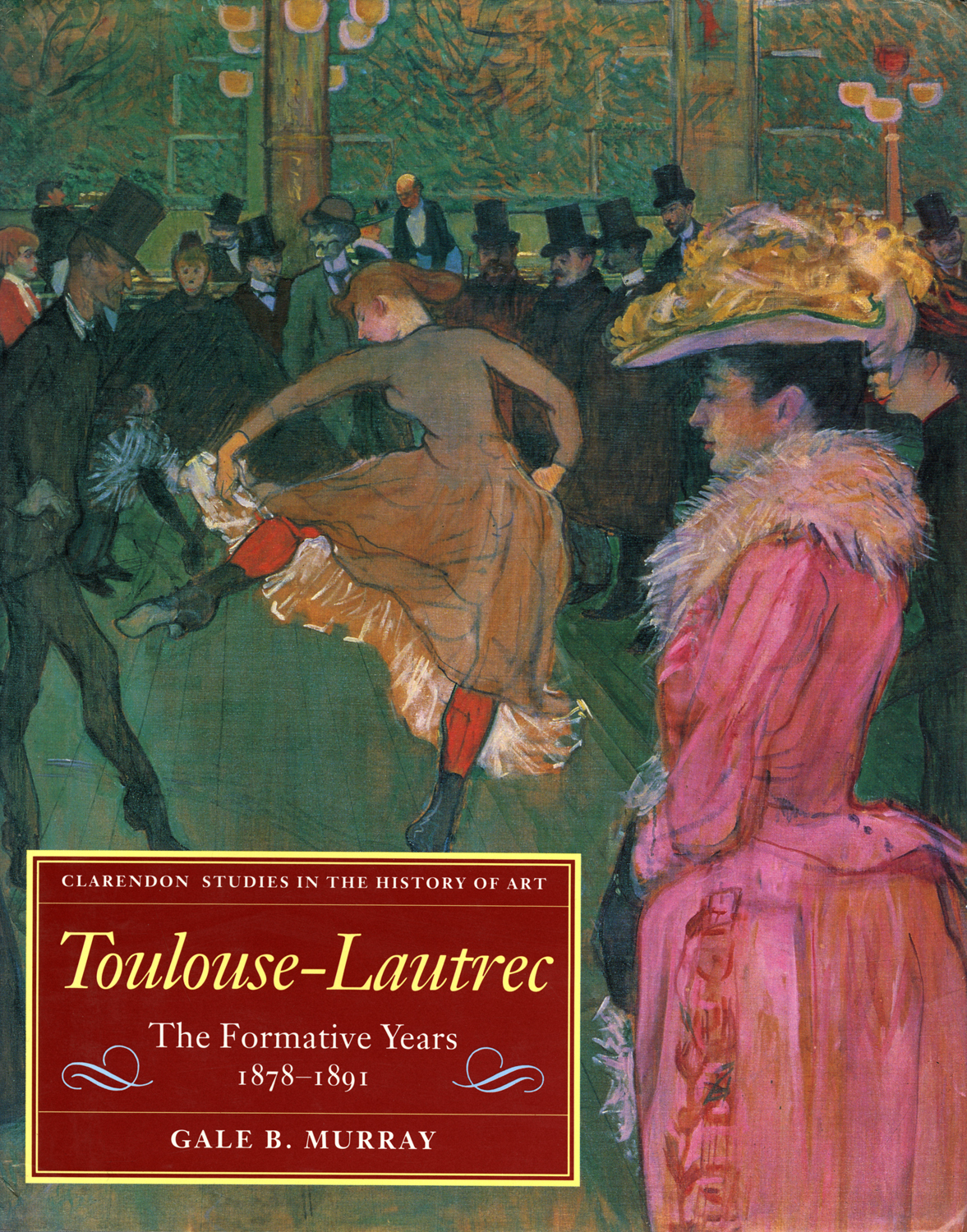 Education
B.A. Barnard College, 1966
M.A. Columbia University 1970
M.Phil. Columbia University 1977
Ph.D. Columbia Univeristy 1978