Heidi R. Lewis
she/her(s)
Associate Professor
Coordinator, Early Career Faculty Development Programs
Feminist & Gender Studies
Heidi R. Lewis is Associate Professor of Feminist & Gender Studies and inaugural Coordinator of Early Career Faculty Development Programs.
She recently published her first manuscript, In Audre's Footsteps: Transnational Kitchen Table Talk (edition assemblage, 2021), co-edited with Dana Maria Asbury and Jazlyn Tate Andrews (Feminist & Gender Studies '17), as the 7th edition of Ingeborg Bachmann Prize-winner Sharon Dodua Otoo's Witnessed Series, an English-language book series featuring Black writers who have lived in Germany. In Audre's Footsteps honors Black radical traditions set forth by Dr. W.E.B. Du Bois, Rev. Dr. Martin Luther King, Jr., Dr. Angela Y. Davis, and Audre Lorde, all who were intellectually influenced by their experiences in Berlin. Primarily relying on Black and Transnational Feminist frameworks, In Audre's Footsteps amplifies the resistive and generative experiences of Black and women of color educators, artists, activists, and scholars who consider themselves friends in the struggle. While being particularly attentive to myriad forms of oppression, In Audre's Footsteps explores how these women resist and revise oppression as they develop their subjectivities. Further, it addresses the always advantageous but sometimes contentious contours of solidarity, especially when people actively engaging with various forms of resistance have seemingly competing and contradictory goals. In Audre's Footsteps features a "Foreword" co-authored by Jasmin Eding and Judy Gummich, co-founders of ADEFRA: Schwarze Frauen in Deutschland, the first grassroots activist organization for Black German women; Ria Cheatom, a dear friend of Audre Lorde's, member of ADEFRA, and co-author of Audre Lorde: The Berlin Years, 1984 to 1992 along with the late Ika Hügel-Marshall and Dagmar Schultz; and Hügel-Marshall, also a dear friend of Audre's, member of ADEFRA, and author of Invisible Woman: Growing Up Black in Germany, the first single-authored book by a Black person in Germany. It also features a chapter focused on Generation Adefra leaders Katja Kinder (also a co-founder), Peggy Piesche, and Prof. Dr. Maisha Auma, as well as a love letter to Katharina Oguntoye, a founding member of ADEFRA, as the "Afterword."
Dr. Lewis has also published in The Cultural Impact of Kanye West, the Journal of Popular Culture, the Journal of Black Sexuality and Relationships, and Unteilbar: Bündnisse gegen Rassismus, and is the author of forthcoming essays that examine FX's The Shield, VH1's Love & Hip Hop, Bravo's Married to Medicine, and "expertise" Women's Studies and related interdisciplinary fields. She is also working on two documentaries that explore her work in Berlin and her experiences coming of age in northeast Ohio during the crack cocaine epidemic with Mae Eskenazi (Feminist & Gender Studies '19) and Lindumuzi Jabu Ndlovu (Film & Media Studies major and Feminist & Gender Studies minor '19), respectively.
She has given talks at Vanderbilt University, Kim Bevill's Gender and the Brain Conference, the University of Georgia, the Educating Children of Color Summit, Cornell University, the Motherhood Initiative for Research and Community Involvement, Portland State University, the U.S. Olympic Committee, the University of Arizona, and the Frauenkreise Projekt and the Kampagne für Opfer Rassistischer Polizeigewalt in Berlin. She has also been a contributor to Mark Anthony Neal's NewBlackMan, NPR's "Here and Now," KOAA news and KRCC in Colorado Springs, Bitch Media, and Act Out.
Dr. Lewis lives in Colorado Springs with her husband Antonio, their children Junior and Chase, their dog Philly, and their kitty D'Brickashaw "Brick" Ferguson. Learn more by visiting her FemGeniuses website.
Contact Info
(719) 389-6081
Interdisciplinary House #205
Areas:
Rap Music, Feminist Theory, Feminist Discourse, Feminist Politics, Black Feminism, Hip Hop Culture, Critical Media Studies
Courses
Committees & Governance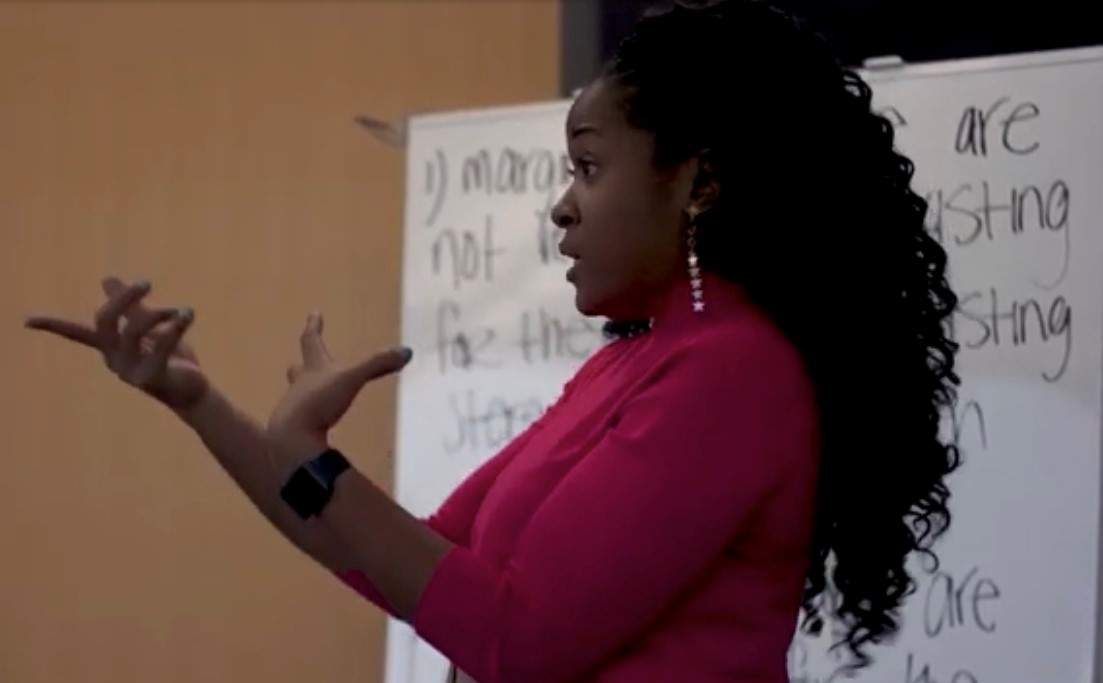 Education
Ph.D., American Studies, Purdue University (2011)

Minor, Women's, Gender, & Sexuality Studies (2008)

Certificate, Online Teaching & Learning, Ivy Tech Community College (2008)
M.A., English Literature, Ohio University (2005)
B.S., English Studies, Robert Morris University (2003)
View CV