Hinduism
A historical and thematic introduction to Hindu tradition from prehistoric India to the present day, focusing on classic texts and popular rituals. Topics include the Rig Veda, the Upanisads and the rise of Buddhism, the great epics (Mahabharata and Ramayana), Yoga, the Bhagavadgita, Indian art and music, devotional movements and poetry, Goddess worship, dharma, the caste system, Hindu nationalism, Gandhi, and Indian independence. Meets the Critical Perspectives: Global Cultures requirement. Meets the Critical Learning: AIM requirement.
Degree requirement — Critical Learning: AIM, Critical Perspectives: G
1 unit — Coleman
Previously Featured Offering
Hinduism explores prehistoric India to present-day United States. Students will examine primary and secondary materials in order to understand the changes and complexity of the Hindu religion.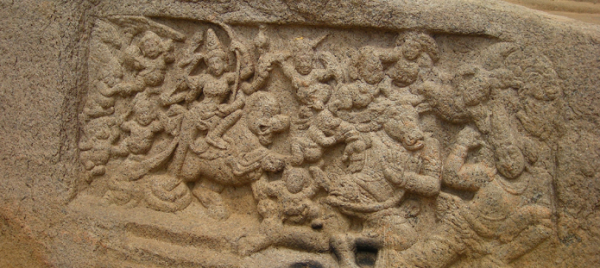 Beginning with prehistoric India and the earliest recorded compositions, and concluding with a study of contemporary women gurus active in the United States, this course will introduce several major texts and traditions within the diverse religion called Hinduism. A combination of primary and secondary readings will allow us to think critically and historically about philosophy, epic literature and devotional poetry, and audio-visual materials will acquaint us with a variety of ritual practices. Our goal is not to define Hinduism in a straightforward manner, but rather to glimpse how varying interpretations of central concepts construct a complex tradition that changes over time, while nevertheless remaining recognizably Hindu.
Offerings
| Term | Block | Title | Instructor | Location | Student Limit/Available | Updated |
| --- | --- | --- | --- | --- | --- | --- |
| Fall 2022 | Block 4 | Hinduism | Tracy Coleman | Armstrong Hall 230 | 25 / 15 | 06/04/2023 |
| Spring 2023 | Block 5 | Hinduism | Tracy Coleman | Armstrong Hall 230 | 25 / 10 | 06/04/2023 |
| Fall 2023 | Block 1 | Hinduism | Tracy Coleman | TBA | 25 / 16 | 06/04/2023 |
| Spring 2024 | Block 8 | Hinduism | Tracy Coleman | TBA | 25 / 25 | 06/04/2023 |