CC's Tiger mascot, Prowler, brought flowers to the 100th birthday party of Sarah Mason Sprenger '27. Photo by Tom Kimmell.

'35

Jennie Conway Hughes celebrated her 90th birthday in August when she, her four children, their spouses, and her 12 grandchildren stayed in Beaver Creek, Colo., at the Charter. Jennie's sister, Regina Conway McKernan '50 , reports, "There was a special dinner party each of three evenings, one of which was particularly fun for Jennie, when the restaurant owner led her in a conga line from the restaurant through the streets with the town people joining in."
'38
Dick and Ida "Monte" Monzingo '41 Alderson of Colorado Springs were given a 65th wedding anniversary lunch in April by several close friends. A visitor from New York, Ed Pelz , was an appreciative guest. The gathering also celebrated the Aldersons' move to the Village at Skyline after nearly 65 years on North Wahsatch Street.
'44
On July 1, Virginia Skiff Brutschy and her husband, Frederick, sold their home in Los Altos Hills, Calif., and moved to Carmel, Calif., where they are building a new home in the Santa Lucia Preserve — 20,000 acres with only 300 home sites. According to Virginia, "We shall be living in the country, but we do have a golf course and many other amenities."
'45
Kay Simpson Adams , a former student at Colorado College, would like her classmates to know that she received her B.A. in 1945 from Mills College in Oakland, Calif.
'46
For Angelyn Konugres Coupounas , "Life is good in the retirement lane." Having retired from the Brigham and Women's Hospital and Harvard Medical School, Angelyn has gone back to Harvard as a student, taking all the good music, literature, and economics courses she missed the first time around. She also gardens, reads with several book groups, and serves on several college boards.
'48
After receiving his master's in education from CC, Edward Durnall received another master's from Harvard University and his doctorate from Oregon State University. He served as a dean at a small college in Maine for 13 years and then moved to the University of New Hampshire, where he served as director of continuing education and summer sessions. Edward and his wife, June, have been enjoying retirement with a great deal of travel throughout the world. They also have a very large collie and two cats adopted from shelters.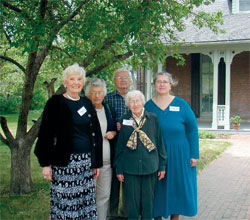 The Fifty Year Club toured the historic McAllister House in Colorado Springs in May, hosted by club secretary Artie Toll Kensinger '53. Chatting outside the house are, from left: Mary Jo Seymour Bonds '47, Dean Brown Kinkel '49, Lou Kinkel '49, Jean Armstrong Jones '44, and curator Barbara Gately. Photo by Krissy Caudle.

'50

John Allanson received his master's in education from Arizona State University in 1951. He earned his M.P.H. at the University of California-Berkeley in 1953. He is now retired.
'54
Lois Cott Kleveland is retired and living in Las Vegas. • Chuck MacNab has been giving presentations around Missouri about the Middle East, an interest he acquired after visiting and living in the area. Flying a de Havilland single-engine aircraft, he was able to observe "up close and personal" a wide range of people in the Saudi Arabian Peninsula, including King Saud, many members of the royal family, and Bedouin tribes. Chuck reports that he "survived some nifty adventures in the Middle East … without the help of either Indiana Jones or the Department of Defense."
'55
Carmen Eddy Costinett is actively involved in church activities and finds her work with Christian outreach projects very satisfying. For one such project, she and other church volunteers stuff teddy bears to give to hospital patients, cancer patients, and those in need.
'56

50th Reunion, Oct. 6-8, 2006!
Art Elder is proud to announce the publication of his book, "A Passionate Affair," chronicling his 30-year journey along "the Yellow Brick Road" of paperweight collecting. The 108-page book includes pictures of 50 weights from his personal collection. Art is donating all author royalties to a scholarship fund administered by the International Paperweight Society Foundation. The publisher will likewise donate all sales profits.
'57
Ray Kandt and his wife, Jeanette Barton Kandt '58, visited campus in July. Ray is a retired eye surgeon. He and Jeanette currently live in Kansas City, Mo., and also have a residence in Florida.
'58
Carl and Gail Cameron '57 Pitts are retired and living in Tucson, Ariz.
Class Secretary:
Nancy Cunningham Pike
217 Cerro St.
Encinitas, CA 92024-4823
mnpike@earthlink.net
'59
Janet Johnson Buck pursued graduate work at the University of Colorado-Boulder's College of Music. She is now executive director of the Holy Faith Music Series at the Episcopal Church of the Holy Faith in Santa Fe, N.M. Her husband, John, is the artistic director of the series as well as the director of music and organist for the church. • As reported in the May 23 edition of Omaha's World-Herald, Dave Van Metre has paid for cardio and weight-training equipment in all of the Omaha Public School District's seven high schools and 11 middle schools. He is also outfitting the district's alternative schools. Dave played split end and defensive end for CC.
'60
Janice Jilka McElroy recently completed her term as centennial president of the Rotary Club of Henniker, N.H., after serving as a delegate to Rotary International's 100th anniversary convention in Chicago. She has also changed jobs. She previously worked for six years as assistant to the president at New England College, and has now assumed the role of grants manager at Colby-Sawyer College in New London, N.H.
'61
Robert L. Bailey owns Better Than New in San Jose, Calif.
'62
Pat McGrath Avery has two new books out this year. "They Came Home: Korean War POWs Tell Their Stories" is the first in a series of nonfiction titles reflecting the stories of individual veterans of different wars. "The Complete Writer: A Guide to Tapping Your Full Potential," co-authored by Pat, focuses on information and tips on the professional and personal sides of writing. • Having received his master's degree in education in 2000, Lawrence Mingus Jr. now teaches business technology and computer science classes at Edinburg High School in Edinburg, Ill.
'63
Monique Hestin Amerman informs us that her husband passed away in May after a long illness.
• Jim Bellis writes, "After retiring from 21 years of Navy aviation, it's now time to retire from 21 years of teaching. Eleven of us enjoyed successfully starting a new Presbyterian Church in Spokane a few years ago. Callings are more toward that direction now. Mellowing has set in." • John Reid recently retired after 39 years with Hewlett Packard. He spent most of his career in human resources in various capacities. He and his wife, Ann, spent his last year with HP in Geneva, Switzerland, in support of HP's European sales operations. They now live in Camas, Wash. • Russ Sperry will retire as database administrator for Ventura County, Calif., in 2006. Russ is an 18-year cancer survivor and has been in remission for four years. He has completed three 100-mile bicycle rides to benefit the Leukemia & Lymphoma Society's fundraising program. Russ plans to travel, then relocate in the Durango, Colo., area. He has compiled an 83-image screensaver from photos by Tom Gildersleeve, John West, and Ernie Robart, along with photos of his own, which they plan to sell to raise donations for the restoration of Cumbres & Toltec's steam locomotive number 483.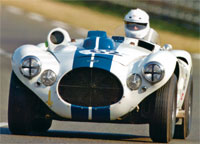 Bob Williams '64 is focusing his recreational activities on vintage motorsports. With this rare 1952 Cunningham C4R sports car, he has participated in the 24-hour Le Mans Classic in France, the Goodwood Festival of Speed in England, and the Monterey Historic Automobile Races in California.

Class Secretary:
Ben Eastman
2020 Julian Way
Denver, CO 80211
ben_eastman@comcast.net
'64
Ed DeGeorge, head football coach for Wisconsin's Beloit College since 1977, will retire after the 2005 season. Ed played both offensive and defensive end for CC, later serving as the Tigers' defensive coordinator and linebacker coach. • Wendy Ellen Miller and Harvey Lambeth Jr. were married Aug. 28, 2004, in Bolton Landing, N.Y., surrounded by family and a few friends. CC alumni in attendance were Laura Dearborn, Carol McAleer Munson, Gillian Munson '92, and Hugh Weed '61.Wendy and Harvey met at CC during their freshman year. They reconnected 25 years later at a CC class reunion and have been together since 1992. They moved to Whidbey Island, just outside Seattle, Wash., and would love to hear from any fellow CC grads in the area.
'65
Susan Fertig-Dykes was widowed in April this year, after 40 years of marriage to George M. Dykes III. She currently serves in the Bush administration at the U.S. Agency for International Development as team leader for Democracy and Governance in Europe and Eurasia, a region of about 26 countries. Their youngest son, Dirk Fertig Dykson '90, lives in Fort Collins, Colo.
'66
Eileen Wilson Engelstad has been "happily retired" since December 2004. She is the proud grandmother of two girls, 9-year-old Jessica and 5-year-old Anna.
• Due to the efforts of Catherine Close McGuire and family, a 250-acre parcel of scenic open space along the southern slopes of Ben Lomond Mountain north of Colorado Springs is protected by conservation easements. The land was once owned by General William Jackson Palmer, and conservation efforts occurred in collaboration with Palmer Land Trust volunteers and staff. • On Oct. 20, Philip J. LeCuyer represented CC at the inauguration of Michael Peters as the new president of St. John's College in Santa Fe, N.M. • Pam Thatcher Marsh is a new board member on the finance committee of the Woman's Educational Society (WES) of CC.
'67
Clark Corbridge is the city manager of Seward, Alaska. • Alan Guerrie has his own dental practice and lives in Grand Junction, Colo., with his wife, Maitri. • Another outstanding winery joins CC's distinguished list of alumni and parent wine growers, with the inception of Greg and Peggy Fleming '70 Jenkins ' vineyards in Northern California. The 2003 inaugural release from Fleming Jenkins included a chardonnay, a syrah rosé, and two syrahs.
'68
Remember when Doug Brown booked The Doors for the 1967 Homecoming dance at the Broadmoor Hotel? In a July 17 article in the Colorado Springs Gazette, Doug, Crete Crawford Wood '69, and other star-struck CC alumni reminisced about this "little-known chapter of rock 'n' roll history" in which Jim Morrison and crew came to town for a one-night, full-length show. • Chuck Buxton reports, "It's been a long time since I've corresponded with CC, having been busy out here in Northern California (wine country, actually) with life and work. I remain at The Press Democrat. My job is senior editor, with responsibility, among other things, for enterprise stories. The project I directed last September won a George Polk Award, a major national journalism award whose winners this year included the New York Times, Wall Street Journal, and Associated Press. Other than that, I've been reading e-mails from Doug Brown and others concerning The Doors at Homecoming our senior year. It's proof that we still remember those days." • Scott and Kay Fields Crissman have spent the last three years in Germany, where Scott had a foreign-service assignment at the headquarters of the European Command in Stuttgart. This summer, they returned to the States, moving to a home in the Washington, D.C., area. • Mel Proctor is the play-by-play announcer for the new professional baseball team in Washington, D.C., the Washington Nationals. In July, he joined a group of CC grads at an alumni event in RFK stadium. During a pre-game discussion, Mel spoke about his career in broadcasting and answered questions from the group. The alumni then attended the Nationals vs. Colorado Rockies game.
Class Secretary:
Jan Metcalfe Mahony
1730 Wood Ave.
Colorado Springs, CO 80907-7355
jamah@adelphia.net
'69
Adela Awner is the director of the Interfaith Hospitality Network in Billings, Mont.
Editors' Notes:
Please send class notes and prints or digital images* to the class notes editor:
Beth Hanrahan '04
Colorado College Alumni Office
14 E. Cache La Poudre St.
Colorado Springs, CO 80903-3297
Fax: (719) 389-6271
E-mail: alumni@ColoradoCollege.edu
Homepage: www.ColoradoCollege.edu
* Digital photos should be jpegs of at least 300 dpi and minimum of 3" x 5.5."
Bulletin Schedule
The magazine schedule, and deadlines for class notes, will be:
March 2006 — Spring Bulletin (class notes deadline Jan. 9, 2006)
July 2006 — Summer Bulletin (class notes deadline May 1, 2006)
November 2006 — Winter Bulletin (class notes deadline Sept. 1, 2006)
Many of our best feature ideas come from alumni — and we'd also love to hear what aspects of campus life you're most interested in reading about. Please send suggestions to Lisa Ellis at lellis@ColoradoCollege.edu or Communications, Colorado College,
14 E. Cache La Poudre St., Colorado Springs, CO 80903-3294.
Thanks for your participation!
Judi Lakin
Editor
Help CC students find opportunity on the front lines of a changing world.
Support public interest fellowships at publicinterest@ColoradoCollege.edu