Borders Class Navigates Difficult Economic, Emotional, Ethical Terrain
by Jane Turnis
Photos by Avery Bloom '05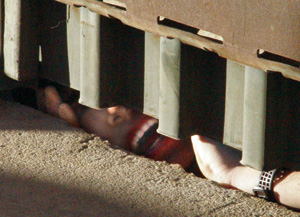 Cesario, a man from Zacatecas, Mexico, gained permission to travel to the U.S. to look for his daughter, who had fallen ill while crossing the border illegally weeks earlier with her 15-year-old son. The boy sought help from Border Patrol workers, who searched and did not find her; he was deported. During Cesario's search in the desert, he found three other women's bodies before he found his daughter's. She was identifiable only by the rings on her fingers, and her shoes. Her bones were picked almost entirely clean by animals.
The Tohono O'odham Nation's reservation lands straddling the U.S./Mexican border are littered with human bones and artifacts of migration: children's clothing, family photos, trash, abandoned cars, and drug bundles. Here, many undocumented immigrants come, many of them dehydrated, sick, and needing medical care. Their condition raises healthcare costs for the Tohono O'odham Nation.
This is the difficult terrain that Associate Professor Eric Popkin has been helping his students navigate for three years.
His sociology class, Globalization and Immigration on the U.S.-Mexico Border, takes students beyond the classroom and textbooks and puts them on the ground, in the center of the controversial issue of undocumented immigrants and U.S. border policy.
Amber Stenson '05:
"We visited border towns in Mexico such as Nogales, Agua Prieta, and Altar. … (We spoke) with migrants who were about to attempt to cross the border illegally. We also spoke with an INS officer, visited a maquiladora (border manufacturing facility), and did home stays with people who worked in such factories, in houses made from cardboard, scrap metal, and whatever else people could find. … In order for a family to support itself off of the maquiladora wages … often both parents and older children end up working. … After seeing what people have to do for work and what they are able to afford with that work, it became pretty easy for me to see why people would want to leave to sell their labor at a fairer price across the border."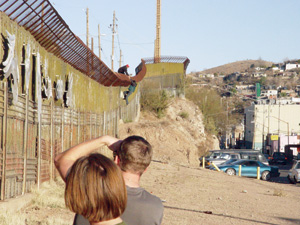 Eddie Konold '07 and Stella Copeland '05 watch migrants passing over the wall, entering the U.S. illegally.

To "put a face on globalization," Popkin starts in the classroom, teaching students about the North American Free Trade Act and the multifaceted nature of integration between the U.S. and Mexican economies; the increase in low-wage jobs in the U.S.; economic developments in Mexico that have generated emigration to the U.S.; and U.S. and Mexican immigration policies. Then they travel to the border for a week to 10 days, starting in Altar, a convergence point for migrants heading north. They meet migrants on the U.S. side and see how difficult the journey has been. Often, they visit the Tohono O'odham Nation. The students also meet with U.S. Border Patrol officials for several hours, asking them about policies and approaches to the issue.

Once they return, students link with local community organizations that deal with immigration. Some teach English as a Second Language classes at Colorado Springs School District 11's Helen Hunt Elementary School, while others coach high school students. "They come away with an understanding of how immigration affects public schools," Popkin said.

The border trips have had a life-changing effect on many students. Some have returned to the border to volunteer with No More Deaths, an organization that provides humanitarian aid to migrants crossing through hot, desolate desert areas, or have found work with immigration agencies.

Others, like Chris Benoit '03, are headed for law school to specialize in immigration issues. Since graduating, Benoit has worked as an immigrant advocate in a family center in Olathe, Colo., and as an outreach law clerk and paralegal with the Migrant Division of Colorado Legal Services in Denver. "The momentum I gained from the border class still motivates me as strongly as it did then," Benoit says. "I spend my nights touring ugly agri-business centers in Colorado, looking for and helping out migrant farm workers, and I couldn't be happier."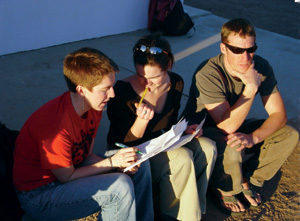 Virginia Weeks '05, Margaret Lamb '05, and Eddie Konold '07 pause in Nogales, Mexico, to reflect on the week's observations of Mexican migrants and the results of their movement.

Stenson plans to volunteer with San Francisco-area immigration nonprofit groups this winter and return to the border next spring for a 75-mile protest march from Sasabe, Mexico, to Tucson, Ariz. She also is considering going into immigration and human rights law.

Meanwhile, border issues grow ever more contentious. Growing numbers of migrants die in the desert in the summertime, and civilian groups and lawmakers now travel to the border to join enforcement efforts.

In July, Daniel Strauss '04 and another No More Deaths volunteer were arrested by Border Patrol agents and charged with felony counts of transportation of an undocumented person and obstruction of justice. The volunteers said they found three migrants, two of whom were ill and had severe blisters; the third was vomiting and had severe diarrhea. The volunteers were advised by two No More Deaths doctors and a nurse to take the three migrants to the nearest medical facility. While evacuating the migrants, the volunteers were stopped and arrested by Border Patrol. Their case is scheduled to be heard in federal court in late December.

Despite the dangers and controversy, Benoit returned to Altar this year, saying that what he learned in Popkin's class continues to humble him. He wrote:

"I got off a bus at 12 at night and stayed in one of those hospedajes, the dirty tall gringo crowded in on the end of a long bunk bed filled with 11 people. I realized how far I had come to understanding the problem. Yet, with my big backpack sitting next to someone's small satchel, I realized how far I have to go."

Help CC students find opportunity on the front lines of a changing world.
Support public interest fellowships at publicinterest@ColoradoCollege.edu