| | |
| --- | --- |
| | Growing the Next Greatest Generation |
| | by Anne Christensen |
Civic Engagement Combines Service, Scholarship, Mission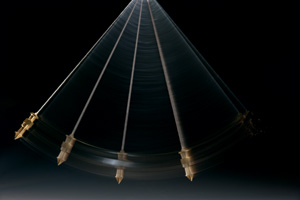 As the pendulum of social identity swings away from one endpoint in the 1980s, the so-called Me Decade, it moves toward the opposite endpoint, a period of focus on the community. This decade or the next may very well become the Decade of Civic Engagement — a term that encompasses everything from Colorado College's traditional emphasis on community service to strategic training that combines brainwork and hands-on work.
The Millennial Generation, born after 1982, is poised to take the mantle of the Greatest Generation, those who came of age in WWII and sacrificed for world peace and stability… and CC is training the leaders of the Millennials.

At CC, this pendulum swing isn't a full arc, just movement further along a well-defined trajectory. The college has a long tradition of community service — in 1898, students left a football game to back up the local fire department when the Antlers Hotel caught fire. Formally, community service efforts may have begun with victory gardens in the 1940s and students leading Girl Scout troops in the 1950s.
In the 1960s, students helped construct a YMCA children's camp; they also sold Halloween masks and sent the proceeds to the children's area of a local hospital. In the 1970s, they participated in Big Brothers, worked on drainage projects at Garden of the Gods, and held an art show for the Association of Retarded Citizens, among other efforts.
"
A first-year student might say, 'I volunteer at a soup kitchen.' A sophomore might say, 'I investigate social causes and structural issues behind hunger.' A senior, thinking strategically, might say, 'I founded a nonprofit organization to reduce hunger through addressing one local root cause.'

"

– Eric Popkin, director of the Partnership for Civic Engagement
The variety of projects continued to grow. Since the 1990s, CC students have volunteered in astonishing numbers (eventually reaching 84 percent), with many efforts coordinated by the Center for Community Service, now called the Center for Service and Learning (CSL), which organizes efforts like adaptive skiing for the disabled, tutoring at the Red Cross Shelter, and staffing an ongoing soup kitchen on campus for local homeless people, still serving from Shove Chapel every Sunday. (See "The World is Your Campus" for more information on the CSL.)

CC faculty soon adopted the idea of community-based learning (CBL), which integrates community service with academic work. Gay Victoria at the CSL worked with faculty to design CBL block classes in areas from morality to environmental science. By 2002, more than a dozen CC faculty members were teaching classes in which service played an academic role, intertwined with traditional pedagogic practices.
The Really Big Picture: Civic Engagement

As the college continues to progress along this arc, its endeavors are coalescing into civic engagement — a venture so broad that it's redefining the way faculty members and students think about course sequences, curriculum, even specific readings. Civic engagement extends CC's integration of scholarship and service by embedding in it a call to strategic action that ties into the college's mission: to promote the long-term common good (locally, regionally, nationally, internationally) through social responsibility and leadership.
"We have several civic engagement efforts underway on this campus, some of which have deep roots," says President Richard F. Celeste, citing "the college's long-time commitment to community service, Tom Cronin's and Lief Carter's work on building student leadership, the faculty's interest in community-based learning, the interest of alumni in CC Cares Day and the Public Interest Fellowship Program, and the new Partnership for Civic Engagement."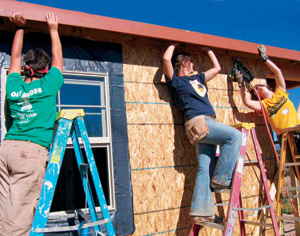 Erin Bennett '06, Rosalie Bouck '06, and Mel Wright '07 apply weather protection to a house being built by Habitat for Humanity in Santa Fe, New Mexico, during the first block break of 2005-06. Photo by Elizabeth Kolbe '08.

In January 2004, Eric Popkin, associate professor of sociology, was appointed part-time director of the new Partnership for Civic Engagement, part of President Celeste's Vision 2010 initiative. The Partnership fertilizes the ground for a tremendous variety of efforts, Popkin says. "Civic engagement is the overarching term. At CC, it includes the Public Interest Fellowship Program (PIFP), the Center for Service and Learning (CSL), the Living Learning social justice community in Mathias Hall, and our K-12 education outreach. (But) it would be a mistake to overcentralize. The PIFP and CSL fit under the civic engagement umbrella, but are not part of our office. We are set up to create strategic partnerships to deliberately link CC academic work to community entities."

One of those community entities is the local downtown school district. "That's an essential linkage for higher ed," says Popkin. "The dropout rate of students of color may be the most pressing educational issue we face in the U.S. How can we create a 21 st-century work force with one third of our young people not graduating from high school?"

Popkin says it's important that this and other partnerships not simply address immediate needs. "We think strategically about it," he says. "How can we design community-based learning classes to address the underlying issues?" The Partnership's educational programs coordinator, Amy Belcastro '04, has raised $150,000 in multi-year grants, which the Partnership uses to train K-12 teachers in local school district 11 to plan service projects that reinforce academic material.
Thinking Strategically in K-12 Education
For example, Claudia Payton, a local Talented/Gifted elementary school teacher, took a CBL class at CC this summer that inspired her to broaden her poverty unit so that her students could look beyond charity. "Our school contributes food each fall to our local Care and Share," she says. "I wanted to find a connection to the underlying issues of poverty that would be appropriate for my students' social and emotional levels. I don't need to teach these kids to read — I want them to be able to evaluate that information in meaningful ways.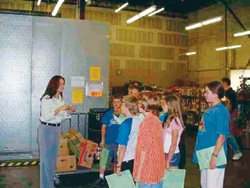 Claudia Payton's class visited a Care and Share food bank while learning about the issues underlying poverty. "I took CC's community-based learning class because I knew I had a void with my poverty unit. Now I can teach students how to think strategically in the civic piece. Maybe some of them will take it into a civic-minded career!" she says. Photo courtesy of Claudia Payton.

"CC had a kindergarten Thanksgiving book that followed a can of food from donation to a hungry family, which started me off. I asked my class what they thought poverty looked like — dirty bums begging for food? Then we visited Care and Share's vast warehouse, which was eye-opening — they could see how much food it takes to feed hungry people in our town for just 30 days. After we toured the Marian House soup kitchen, we debriefed together about whether it was poor people's 'fault' that they were hungry, and about treating people with dignity.

"The kids have since done a fundraiser, but more importantly, they are preparing to visit City Council this spring to present information about what they think should be changed locally — more affordable housing? higher-paying jobs? They realize it's about more than feeling sorry for people and collecting money.

"We have 15 kids empowered to take information into their own classrooms, K-5, to do skits and puppet shows. They are so engaged — I never have to say, 'Now pay attention.' They know they can affect the problem by what they are doing. I went to CC's CBL class because I had a void with my poverty unit. Now I can teach strategic thinking in the civic piece, outside our school."

Indirectly, CC students use the Partnership to take a strategic stance in their community service. For example, Professor Corinne Scheiner's comparative literature class in Translation and Theory used class work to study how cultural issues of language, literature, authority, and power affect translation. They also analyzed language and cultural barriers facing Wasson High School English Language Learning students, reported to Wasson administrators on how the school was addressing their needs, and suggested areas for improvement. "We don't just send people to help," says Popkin. "We always ask ourselves, 'What is it we're trying to accomplish?'"
Community-based Learning: Biochemistry of HIV/AIDS

Education and sociology majors and professionals have obvious ways to connect coursework to community work, but it can be more of a stretch for technical disciplines such as zoology and chemistry. Yet Professor Neena Grover handily adapted her biochemistry class in nucleic acids to a format similar to CBL, focusing on the HIV/AIDS virus as a primary example of such material.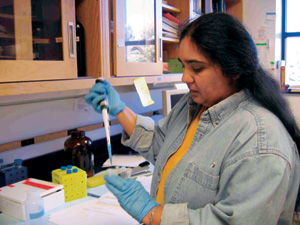 Assistant Professor Neena Grover constructed a biochemistry class around community-based learning principles, asking her students to augment their studies of nucleic acid replication and drug intervention with workshops they co-produce with people who have AIDS. "Because students have to present their work to the community, they take the material much more seriously the first time around. It's a far more powerful motivator than exams," says Grover. Photo by Elizabeth Kolbe '08.

Her students learn about virus life cycles and drug treatments by reading biochemistry journal articles on current research in the area; they link biochemical topics like replication using polymerases and ligases to the ways the HIV virus uses reverse transcriptase to replicate. Then they extrapolate from that process to understand the logic of drug design and how current drugs work. They collaborate with the Southern Colorado AIDS Project to present a workshop on the life cycle of HIV and its infection modes. People living with HIV also participate in the presentations, talking about how difficult and expensive it is to live with the disease.

Grover says students love the interaction between academics and real life: "They become passionate about learning the science, because they have met real people dealing with the disease. They begin to hope for a cure, which makes them more committed biochemists. Because they have to present their work to the community, they take the material much more seriously the first time around."

Other community-based learning courses have included:
Energy and the Environment, which combines study of the physical, chemical, and environmental aspects of energy production and use with the retrofit of a low-income senior's home to save 60 percent on energy bills,
Ethnogeology, a nonlab geology class in practical investigation of geological issues that matter to people living on the land, particularly minorities: groundwater cycles and water rights, resource use and environmental racism, soil analysis and land use, Western and native wisdom on these subjects, and
Senior Seminar on Morality, in which students integrate core readings on morality (from George Orwell to " My Lai") with the complexities of moral decision-making they observe while working in local agencies.
Immigrant Integration and Student Self-Governance
Locally, the Partnership has worked with the Communities Strengthening Colorado statewide initiative to help Latino families advocate for their children. Among other efforts to improve communication, that agency set up home visits for teachers in which CC students acted as translators, which improved mutual understanding between educators and families.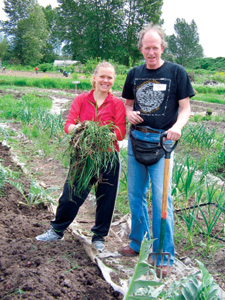 CC alumni across generations continue to join together to participate in community life long after leaving campus. Here, Liz Dunn '97, nursing student at the University of Washington, and John Pearson '69, a teacher, tilled soil at the Marra Community Farm in Seattle for CC Cares Day in May. Photo courtesy of John Pearson.

With a grant from the Colorado Trust, the Partnership facilitates local government efforts in immigrant integration. It staffs a city initiative to improve relationships with immigrants from Central and South America, Asia, Africa, and Europe. The initiative brings together people from local churches, relief organizations, school districts, and other governmental agencies. Collectively, these groups sponsored two community forums in which more than 200 immigrants worked with Partnership staff to identify the community's needs in family support, legal work, business, education, and health care.

The result is a new community organization, the Pikes Peak Immigrant and Refugee Collaborative, which will develop an immigrant-run, multi-service advocacy center under the auspices of a Colorado Trust grant. CC's Partnership for Civic Engagement will administer the grant, help hire an immigrant community organizer, and initiate a legal education program.

The Partnership is also involved in this year's Living Learning Community, which involves a group of sophomores living in a theme area of Mathias Hall. Participants enroll in a year-long course called Social Justice in the Southwest, examining the relationships between social, environmental, and political issues in the region and how they are affected by choices students make in their daily lives.

"It's not enough to address the outside world," says Popkin. "We want to change campus culture by giving them a degree of self-governance, doing community work that has an academic component, and adding deliberate training in civic skills like participating and running meetings." (An article on the Mathias Hall Living Learning Community appeared in the August 2005 Bulletin.)
Investing in Nonprofits

One early offshoot of the college's civic engagement work was the Student Venture Partnership (STVP), a student-run investment group that combines traditional volunteering with typical venture capital investment practices, investing in a local nonprofit — the first student organization modeled after the national organization Social Venture Partners International. Each student member contributes $100 and 20 hours of work to the selected nonprofit. (The group also offers campus workshops that teach students to be effective, engaged philanthropists.)
Last year's beneficiary, the El Paso County Bar Foundation, used STVP volunteers and funds to support a project that links attorneys willing to provide pro bono assistance with nonprofits in need of corporate legal services. STVP students wrote content and produced a Web site for the effort; recruited more attorneys for the project; produced brochures, a clinic, and a video for the immigrant and elderly communities on their rights; and created a PowerPoint presentation to help people fill out complex court documents.
One co-founder of the group, Eliot Estrin '06, says co-founder Emily Auerbach '05 decided to start the student-run nonprofit after interning at the Pikes Peak Community Foundation. "We wanted to incorporate a level of professionalism and businesslike mentality with academics. Seeing how nonprofits and foundations work in the 'real' world is fascinating, and once you step in it, you learn how to present yourself that way," Estrin says.
"STVP has shown me that people in this institution and in our community at large are encouraging young leaders to step up and make things happen. Once you invest your own money and that of 23 other people, and your precious time, in a nonprofit, you see how to implement your skills to help. It makes academics more real-life because you're more goal-oriented and more confident in the classroom."
For She's a Jolly Good Fellow, and So Is He

Part of the college's civic engagement effort (although not under the Partnership's purview) is the Public Interest Fellowship Program (PIFP), which places CC students and recent graduates into paid positions in nonprofits in Denver and Colorado Springs under the guidance of CC alumni mentors.
Inspired by sociology Professor Jeff Livesay and run by Ann Oatman-Gardner '80, the PIFP asks power players from the president's office, Career Center, alumni office, and development to make fellowship connections with Colorado-based alumni; it offers stipends to nonprofits that can benefit from the arrangement. Students have worked at the city of Aurora, the Bell Policy Center, Environment Colorado, and child-centered nonprofits like Court Appointed Special Advocates (CASA) and Butterfly Hope.
PIFP advisory board member Nancy Hernandez '96 says: "Our three placements at the American Civil Liberties Union (ACLU) have done amazing work. They put together the first Scorecard for Civil Liberties, which breaks down the 2005 Colorado legislative session on civil liberties. It is beautifully written and very informative. ACLU has nothing but great things to say about all of them, and they want to make sure they are included in the process for getting interns next year. It's exactly what we knew would happen! Brilliant minds and youthful energy put into good use for nonprofit power."
Pure Volunteerism Continues
While a great deal of work is accomplished by students under the umbrella of civic engagement, many students volunteer just to help people. Elizabeth Jung '08, co-chair of BreakOut (which coordinates student-run, service-oriented block break trips) and a mentoring group for homeless and underprivileged fifth-graders in Colorado Springs, says of her service: "It makes my life more meaningful. Life isn't all about me, and I'm beginning to realize that. I'm getting out of my comfort zone and getting a more global perspective. I don't want to hit 40 and find myself in a cubicle. I don't want to wait to make a difference — why can't I start now?"
Help CC students find opportunity on the front lines of a changing world.
Support public interest fellowships at publicinterest@ColoradoCollege.edu