| | |
| --- | --- |
| | Edmonds Focuses on Future |
| | by Rob Detlefsen '07 |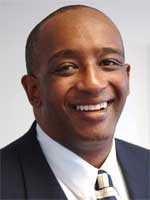 Mike Edmonds

As Mike Edmonds moves into the position of vice president for student life/dean of students in August 2005, he plans to sponsor and organize programs for CC's student community. "CC's students are so bright and creative, it forces administrators to stay creative too," he says.

"As vice president for student life, my issues certainly become larger," says Edmonds, who has served as CC's dean of students since 1991. "My main role is as an advocate for the students as we plan for the future of CC."

Working closely with President Celeste, staff, and students, Edmonds will address campus programs such as residential life, career and learning centers, minority student life, and the discipline program.

His new role on the president's senior staff gives him broader responsibilities, and Edmonds says he looks forward to connecting with the campus as a whole, especially students. "I will continue to be known and approachable by the students. This has been and will be a hallmark of who I am," says Edmonds.

He cracks one of his signature smiles, full of energy. "I'm very excited for the future. I'm humbled by and grateful for the opportunity to continue to be a part of Colorado College."
Morgan Appointed Associate Dean of Students
Ginger Morgan í86 will be CCís next associate dean of students, after serving this year as part-time associate chaplain and twice previously as acting chaplain. She has a masterís degree in theological studies from Vanderbilt University and has completed coursework for a Ph.D. at Iliff School of Theology, part of the University of Denver.
Here's one of 35 facts about CC:
14
CC has approximately 1,950 undergraduate students, representing all 50 states and 28 foreign countries.