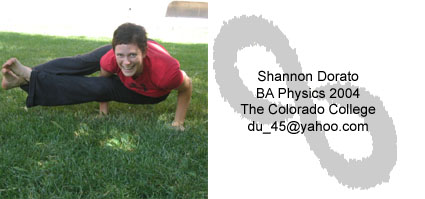 Hello, I am a native New Mexican and I graduated from Colorado College in May of 2004 with a BA in Physics and a minor in Mathematics. I like to travel, read, longboard, run, dance, watch movies, bike, and especially practice yoga in my free time. In the year following graduation I worked with Barbara Whitten on another project titled, Increasing the Participation of Women in Undergraduate Physics: What Works in Women's Colleges? I also put together the CC Physics Alumni Website for the department. I will be attending CU Boulder for graduate studies in Environmental Engineering.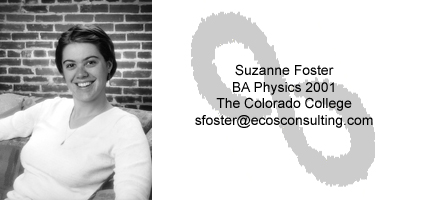 I I graduated from Colorado College in 2001 with a BA in Physics and with minors in Women's Studies and African Studies. In 2002, I worked on a related project with Barbara Whitten entitled ~Increasing Women's Participation in Physics: What Works?~ I am currently employed as a Senior Research Analyst at Ecos Consulting (www.ecosconsulting.com) in Durango, Colorado where I do energy efficiency research for various environmental non-profits and concerned governmental institutions. My areas of expertise include the energy efficiency opportunities of light emitting diodes (LEDs), consumer electronic products, most particularly computers, power supplies, battery chargers, and cell phones. I enjoy practicing yoga, skiing, hiking, trail running, and traveling internationally.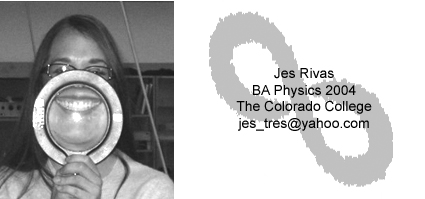 Soy un nativo de Colorado y un Colorado exalumnas colegiales con un B.un. en la física y un menor en la religión. Mi área del interés es la física y la ingeniería de la tecnología alternativa de energía. Actualmente, vivo en Telluride, Colorado, y trabajo como un landscaper. Estaré saliendo para el cuerpo de paz esta primavera venidera, donde estaré yendo y lo que estaré haciendo se queda un misterio a mí. después que eso, voy a volver a educar para un grado de maestros en la tecnología alternativa de energía y finalmente enfocar toda mi energía en mi meta de la vida - salvando el mundo.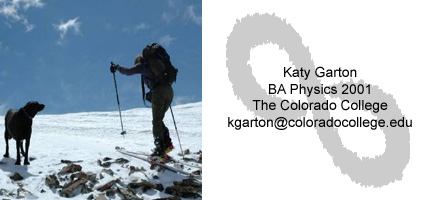 After graduating from Colorado College in 2001, I
spent the following year as the Physics Department
Paraprofessional (and loved it). Although it was hard
to say goodbye to all my favorite profs and Colorado
Springs trail runs, it was time to move on. I spent
the following summer contemplating my future in
Physics while atop glaciated peaks in Peru's Northern
Andes. While also in Peru I set out to make a film
about my sister and my mountaineering partnership.
With these two endeavors in hand and endless beauty
before me, my time in Peru forever changed my life. I
found that I had another passion in addition to
physics- filmmaking- and I wanted them both in my
life. Through Montana State University's Science and
Natural History Documentary Filmmaking Masters
Program, I have been able to do just that. I have
cultivated and intertwined two of my major passions-
science and the arts- and I've never been so happy.
I'm currently in my second year of a three year
program. For my second year masters project I'm
working on a film with the Thermal Biology Institute-
a bunch of wacky scientists studying the life teeming
within Yellowstone's most extreme thermal
environments. Next year I'll return to my roots and
focus on Space/NASA for my thesis film. I received a
NASA Montana Space Grant Consortium fellowship to
begin my research for my NASA related (its a secret)
thesis film.Beyond missing intricate mathematical
physics problems and sneaking candy from Judy's hiding
spot, thats all for now. Taku is doing great for all
of you who have witnessed that little bundle of fur
lying in the telescope case.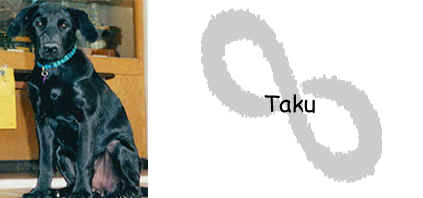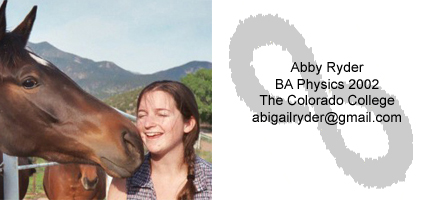 Hi, I'm a native Texan (sigh, howdy) but my family lives in Massachusetts and England, so I'm at home everywhere. I love flying, and I love airplanes; not surprisingly I am a student pilot and I hope to start working towards a master's degree in aeronautical engineering starting in January of 2003 at Embry Riddle Aeronautical University. One day I hope to work towards the development of alternative-energy-powered aircraft. I also love to draw, go mountain biking/climbing, play my acoustic guitar, ride horses, and write science fiction. This summer and fall I'm taking some time off school to study for the FAA written exam, visit my mom and grandma, travel around the U.S., and visit family in England.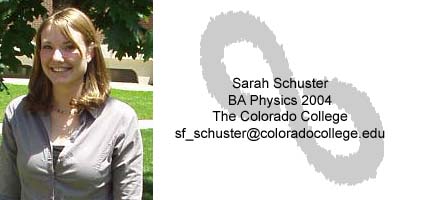 I graduated from Colorado College in 2004 with a BA in Physics. I'm from Northbrook, Il (near Chicago, famous from Ferris Bueler's Day Off), but am now making Colorado home. I love traveling, springboard diving, hiking and skiing. While physics provided lots of problem solving fun, I am currently applying to medical school and hope to relate my knowledge of real world physics to the medical field.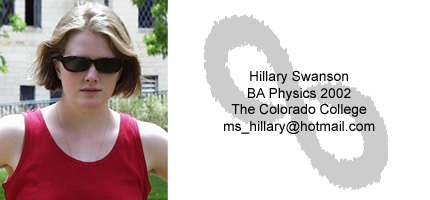 I recently graduated from Colorado College with a degree in Physics and a minor in Asian Studies. I like to go running on dirt roads in the summer and to ski through fresh powder in the winter. During the other two seasons I mostly sit around and look at physics problems. I am a woman for all seasons. I also play the concertina and like to bake cornbread. I have worked for a summer with a team at Blue Line Engineering to develop and install an Active Optics system for the Hobby Eberly Telescope at MacDonald Observatory in Texas. Last summer I traveled to Japan to make a documentary about the education system and one about women scientists as well. Next year I will be teaching math to high school students in Iowa. As for the future, I would like to be an engineer, or perhaps a science journalist.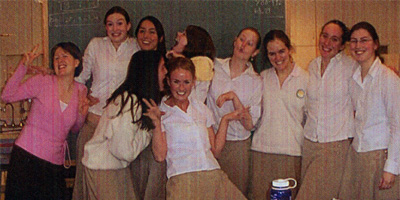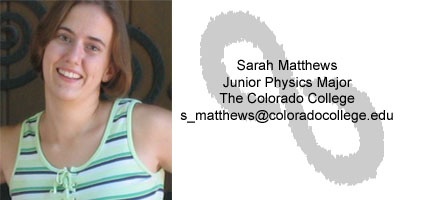 I'm just your friendly average crazy physics student. I hail from Fort Collins, CO, and am pursuing my physics major with minors in music and journalism at CC. It's my dream to one day be a science writer or maybe a high school physics teacher. I play the harp and piano and have a special weakness for Renaissance and Celtic music. I'm also a Tae Kwon Do student, rabid Harry Potter fan, and chocolate addict. Someday I plan to develop super powers and save the world from evil (hey, just because I'm a science student doesn't mean I need to be in touch with reality!). It's been great to work on Physics for Everyone.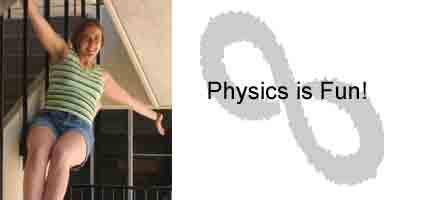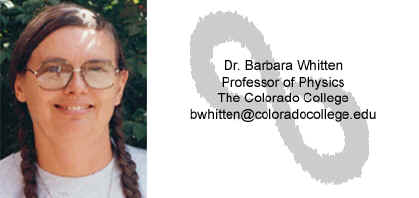 I am Professor of Physics and Women's Studies at Colorado College. I have a Bachelor of Arts in Physics from Carleton College, and a PhD in Physics from University of Rochester. My physics research is in computational atomic and molecular physics; I have worked on problems in laser physics, plasma physics, and Rydberg atom collisions. I've been a feminist all my life, but only began to teach and publish in that area about a decade ago. I'm interested in helping to build a more diverse community of physicists, and in making something that we might call feminist physics. I have two children—Penelope is an actress and writer who is just finishing high school. Jake is a sophomore in high school who is interested in cars and computers.