5.1) Motion of a swing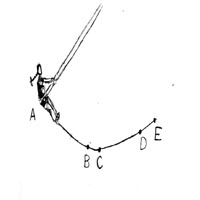 Suzanne Foster
Watching someone on a familiar playground swing-set, we take mental snapshots of the swinger. Sketch the net acceleration and velocity vectors at position A, the highest point in the swinger's path, point B, and point C, assuming the swinger is traveling from point A to point C. What forces are at work to create this net acceleration and velocity?
5.2) Riding in cars with boys
You are riding in a car with your friend Matt. He goes around a curve to the right, and your sunglasses slide across the dashboard to the left. Mark (who hasn't taken physics) says this is because of "centrifugal force." You have been taught in your physics class that there is no such thing as centrifugal force. Explain to Mark why your glasses slide like that.