The Bulletin web site has changed. Click here to go to the new format and to see the Summer 2002 issue online.

elcome to the online version of the Colorado College Spring Bulletin. Read about raising a child with Down syndrome, cloud man John Day '35, and stories on football at CC and the first homecoming queen. Kathryn Mohrman, who will step down from the college presidency in summer 2002, discusses CC's international presence. Scroll over to Class Notes to learn what your classmates are doing. And take a minute to write the editor.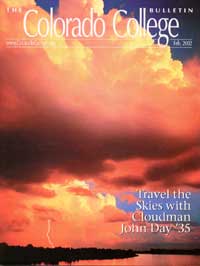 Back Issues

We welcome your comments and suggestions. Please send email to editor Lisa Ellis at lellis@ColoradoCollege.edu

For more information about Colorado College alumni, go to the alumni homepage.