CC Across the Country
New York
April 19, 2018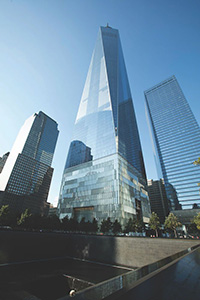 6 p.m.
The New York Academy of Sciences
Join President Jill Tiefenthaler in New York City with Trustee Neal Baer '78, M.D. for Changemakers Who are Enlivening the Arts.

RSVP by April 12 to CCevents@coloradocollege.edu
Presenters from the Colorado Springs Fine Arts Center at Colorado College include:
Rebecca Tucker, Museum Director and Associate Professor
Joy Armstrong, Curator of Modern & Contemporary Art
Quang Vu '18, CC Student Artist
A discussion with Neal Baer '78, M.D., Nancy Nagel Gibbs '71, Gareth Saxe '93, and Marc Webb '96 will be moderated by Tom Lindblade, Colorado College Professor of Theatre and Dance.
Neal Baer '78, M.D., is a pediatrician and primetime Emmy-nominated producer of television shows including "ER" and "Law & Order: Special Victims Unit." He also is the producer of "Under the Dome" and "If You Build It," and was a writer for "China Beach."
Nancy Nagel Gibbs '71 is a Tony Award-winning producer who was recently named as this year's Commencement speaker for Colorado College. Producing credits include "Peter and the Starcatcher," "Come From Away," "Bat Boy: The Musical," "Fun Home," and many others.
Gareth Saxe '93 made his acting Broadway debut in 2006 in "Heartbreak House" and shortly thereafter in the Tony-nominated revival of Pinter's "The Homecoming." Most recently, he has been playing Scar in "The Lion King."
Marc Webb '96 is a producer and music video, short film, and film director. His directorial credits include "500 Days of Summer," "The Amazing Spider-Man," "The Amazing Spiderman 2," "Gifted," and many others.
Meet & Greet: 6 p.m.
Heavy and plentiful hors d'oeuvres will be served.
Program: 6:45 p.m.
Reception to follow

The New York Academy of Sciences
7 World Trade Center
250 Greenwich St., 40th Floor
New York, New York 10007
RSVP by April 12 to CCevents@coloradocollege.edu
When you RSVP to sign up for this event, please include your number of guests and their names.
---
Chicago
June 21, 2018
Location TBA


Additional information about this event will be forthcoming.
---
Denver
Fall 2018


Additional information about this event will be forthcoming.


---
PAST EVENTS
San Francisco
March 15, 2018
6 p.m.
SFJAZZ

More than 150 attendees joined President Jill Tiefenthaler and Board of Trustees member and Campaign Co-Chair Bob Selig '61 for "Changemakers Who Are Shaping Our World."
Sixth annual Big Idea pitch competition winners presented their projects. Their teams, which garnered $50,000 total in funding, included:
Chica Chocolate, which took second place in Colorado College's Big Idea competition last year, returned to take first place and $25,000 in prize money at CC's sixth annual Big Idea competition. Chica Chocolate consists of team members Cassidy Lam '19 and Elise Morgan, a student at the University of Colorado—Boulder. The company's high-quality chocolate truffles are infused with a Chinese herbal formula designed to promote hormone balance and are delivered to customers on a subscription basis.
Raw Sauce, led by environmental science major Alex Harros '18 and geology major George Fowlkes '18, is a sustainable fermented foods business with an end goal of internally sourcing produce through their own hydroponic grow operation. The company strives to create food that causes no unnecessary harm from seed to sauce. Raw Sauce placed second in the 2018 Big Idea competition and secured $15,000 in funding.
Momentix is led by physics major Alana Aamodt '18, physics and studio art major Anna Gilbertson '19, and Josie Eichers, a finance and international business student at the University of Minnesota. Momentix is an open-ended toy kit for children ages 8-12 that leverages the viral culture of Rube Goldberg machines to engage and excite them about STEM (science, technology, engineering, and mathematics) by upcycling old toys to create chain reaction machines. Momentix was awarded $10,000 for its third-place finish.
Additionally, a panel of changemakers provided a variety of perspectives. Panelists included:
Paul-Miki Akpablie '16, Kadi Energy Founder and CEO
Akpablie founded Kadi Energy to help increase Africa's energy independence. He was still a teenager when he started developing the fledging company's signature product: a long-lasting, portable, storage battery that can be charged with solar power. He has attended many energy summits and is an advocate for the provision of financially sustainable renewable energy to change the lives of Ghanaians in the short-term and all Africans in the long-term. Akpablie graduated from Colorado College in 2016 and starts his M.B.A. at Stanford in September.
Bracken Darrell P'15, P'21, Logitech President and CEO
Darrell has a B.A. in English from Hendrix College in 1985 and his M.B.A. from Harvard Business School in 1991. He has worked at Procter & Gamble, General Electric, Whirlpool, and now Logitech, Inc. His real love is creating great products and great brands. Darrell has led growth and reinvention of iconic brands including Old Spice, Braun, and Logitech. He has made a lot of mistakes ... from most of which he has learned. Since 2013, he has been the chief executive officer and president of Logitech. Since his start as Logitech CEO, the company has been the #1 performing stock on the Swiss stock exchange and in the top 7 percent of the NASDAQ.
Em Havens '09, IDEO Senior Community Designer
Havens is a senior human systems designer at IDEO U, an education startup within the world famous design firm, IDEO. With a background in leadership education and social finance, Havens has tackled innovation challenges in a wide variety of contexts, from venture philanthropy to healthcare technology. Passionate about education, Havens currently acts as a visiting professor at the University of Pennsylvania's Center for Social Impact Strategy and guest lectures at the Stanford d.school. She holds an M.B.A. in sustainable systems from the Presidio Graduate School and a B.A. in environmental anthropology from Colorado College.
Margaret Liu '77, M.D., ProTherimmune Principal
Liu obtained a B.A. in Chemistry, summa cum laude, Colorado College, the Epreuve pour le Diplôme d'Enseignement, à l'unanimité (judges' unanimous decision), piano at L'Ecole Normale de Musique de Paris, and an M.D. at Harvard Medical School. She consults world-wide and is a foreign adjunct professor at Karolinska Institutet, and an Adjunct Full Professor at University of California, San Francisco. Past appointments include senior advisor in vaccinology at the Bill & Melinda Gates Foundation, and member of the U.S. National Institutes of Health and the National Institute of Allergy and Infectious Diseases Council. Honorary lectureships include: the Nobel Committee, University of Cambridge, and Columbia University. Honorary Doctorates include: Medical Doctor (Karolinska Institutet) and Doctor of Science (Colorado College). Discover magazine named her one of "The 50 Most Important Female Scientists."

SFJAZZ
201 Franklin Street
San Francisco, California


Sixth annual Big Idea pitch competition winners presented their projects at "Changemakers Who Are Shaping Our World" in San Francisco March 15, 2018. The event was part of the CC Across the Country series.