CC Across the Country
New York
April 19, 2018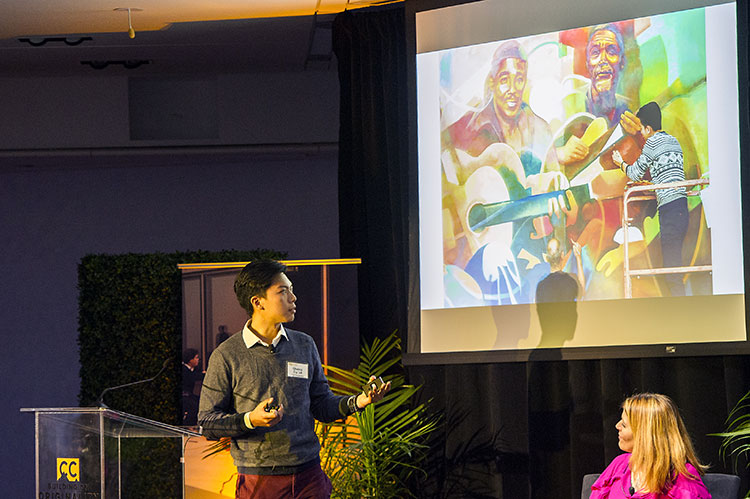 More than 150 people joined President Jill Tiefenthaler and Colorado College Trustee John Troubh '79 April 19 at The New York Academy of Sciences in New York City for Changemakers Who are Enlivening the Arts.

Presenters from the Colorado Springs Fine Arts Center at Colorado College included Rebecca Tucker, Joy Armstrong, and Quang Vu '18.
Rebecca Tucker is associate professor of art at Colorado College and museum director at the Fine Arts Center. Her field is art history in the early modern period in northern Europe. She focuses on patronage, collecting, and display, as well as trade, cultural transmission, and artistic exchange between Europe, India, and the New World. She has published Art History, Nederlands Kunsthistorisch Jaarboek, and The Seventeenth Century. Tucker received the 2011 Ray Werner Award for Exemplary Teaching in the Liberal Arts, served as the Schlosser Professor in Arts in 2014-17, and was director of the Crown Center for Faculty Development in 2015-16. Tucker's projects include a digital visualization analysis of female patronage from the museum's database; new courses supporting the Art Department's major track in museum studies; and a book on court patronage in the art of the Dutch Republic.
Joy Armstrong is curator of modern and contemporary art at the Fine Arts Center. The Pikes Peak Arts Council recognized her with Curatorial Excellence and Creative, Intriguing, Astonishing awards for Pamela Joseph's "Sideshow of the Absurd." She curated the exhibition "El Mac: Aerosol Exalted," which inspired the award-winning event JAM FAC. Armstrong was honored as a Colorado Springs Business Journal's "Woman of Influence" in 2016. Armstrong's recent projects include "Everyday Extraordinary: From Rembrandt to Warhol (Selections from the Morton and Tobia Mower Collection)," Bruce Munro's "Thank You for a Very Enjoyable Game," and "Yoshitomo Saito: millionyearseeds." She holds a bachelor's degree in studio art and communications from the University of Denver and a master's degree in art history from Kent State University.
Quang Vu '18 is a studio art major at Colorado College. In 2018, he worked with Haitian artist Ralph Allen to paint a mural, "The Spell," ahead of Allen's show at the Fine Arts Center in February. During Summer 2017, Vu also collaborated with CC Art Department Chair Scott Johnson on "Fissure & Terminus," a permanent installation that reused books to create a stone-like structure for the newly renovated Charles L. Tutt Library. This project was highlighted during CC's 2017 Summer Research Symposium. In 2017, he received a CC Art Department scholarship to learn about CNC machines at the Anderson Ranch Art Center. Vu spent Fall 2016 with the CC Mediterranean Semester. In 2015, he participated in intramural hockey at Colorado College.
A discussion with Nancy Nagel Gibbs '71, Gareth Saxe '93, and Marc Webb '96 was moderated by Tom Lindblade, Colorado College Professor of Theatre and Dance.
Nancy Nagel Gibbs '71 is a Tony Award-winning producer who has been a producer, general manager, and company manager for Broadway, Off-Broadway, and international productions for more than 40 years. Her producing credits include "Peter and the Starcatcher," which garnered nine Tony nominations and five Tony Awards; "Come From Away," which received a Tony nomination; "Bat Boy: The Musical," which received the Lortel Best Musical Award; "Fun Home," and Tony Best Musical Award winner; and many other. Gibbs will deliver the Commencement address at Colorado College's 144th Commencement ceremony on May 21. She earned a bachelor's degree in drama and dance from Colorado College and a master of arts from the University of Northern Colorado.
Gareth Saxe '93 is an actor with numerous Broadway performances that include roles as Scar in "The Lion King," Joey in "The Homecoming," and Randall Utterword in "Heartbreak House." His Off-Broadway roles have included performances as Harper Regan in "The Atlantic," Richard III in "The Winter's Tale," and performances in "Echoes of the War," "The Daughter-in-Law," and "The Wax." His regional performances include "A Moon to Dance By," "Hamlet," "Dangerous Liaisons," "The Merchant of Venice," "Sexual Perversity in Chicago," "iWitness," "The Rivals," and "Pericles." His work for film and television include Michael Mann's "Public Enemies" and "Law & Order: Special Victims Unit." He earned a bachelor's in drama from Colorado College and a master of fine arts from New York University.
Marc Webb '96 is a producer, and music video, short film, and film director. His directorial credits include "500 Days of Summer," "The Amazing Spider-Man," "The Amazing Spiderman 2," "Gifted," and many others. Webb will next executive produce the CBS series "Instinct." He also is executive producer of the critically acclaimed CW series "Crazy Ex-Girlfriend." Webb has been honored with multiple MTV Video Music Awards, including the Best Director Award for Green Day's "21 Guns." The Music Video Production Association honored him as Director of the Year in 2006. His feature film debut, "500 Days of Summer," received two Golden Globe Awards nominations, including Best Picture, and two Critics Choice Awards nominations. Additionally, The National Board of Review honored Webb with its Spotlight Award in 2009. Webb earned a bachelor's in creative writing from Colorado College.


Tom Lindblade is a professor in the Theatre and Dance Department at Colorado College, and served 14 years as chair. His courses include: Origins of Theatre: Ritual, Greek Tragedy, and Early Comedy; Modern Theatre: Realisms and Anti-Realisms; and an introduction to acting. Since 1982, he has been an active theatre professional in the San Francisco Bay Area where he has provided directing, musical directing, conducting, and dramaturgy for more than 40 theatre productions. He writes extensively on contemporary performance, publishing articles in Comparative Drama, Theatre Survey, The Semiotic Bridge, and New Art Examiner on subjects as varied as John Jesurun, George Coates, Robert Wilson, and David Saunders. Lindblade received his bachelor's from the University of Wisconsin, master's from the University of Minnesota, and Ph.D. from Stanford University in drama and humanities.

View photos from the event. Jonny Goldstein '91 made a video from his sketchnotes of the event. Learn more on his blog.

The New York Academy of Sciences
7 World Trade Center
250 Greenwich St., 40th Floor
New York, New York 10007
Learn more about CC Across the Country events.