Monthly Giving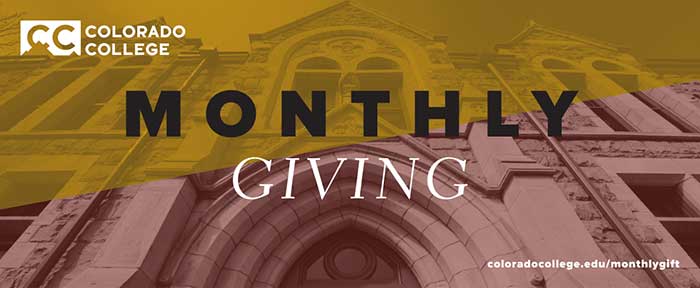 Have you forgotten if you've made a gift to CC this year? Set it - and forget it!
CC's monthly giving program allows you to maximize your gift to the college while easily making it part of your budget. You may even find that you can increase your support for CC by giving less, more frequently.

A monthly gift is:
Convenient
Cost-effective
Sustainable
And, it makes a huge difference!
$10/month = $120/year - could waive two prospective CC students application fees.
$25/month = $300/year - could provide materials for a laser cutter.
$100/month = $1,200/year - could help cover airfare for a student's two-week block-away trip.
If all 30,000 Colorado College alumni made a $10 monthly gift, $3.6 million could go toward supporting the next generation of free-thinking trailblazers who will leave CC knowing there's no problem they can't solve!

Give $10/month
Give $25/month
Give $100/month

Questions?
Call (800) 782-6306 or email annualfund@coloradocollege.edu.