The Well Campaign
The Well Campaign is designed to promote the idea that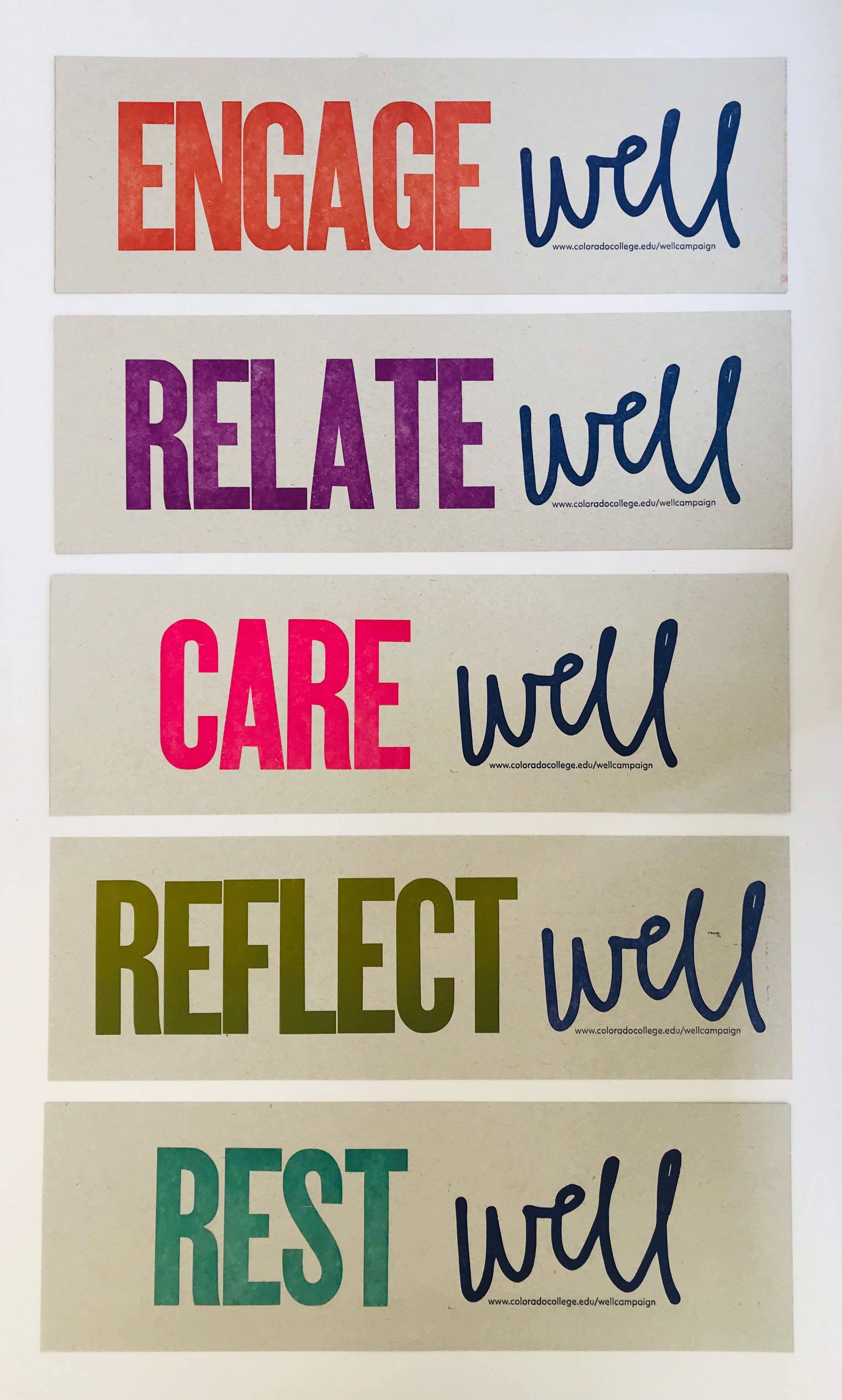 wellness is a process—rather than being an end goal, wellness is something to continually strive for. The campaign builds on the holistic model of wellness to highlight five practices that help facilitate well-being: engage, relate, care, reflect, and rest.
The Wellness Resource Center uses the holistic model of wellness as the underlying philosophy for promoting students' health and well-being as whole people. The support and educational initiatives we offer reflect the understanding that the spiritual, intellectual, emotional, physical, environmental, socio-cultural and financial aspects of our lives are all deeply connected. With this framework as the context for our work we aim to create an environment in which everyone can thrive and be well, a community that is inclusive, equitable, consent-oriented and trauma-informed. Striving for wellness—both personally and communally—is also a matter of justice. Some of the facets of the Well Campaign (rest, reflect) are more personal and others are more social (engage, relate), but each requires vulnerability, self-awareness, communication and an emphasis on growth.
Engage
Strive for open-mindedness and curiosity (not just in academic settings)

Apply your creativity and intellect when learning new things

Be self-critical

Be present in what you do and try not to over-commit (it's hard to engage when you're spreading yourself too thin)
Relate
Empathy: seeking to understand another person's experience

There's value in comparison: learn about yourself by learning about others

Be critical of individualistic thought
Care
Self-care

Check in with your friends and communicate that their well-being matters to you

Being an active bystander as a form of community and environmental care
Reflect
Are different relationships, endeavors, activities serving the purpose you want them to

What are you learning?

How have you changed through an experience or an event?

Personal (journaling, thinking) or social (conversations with friends and family)

Build in time to your routine to consider how things are going
Rest
Break up your routine to get rejuvenated

Sleep

Doing things you don't usually do

Resist narratives of productivity

Taking a mental break, distracting yourself, thinking about other things
Mental Health Links
<!div class="col-12">
<!/div> <!div class="col-12">
<!/div> <!div class="col-12">
<!/div>
Other WRC Campaigns
<!div class="col-12">
<!/div>
Well Campaign on Social Media
The Well Campaign is on social media! View the Facebook album here and don't forget to check out our Instagram feed.