JED Campus Project
By joining the JED Campus program, Colorado College is demonstrating a commitment to the emotional wellbeing and mental health of its students and entire campus community. The JED Campus program takes a comprehensive, public health approach to promoting emotional well-being and preventing suicide and serious substance abuse. JED Campus schools embark on a multi-year strategic collaboration that not only assesses and enhances the work that is already being done, but helps create positive, lasting, systemic change in the campus community. As part of our JED Campus participation, we are also participating in a pilot of the Equity in Mental Health Framework, a collaboration between JED and the Steve Fund, which is focused on assessing and strengthening support for mental health and emotional well-being of students of color.
During the 2017-2018 academic year, we collected data through surveys, audits, and focus groups. This self-assessment helped us to identify our campus strengths and areas of improvement in seven (7) areas identified by JED as key elements to mental health promotion and suicide prevention.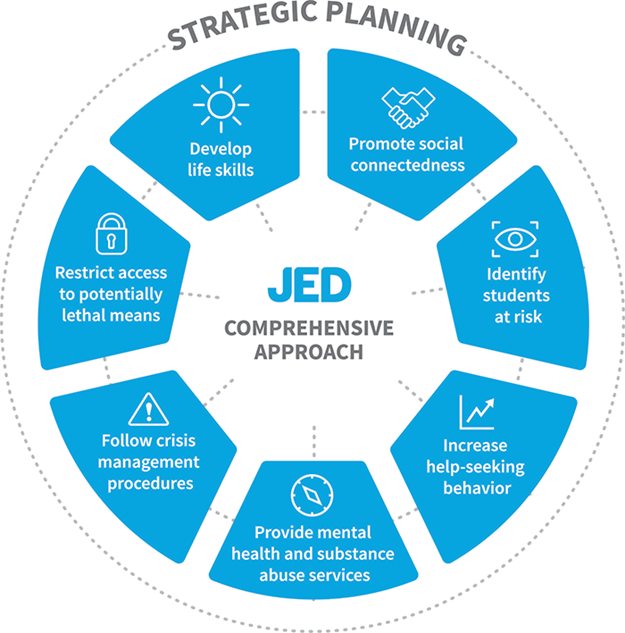 Highlights of Colorado College Campus Strengths include:
Promote Social Connectedness: The college has invested in equity and inclusion work broadly across campus.
Increase Help-seeking Behavior: The college has policies and processes which encourage help-seeking, and also provides ready access to information and resources.
Provide Mental Health and Substance Abuse Services: The Counseling Center offers comprehensive services, including 24/7 on-call, and has increased the number of providers and hours of service
Follow Crisis Management Procedures: The college has excellent 24/7 resources and notification systems.
Restrict Access to Potentially Lethal Means: The college has utilized a master space plan to identify and mitigate access to lethal means.
Highlights of Colorado College Areas for Growth include:
Identify Students at Risk: The college already offers excellent Gatekeeper trainings (i.e., Mental Health First Aid and QPR); increasing participation of faculty and staff is a priority.
Promote Social Connectedness: Collaborating and consolidating training for the various peer mentorship programs, continuing to address the concerns of under-represented groups, and developing more opportunities that allow students to deepen relationships across blocks are priorities.
Develop Life Skills: The college already offers a wide array of programs and opportunities for students to develop life skills, but programming is siloed. Assessing the efficacy of current programming, and creating opportunities to increase collaboration and integrate the curricular and co-curricular are priorities.
---
Campus Resources
· Sexual Assault Response Coordinator
---
JED Campus Committee members
Rachael Abler, Outdoor Education Specialist
Paul Buckley, Assistant Vice President, Director of The Butler Center
Allen Bertsche, Director of Global Education
Pedro de Araujo, Associate Dean of the College/Associate Professor of Economics
William Dove, Director, Counseling Center
Jan Edwards, Director - Accessibility Resources & ADA/504 Coordinator
Traci Freeman, Director, Colket Learning Center
Kate Holbrook, Chaplain
Heather Horton, Director, Wellness Resource Center
Debbie Howell, Elder-in-Residence
Matt Bonser, Director, Admissions
John Lauer, Associate Vice President for Student Life
Teresa Leopold, Director of Student Support, Student Opportunities and Advising Hub
Tom Monagan, Head Athletic Trainer
Laurie Mozingo, Benefits Manager, HR
Jane Murphy, Associate Professor, History
Megan Nicklaus, Director, Career Center
Natanya Pulley, Assistant Professor, English
Mary Sanchez, Operations Manager, Davita Medical Group
Maggie Santos, Director of Campus Safety and Emergency Management
Michael Sawyer, Assistant Professor, Race, Ethnicity and Migration Studies
Chris Starr, Director of Recreation & Fitness Center
Lyrae Williams, Associate Vice President of Institutional Planning & Effectiveness
Stephanie Wurtz, Assistant Vice President for Communications
Tiffany Kelly, Director of Parent and Family Relations
CCSGA Student Representative