Summer Music Festival 2022 Concerts
The 38th Season
2022 DATES

DAY

CONCERT

TIME/VENUE

June 7

Tuesday

An Evening of Song in Honor of Peggy Shivers, featuring Brian Major, baritone
Free Tickets • Program


7:30 p.m.

Packard Hall

June 9

Thursday

Festival Artists Concert
Tickets
Program • Program Notes

7:30 p.m.

Packard Hall

Pre-Concert Lecture at 6:15 p.m. in Room 9

June 11

Saturday

Outdoor Festival Orchestra Concert with the Pink Hawks
FREE • Program


7:00 p.m.

Tava Quad

June 12

Sunday

Festival Artists Concert
Tickets
Program • Program Notes

2:30 p.m.

Packard Hall

June 14

Tuesday

Outreach Concert

1 p.m.

Hillside Community Center

June 14

Tuesday

Festival Orchestra Concert
Tickets
Program • Program Notes


7:30 p.m.

Celeste Theatre, Cornerstone

Pre-Concert Lecture at 6:15 p.m. in CAC Screening Room

June 16

Thursday

Children's Concert: Carnival of the Animals with Ormao Dance Company
9 a.m. free tickets
11 a.m. free tickets 
Program


9:00 & 11:00 a.m.

Celeste Theatre, Cornerstone Arts Center

June 16

Thursday

Pre-Concert Recital "Alla Breve"
FREE • Program


6:15 p.m.

Packard Hall

June 16

Thursday

Festival Artists Concert
Tickets
Program • Program Notes

7:30 p.m.

Packard Hall

June 18

Saturday

Fellow Concerto Readings
FREE • Program

2:00 p.m.

Celeste Theatre, Cornerstone Arts Center

June 20

Monday

Festival Artists Concert
Tickets
Program • Program Notes


7:30 p.m.

Packard Hall

Pre-Concert Lecture at 6:15 p.m. in Room 9

June 21

Tuesday

Outreach Concert: Festival Fellows Chamber Performances
FREE • Program

6 p.m.

June 23

Thursday

Pre-Concert Recital "Alla Breve"
FREE, NO TICKETS REQUIRED • Program

6:15 p.m.

Packard Hall

June 23

Thursday

Festival Artists Concert
Tickets
Program • Program Notes

7:30 p.m.

Packard Hall

June 24

Friday

Festival Orchestra Concert
Tickets
Program • Program Notes


7:30 p.m.

Celeste Theatre, Cornerstone Arts Center

Pre-Concert Lecture at 6:15 p.m. in CAC Screening Room

June 13, 15, 17,

20, 22, 23, 24

Monday, Wednesday, Friday

Monday, Wednesday, Thursday, and Friday

Music at Midday Concerts with Festival Fellows
FREE

12:15 p.m.

Packard Hall
ORDER TICKETS ONLINE VIA THE FAC WEBSITE 
or call the Festival office at (719) 389-6552
Click to view the 2022 Program
THIS SEASON'S CONCERTS:
PEGGY SHIVERS, free, tickets required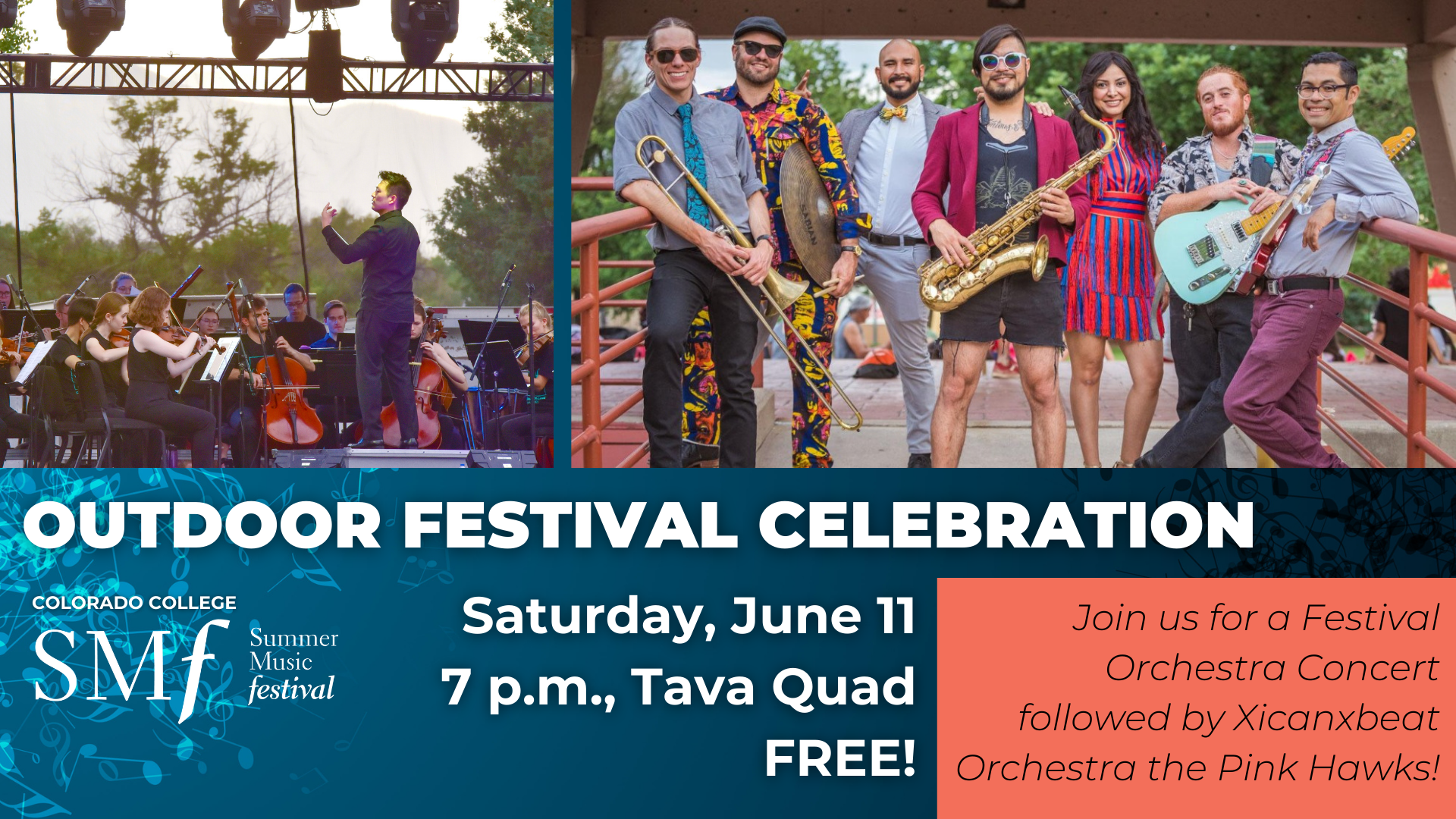 Outdoor Celebration, free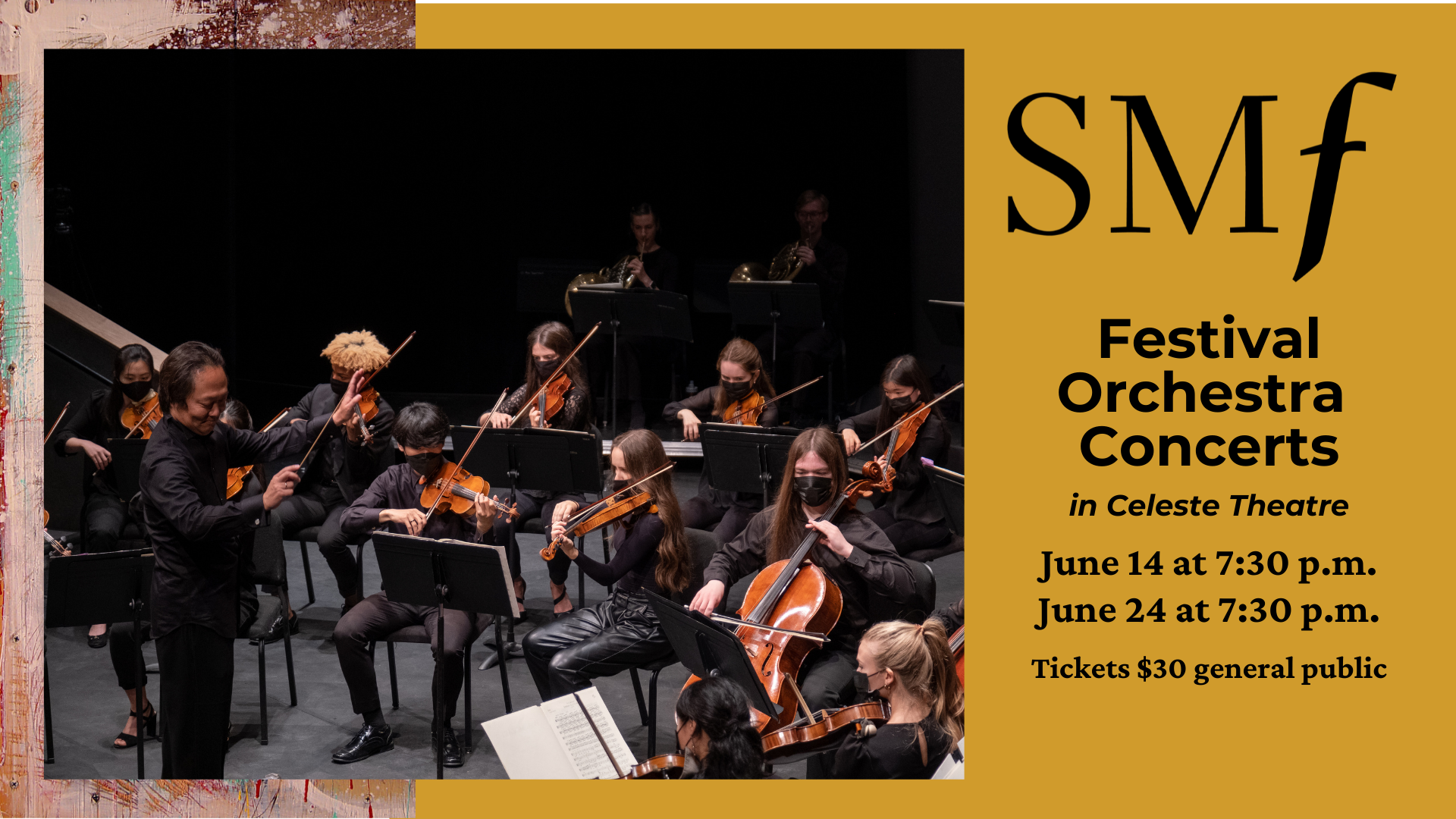 Festival Orchestra Concerts, tickets required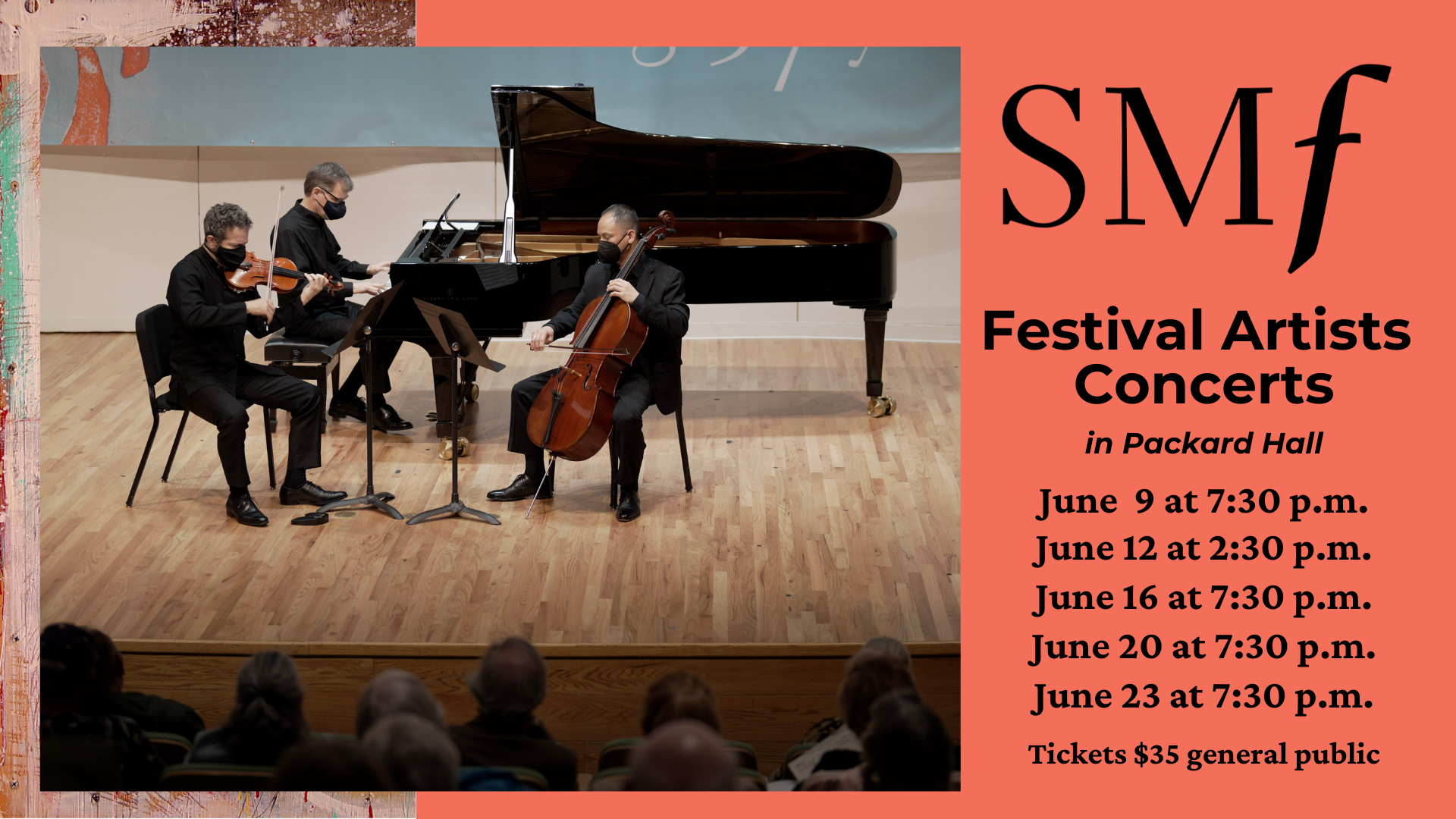 Festival Artists Concerts, tickets required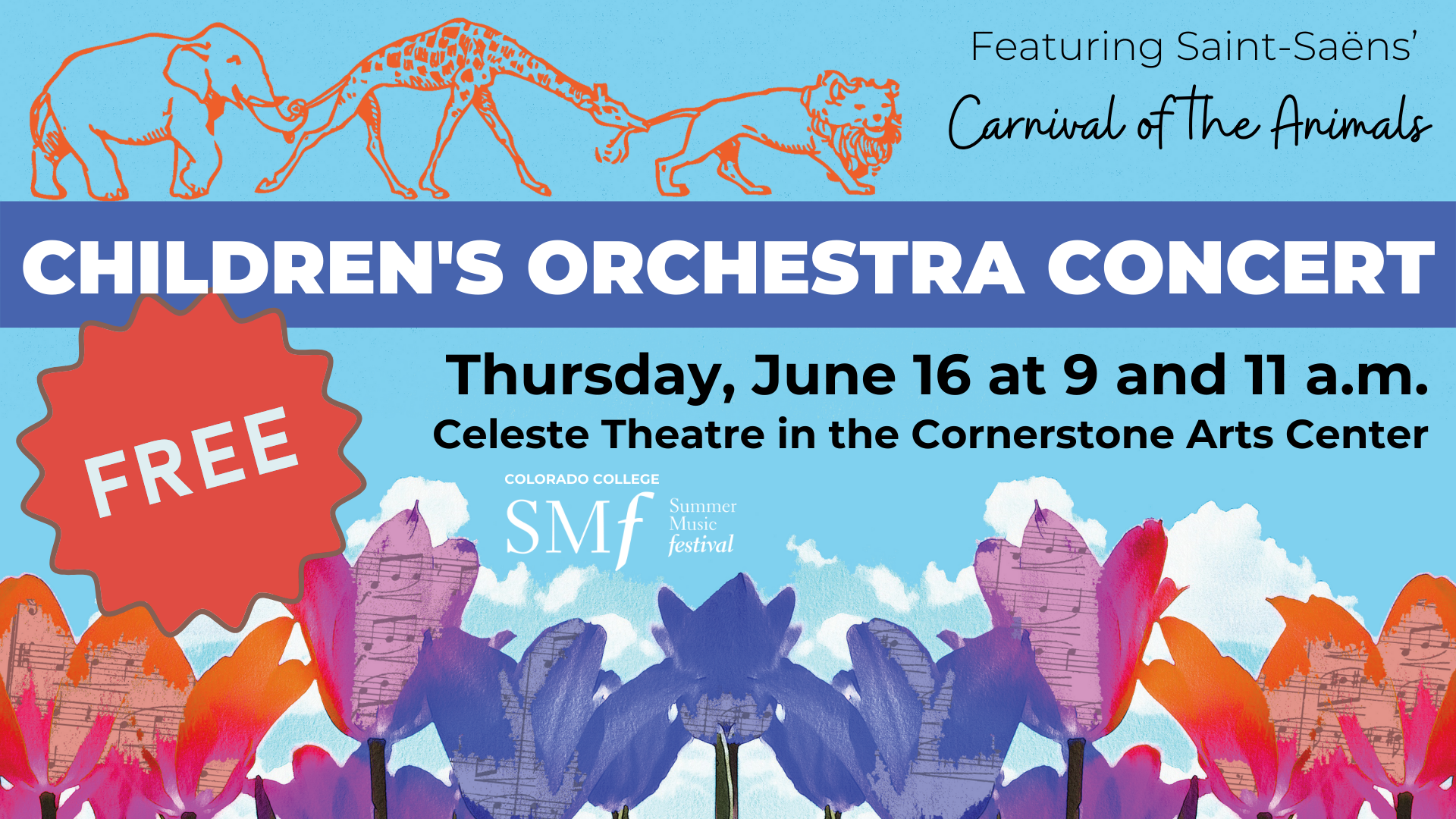 Children's Concert, free, tickets required
Outreach Concert at Gold Hill Mesa, free
Fellow Concerto Readings, free
Music at Midday concerts, free
Individual tickets are available now online.
PRICES:
Call (719) 389-6552 or email avanhorn@ColoradoCollege.edu to order:
All Festival Concerts (5 Artists and 2 Orchestra: $200 ($150 for first-time ticket subscribers!))
All Festival Artists (5 Concerts): $160
All Festival Orchestra (2 Concerts): $55
Donors who haven't yet ordered a season subscription pass should call the office (719-389-6552)
GENERAL PUBLIC:

 

$35 for Festival Artist Concerts; $30 for Festival Orchestra Concerts
NO CODE needed
SMF DONORS: $30 for Festival Artist Concerts; $25 for Festival Orchestra
Use code DON22SMF at checkout
CURRENT CC STUDENTS, FACULTY AND STAFF: Free for all concerts
Use code SMFCCID at Checkout (CC Gold Card ID required at the door)
NON CC STUDENT OR CHILD: $5 for all concerts
Use code STUDENTSMF22 at checkout (Student ID required if over 18)
Purchasing Tickets in Advance: While tickets are available at the door, it is recommended you purchase or reserve free tickets in advance to guarantee a seat.
Ticket Refunds: We can provide refunds in advance, but we do not provide refunds for tickets for a concert on the day that concert is performed.
Children and Non CC Students: Children and non-CC students are charged $5 for Festival Faculty and Fellow Orchestra concerts. However, many of our concerts, including the Children's Concert and Outdoor Celebration Concert, are free. 
Reserved Seating: All seats are available for the same price on a first-come, first-serve basis. The following contains the seating plans for the concert locations:
Arrival to concerts: Doors open half an hour before each concert. Please be respectful of both the performers and audience members and if you arrive late, and wait until the current performance is finished (sound of applause) before entering the theater.
Parking: During the festival concerts, on-campus parking is free in the evening in the Robson Arena, Armstrong and Cornerstone lots. For Music at Midday, you may use the Robson Arena lot and the Fine Arts Center lots, or look for the "EVENT PARKING" signs at Armstrong or Cornerstone when it's available.  Some street parking is metered on Tejon Street.   Much of the street parking is by permit only during the day, but available to the public after 5 p.m.  After 6 p.m., patrons may use the Bemis School of Art lot west of Packard or the ANA Museum parking lot south of Packard Hall.   Handicap parking for the Cornerstone Arts Center may be found in the lot to the east of the building, accessible from Tejon Street. Look for a golf cart shuttle running between the Armstrong, Cornerstone, and Numismatic Association lots.  Call the office (719) 389-6552 in advance if you would like to schedule a ride from a particular lot. 
show all / hide all