Year of Listening
President Jill Tiefenthaler (2011-2020) refers to her first year at Colorado College as "The Year of Listening" for good reason. Over the course of numerous meetings - and meals - with students and professors, through formal and informal conversations with colleagues, by hearing from hundreds of alumni in over a dozen cities, she learned about the experiences, hopes and dreams of the college.
In particular, she gained a deeper appreciation of the Block Plan (especially after teaching a block course herself) and more insights into the spirit and culture of the Rockies - how both drive a sense of exploration and reflection that lies at the heart of a liberal arts education.
She also explored Colorado College in the context of higher education in the U.S. and the global community. Liberal arts colleges are facing important questions about the changing demographics of future students, new forms of learning approaches made possible by technology and digital resources, the shape and feel of the distinctively American undergraduate residential experience, and the considerable economic challenges confronting everyone - students, families, and institutions.
What emerged from these conversations and discussions are the top priorities that will shape the college's strategic development in the coming years: Increasing our focus on engaged teaching and learning, emphasizing our distinctive place in the world, and extending our reach and well-deserved reputation.
"It takes two to speak the truth - One to speak and another to hear."

- Henry David Thoreau, A Week on the Concord and Merrimack Rivers
At the heart of our strategic plan lie creativity, flexibility, and many ideas that underscore our distinctive spirit. By finding new ways to capitalize on our strengths, particularly the Block Plan and our unique place, we will attract top students from around the world who are looking for an academic experience that is engaging, rigorous, and adventurous. Once they are here, we will help them become lifelong learners, imaginative individuals, and inspired leaders in the global community.
What words come to mind when you think of CC?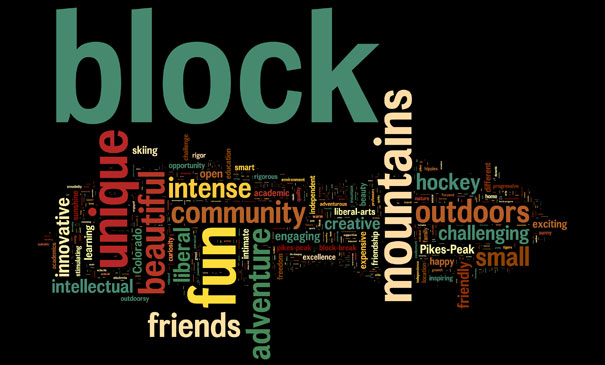 At each event around the country, President Tiefenthaler asked the people she met to give a few words that come to mind when thinking of Colorado College. This word cloud is the combined result. The words in the graphic are sized based on number of times they are mentioned, with larger words being more frequently mentioned.