2023 Vintage Poster Contest
The State of the Rockies project invites students to submit a digital image of a vintage-style poster of a national park, monument, or forest in the 8-state Rocky Mountain region that includes a contemporary conservation message, or "motto." The direction each student goes is only bound by the topics covered in the poll that deal with the conservation of public lands. 

Judges Aaron Cohick, Katja Rivera, and Kaitlin Steinfort, '22, announce winners of the 2023 Conservation in the West Vintage Poster Contest
WINNERS
1st Place Winner
BEAR LODGE NATIONAL MONUMENT
Wyoming
by Sam Nystrom Costales, '25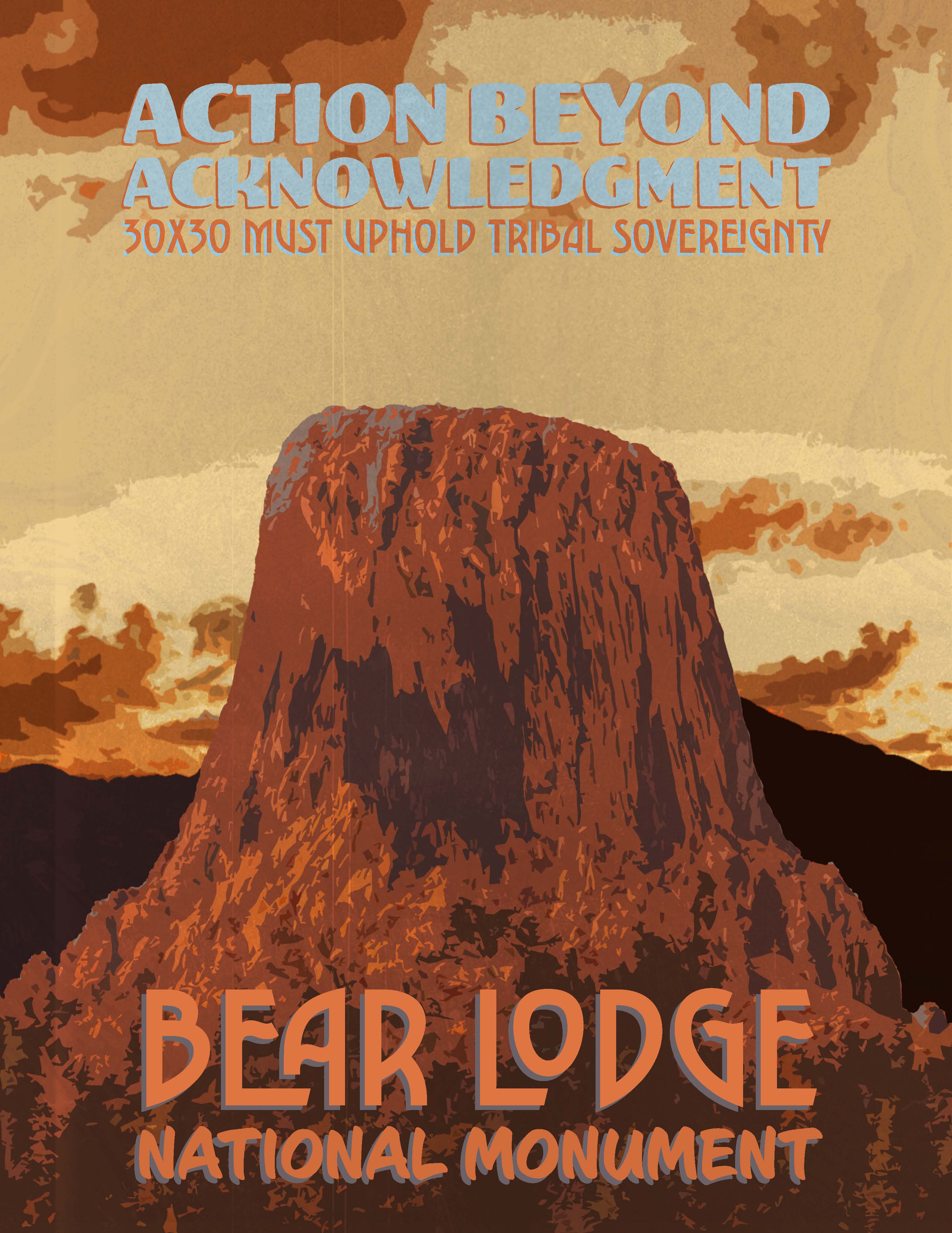 The State of the Rockies poll demonstrated that there was strong enthusiasm for the current administration's 30x30 policy, which seeks to conserve 30% of land and marine habitat by 2030. The policy supports tribal-led conservation projects and sovereignty. It is significant that 30x30 recognizes sovereignty as tribal involvement in management practices has been treated as a formality, despite the efficacy of indigenous-led land management. At the same time, 30x30 must avoid placing the burden of protecting public lands primarily on indigenous peoples. Highlighting this part of the 30x30 policy is important as recognition of tribal sovereignty could provide greater agency to indigenous groups while reducing the continued harm of settler-colonialism. I represented Devils Tower (using an alternative name) because it has particularly been a site of struggle for the recognition of indigenous land practices and sovereignty, specifically between outdoor recreationists and the nations that regard the site as sacred.
Judges' Comments:
Strong design and compelling image
Thoughtful typography 
Good use of color
Clear message about important issue

---
2nd Place Winner
PROTECT OUR DARK SKIES
Great Sand Dunes National Park and Preserve, Colorado
Poster by Rafi Donohoe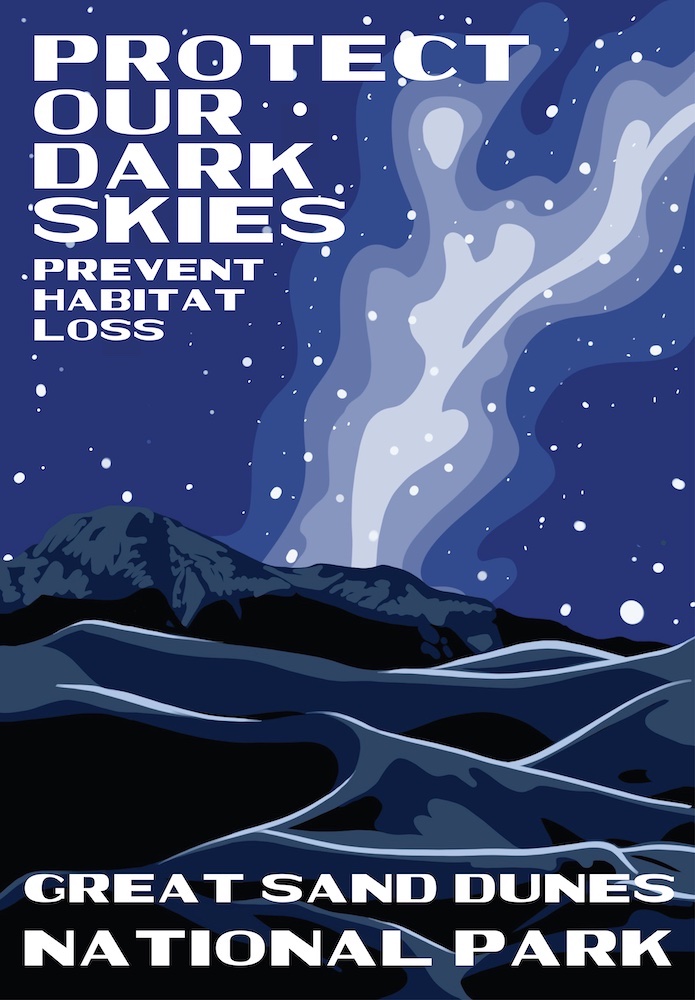 My visit to Great Sand Dunes National Park was the first time I had been to a dark sky preserve, and the first time I ever really saw the Milky Way. Inspired by the "Half the Park is After Dark" slogan from the National Park Service, I wanted to recreate the iconic Milky Way posters with a message about light pollution. While the artificial light may seem harmless compared to greenhouse gases or fracking, it has the power to disrupt human and animal rhythms and ruin natural habitats. Additionally, lighting is one of the largest contributors to global energy consumption and greenhouse gas emissions, and much of it is wasted. With my poster, I hope to convey the beauty of dark skies, and the importance in preserving them from light pollution.
Judges' comments:
Striking and well-made image
Appropriate vintage-style topography
Excellent use of color
---
3rd Place Winner
PIKES PEAK
Pike National Forest, Colorado
Poster by Sebastian Olson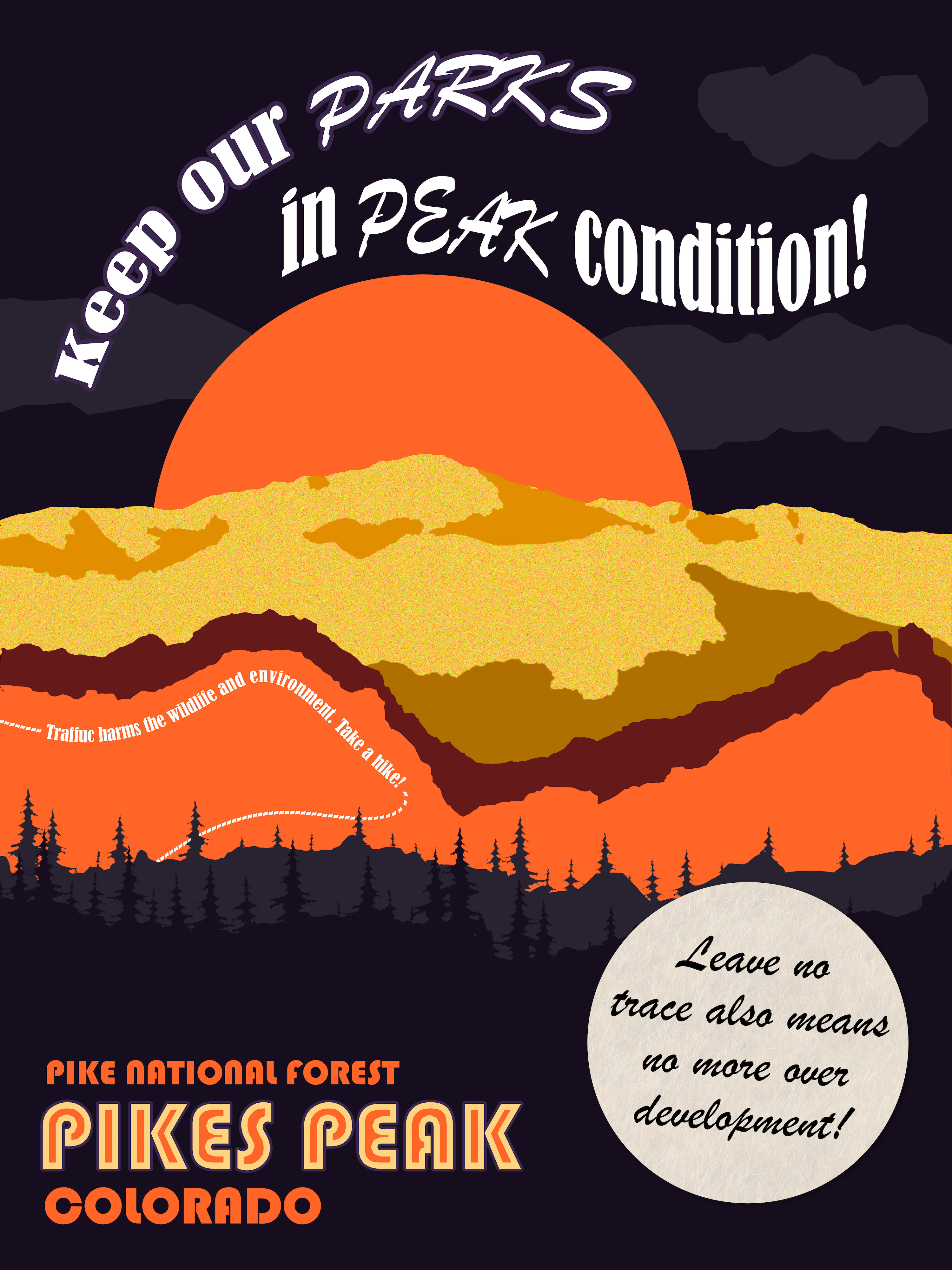 I focused on Pikes Peak with Garden of the Gods in the foreground for my poster. Since I came to Colorado College, I have spent many weekends exploring Colorado's vast wilderness, but often rely on these two nearby spaces to unwind and go on a run or bike ride. As a gateway into the Pike National Forest, Garden of the Gods has much to offer, but its easy access comes with increased vulnerability. Car traffic and litter have only increased these past years since 2020. At least three-in-five people in every Rocky Mountain state support preserving public lands and national monuments, and my goal for this poster is to get this point across while still inviting people to visit these amazing locations. Our natural spaces should be accessible to people, not cars.  
Judges' comments:
Strong and fun typography
Curved lines of type make for a dynamic composition
Local message
Honorable Mentions
PROTECT OUR LANDS - Great Sand Dunes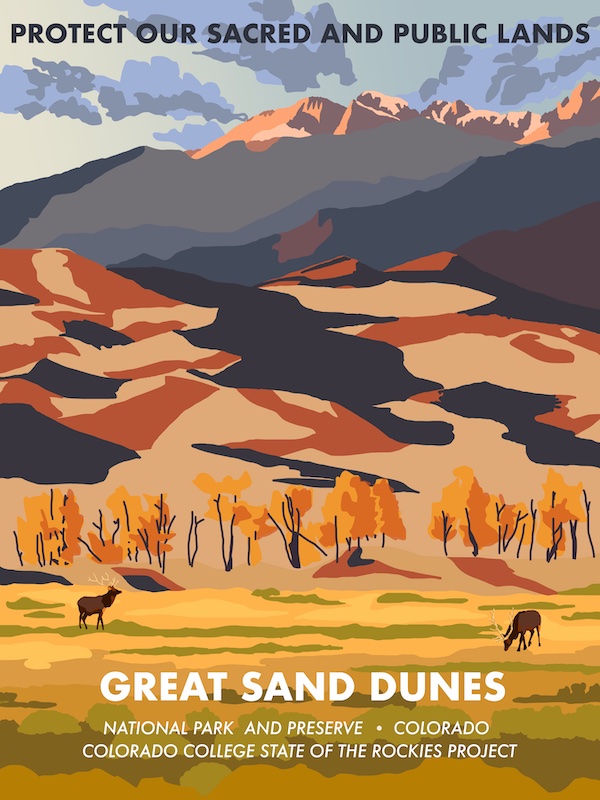 Poster by Sophie Dua
Really beautiful image!
Impressive attention to details.
WATER IS DRAINING - Colorado River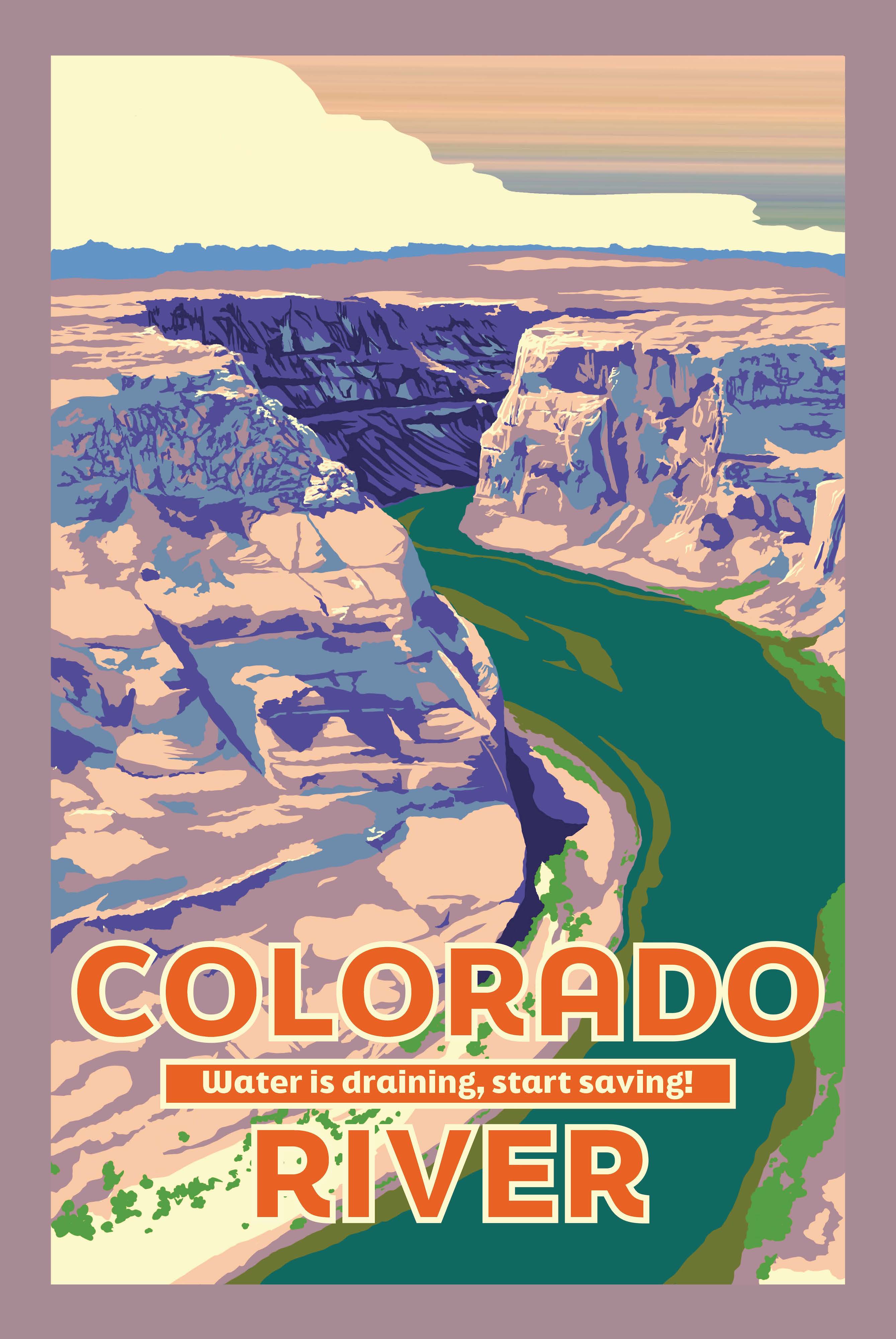 Poster by Casey Millhone
Beautiful image
Thoughtful use of color
PIKA - Rocky Mountain National Park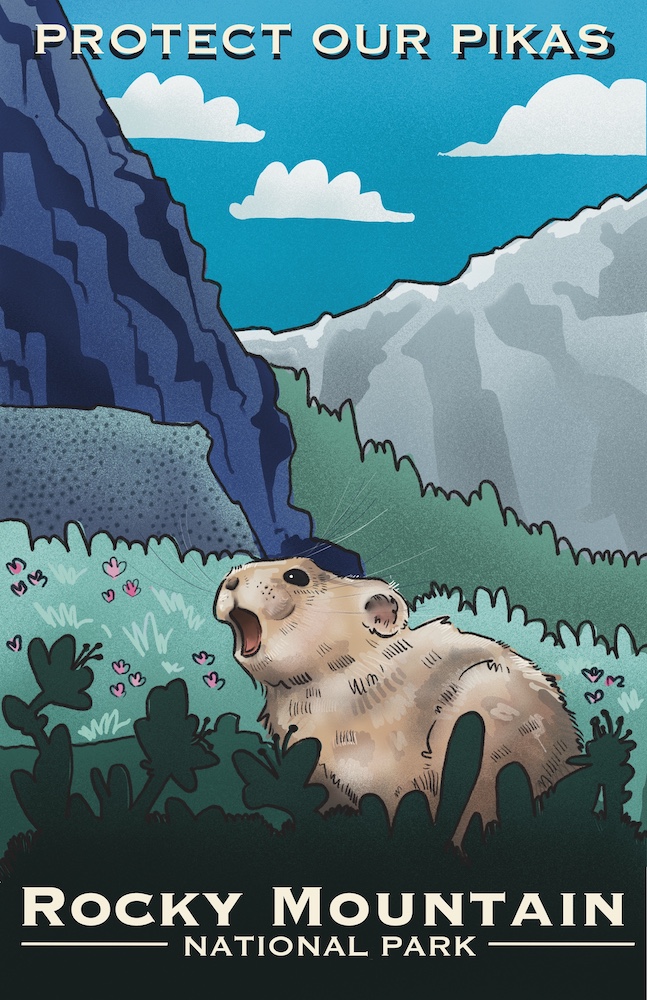 Poster by Sofie Miller
THE CONTEST
TO ENTER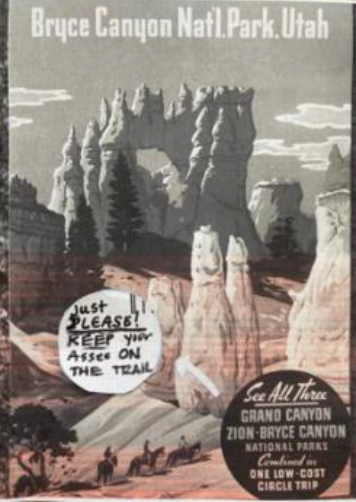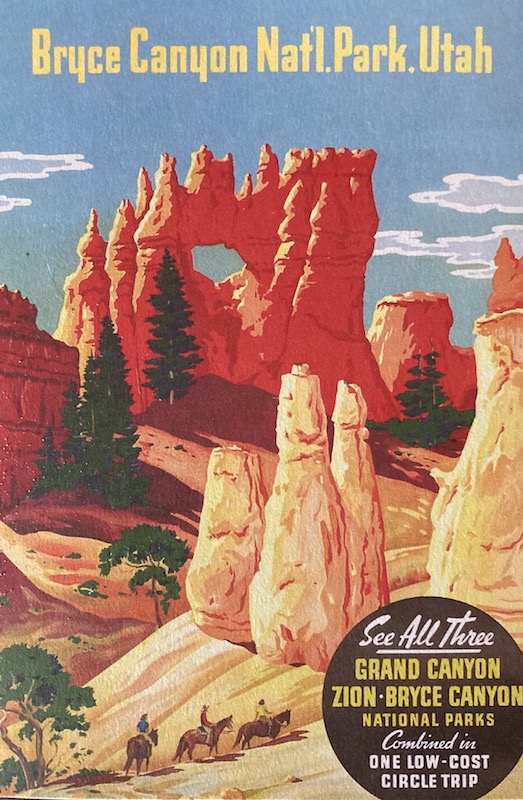 In addition to the digital image, your submission must include an explanation of why or how your contemporary conservation motto is relevant to current conservation attitudes of residents in the 8-state Rocky Mountain West (highlighted in the Conservation in the West 2022 poll) and how or why your motto is relevant to the national park, monument, forest, you chose. Please submit a 150-word maximum justification for choosing the place you chose — explain to us why, how, and/or what conservation efforts are critical for the future of the public space your poster represents. This Bryce Canyon National Park poster is an example of a poster created during the Federal Art Project; the old vintage poster is now recreated as what students may come up with using their own imaginations and by exploring the survey results on public and national lands. Of course, this mock-up is more of a spoof; but witty text and images are welcome.
Please submit your entry to chines@coloradocollege.edu by midnight on February 26, 2023. Use CC OneDrive to share large files. 
guidelines
Contest Criteria
Efficacy of your conservation motto and justification as they relate to conservation concerns reported by recent Conservation in the West poll findings
Composition of poster
Creative use of the historical national park poster style
Use of color
Impact of message
File Specifications
Files must be saved as a JPEG/JPG or PNG.
Posters should be at least 11" x 17", but can be larger. Choose a size that works for your composition.
Resolution of files should be 600 dpi (we need high-res files so that we can print them for display).
PROJECT BACKGROUND AND DESCRIPTION
The Federal Art Act of 1937, among other things, helped promote the visitation of residents and international tourists to a newly created National Parks system.  Last summer, the number of visitors and parks visited more than doubled in years past.  Today, the message to visitors and outdoor recreationists would be different if we were to create new promotional posters for visiting our national lands.
The State of the Rockies Conservation in the West Poll surveys people in the 8-state Rocky Mountain Region about their attitudes toward public land conservation and other current environmental, social, and political issues we face living in the West.  The poll consistently demonstrates a growing desire to protect our nationally designated public spaces.
"We're seeing strong voter concern for nature, which is translating into calls for bold action on public lands in the West," said State of the Rockies Project director Katrina Miller-Stevens, a Colorado College economics professor.  "If federal and state policy leaders are looking for direction on public lands, the view from the West is clear," said Miller-Stevens.
2022 poll respondents are concerned about the future of nature.  Protection of water, land, and wildlife continues to be important to Rocky Mountain resident voters -- loss of wildlife habitat is considered a severe problem. Two-thirds of sampled western voters want Congress to protect public lands and the "outdoor way of life" from energy development.  When asked, 69% of poll participants want Congress to focus more on protecting sources of clean water, air, and habitat than on ensuring we produce more domestic energy.
CC Rolls Vintage Press: Students Help Launch Vintage West Poster Contest
Colorado College students run campus letterpress producing vintage-style posters to help promote the college's State of the Rockies Conservation in the West student vintage poster contest.
Story and video by Eric Ingram, '23.
CC State of the Rockies Vintage Poster Contest: What Makes a Good Poster?
CC vintage press printmakers share their ideas on what a winning poster should include. Learn what 4to include in your vintage poster contest submission.
Story and video by Eric Ingram, '23.
JUDGES 
Aaron Cohick is a book artist and publisher based in Colorado Springs, CO, where he runs the NewLights Press and The Press at Colorado College. Aaron's work, under both imprints, is held in public and private collections all over the world, including the Library of Congress, the New York Public Library, the Thomas J. Watson Library at the Metropolitan Museum of Art, Yale University, SFMOMA Library, the Letterform Archive, and the Tate Britain Library. He has taught workshops at Arrowmont School of Arts and Crafts, the Bemis School of Art, the San Francisco Center for the Book, Naropa University, and the Penland School of Crafts.
Katja Rivera (she/her) is the Curator of Contemporary Art at the Fine Arts Center at Colorado College. Recent curatorial projects include Ronny Quevedo: at the line (FAC), Harold Mendez: the years now (Logan Center, University of Chicago), and Traduttore, Traditore (Gallery 400, University of Illinois at Chicago). Prior to joining the FAC, Katja worked at the Reva and David Logan Center for the Arts at the University of Chicago and in the Department of Modern and Contemporary Art at the Art Institute of Chicago. Her projects have been supported by the David C. and Sarajean Ruttenberg Foundation and the Elizabeth Firestone Graham Foundation, among others. Katja holds an MA in Art History from the University of Texas at Austin and is a Ph.D. Candidate at the University of Illinois at Chicago, where she specializes in modern and contemporary art with a focus on experimental practices in Mexico. 
Kaitlin Steinfort, '22 (she/her) is a Colorado College alumni and former poster printer at The Press at Colorado College. As an Environmental Studies major she studied a variety of topics including ecology, environmental ethics, climate change, and environmental policy, and is passionate about the protection of the environment, and education and advocacy surrounding environmental issues. In the summer of 2019, she took a Book Arts and Letterpress course at The Press at Colorado College and worked alongside Aaron Cohick and other students in the press through her senior year. During her final year on campus, Kaitlin combined her passion for environmental protection and education and her love for creating art in the press to help design and create the posters used to advertise the first State of the Rockies poster contest in 2021/2022. Now as an alumnus, Kaitlin continues to work on her own art in a variety of media and hopes to continue finding and creating ways to use art as a tool for environmental advocacy, protection, and education.
Sponsored by the State of the Rockies Project and supported by the William and Flora Hewlett Foundation.  For more information, EMAIL Cyndy Hines chines@coloradocollege.edu
CC letterpress students designed promotional posters for the 2023 and 2022 contests.  
By Kaitlin Steinfort, '22 and Mar Wilson, '23