2015-16 Speakers Series
The 2015-16 State of the Rockies Speaker Series
---
Monday, August 31st, 2015 at 7:00pm, Gates Common Room, Palmer Hall, Colorado College
Large Landscape Conservation and the Future of America's Rivers
Scott Campbell '91, 2015 Lincoln Loeb Fellow at Harvard University's Graduate School of Design, and former Director of the Palmer Land Trust

Local, state, and national land trusts have protected more land in the United States than is encompassed by America's national parks. Working with private landowners-and using voluntary as opposed to regulatory frameworks-land trusts
protect an additional 2,000,000-plus acres every year. As the land trust movement matures, so does its thinking about the water resources, which flow from, through, and across the nation's lands. Preserving the integrity of a resource that moves is inherently complex, especially when that resource is subject to vast sets of laws, regulations, and bureaucratic systems that have evolved over centuries to control its ownership, use, quality, and flow for an equally complex and varying number of users or agents. Join Scott Campbell as he explores the concepts, practices, and frameworks that conservation groups are using to protect and restore America's rivers.

Scott Campbell is the 2015 Lincoln Loeb Fellow at Harvard University's Graduate School of Design. Scott's work takes place at the nexus of conservation, preservation, economics, and community development in southern Colorado-where large cities and agricultural towns face radically juxtaposed trends of growth and decline due to consumptive land use patterns and competition for scarce water resources. Prior to his fellowship, Scott led conservation efforts at one of Colorado's largest land trusts, the Palmer Land Trust, which, under his leadership earned the Jane Silverstein Ries Award from the American Society of Landscape Architects and the Award for Excellence from the El Pomar Foundation. Before his time at Palmer, Scott served in the Colorado Office of Economic Development and International Trade, under Colorado Governor Bill Owens. There, he led the team that launched Colorado's Heritage Tourism Program-helping communities capitalize upon the more than $1.2 billion in natural and cultural resource preservation investments Colorado has made through the Great Outdoors Colorado Trust Fund and the Colorado State Historical Fund. Colorado College recently awarded Scott the 2015 Livesay Award for Social Change.
---
Thursday, September 24th, 2015 at 7:00pm, Gates Common Room, Palmer Hall, Colorado College
The Cost of Experience: How Outdoor Sports Pull Mountains Apart and Put Them Back Together Again
Annie Gilbert Coleman, Western Historian, Department of American Studies at Notre Dame University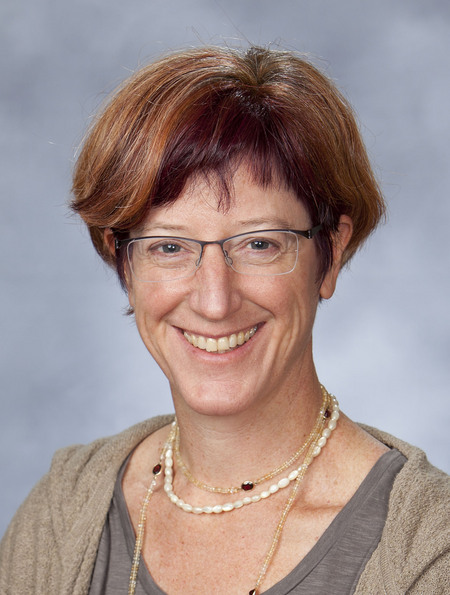 Americans have been playing in western mountain ranges for over a century, and the way we see, feel, and move through the Rockies matters. While outdoor recreation fueled the preservation of scenic mountain landscapes, it has also prompted extended legal battles, political conflict, and arson. Western historian Annie Gilbert Coleman will examine how our recreational consumption of mountain landscapes and fascination with GoPro cameras today continue to fragment the mountain ranges we hold dear while also presenting new opportunities for bringing people together.
Annie Gilbert Coleman is a 20th century American historian, whose work combines cultural studies, social history, and landscape studies with environmental history. She is interested in the intersection between consumer culture and nature, especially in the American West. She is author of Ski Style: Sport and Culture in the Rockies (2004), which explains how the ski industry transformed Colorado resort towns and their people in powerful and strange ways. Currently she is working on a cultural history of professional outdoor guides to be published by Oxford University Press.
---
Tuesday, November 3rd, 2015 at 7:00 pm, Gates Common Room, Palmer Hall, Colorado College
Innovative Water Management: New Tools for Securing Water for People and Nature
Aaron Derwingson, Agricultural Coordinator, The Nature Conservancy, Colorado River Program
The Colorado River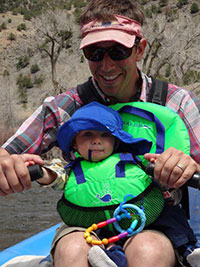 supplies water to more than 35 million people for municipal and industrial use and irrigates more than five million acres of agricultural land.But, the ecological and economic vitality of this great river system is at risk.Dramatic population growth-the fastest in the U.S.-is increasing water demand at the same time that climate change is diminishing supply. Drought and over-allocation are pitting farmers, cities and conservation interests against each other in a potential zero-sum game where neither communities nor wildlife wins. These challenging times offer new opportunities to improve how we manage water to meet the needs of both people and nature. Join Aaron Derwingson to explore the innovative ways that The Nature Conservancy's Colorado River Program is working with agriculture, municipalities, and other partners to protect and restore the rivers and streams that sustain healthy ecosystems and river-dependent livelihoods.
Aaron Derwingson is the Agricultural Coordinator for The Nature Conservancy's Colorado River Program where he works in partnership with agricultural water users on pragmatic, solution-oriented approaches to protecting river flows while meeting the needs of people. Currently, he is leading community engagement and outreach efforts for the Water Bank study, and working with agricultural landowners to understand on-farm issues and concerns with adopting new water management and irrigation practices.
Aaron holds a Bachelor's degree in Biology from the University of Colorado and a Master's in Community and Regional Planning from the University of Oregon. Before joining The Nature Conservancy, Aaron worked at the Rio Grande Headwaters Land Trust helping protect important working lands, wildlife habitat, and water resources in Colorado's San Luis Valley.
---
Wednesday, November 18th, 2015 at 7:00 pm, Richard F. Celeste Theater, Cornerstone Arts Center
The Great Divide: The Destiny of the West is Written in the Headwaters of the Colorado
Jim Havey, Producer of The Great Divide, Havey Productions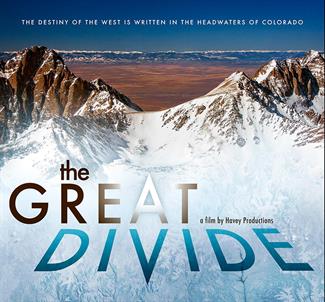 The Great Divide, a feature length documentary film from the Emmy award winning team of Havey Productions, in association with Colorado Humanities, will illustrate the timeless influence of water in both connecting and dividing an arid state and region. From Ancient Puebloan cultures and the gold rush origins of Colorado water law to agriculture, dams, diversions and conservation; the film will reveal today's critical need to cross "the great divide," replacing conflict with cooperation. Producer Jim Havey will discuss the making of the film and answer questions after the showing.
---
Monday, January 25th, 2016 at 7:00 pm, Gates Common Room, Palmer Hall
Divining LA: Designing Western Cities for a Climate-Adapted Future
Hadley and Peter Arnold, Founding Co-Directors of the Arid Lands Institute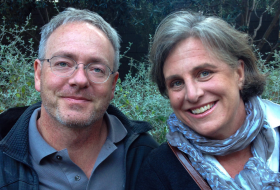 With climate change experts predicting a much drier American West, Western cities must invest in new, innovative designs to cope with a changing climate. Hadley Arnold and Peter Arnold, founding co-directors of the Arid Lands Institute (ALI), will be speaking about how innovations in design can make Western cities more adaptable in the face of climate change. ALI trains designers and citizens to respond to water variability through innovative design, with the vision of creating a "water-smart built environment" that serves as a model for arid regions globally. ALI seeks answers to questions such as, "What role can design play beyond technical fixes?" and "What are the full potentials of place-making in water-stressed environments?"
Peter Arnold, a native Coloradan, studied environmental design and physics at CU Boulder and earned his M.Arch. at SCI-Arc. He has taught design and geospatial research studios at Woodbury and UCLA, and has photographed the infrastructural landscapes of the west extensively. Current research includes analytic modeling and visualization of ephemeral stream systems in arid rural environments; the analysis of embedded energy within imported water supplies in the urbanized west; and the quantification of stormwater as groundwater augmentation supply.
Hadley Arnold was trained in art history at Harvard, served as Associate Editor at the Getty Center for the History of Art and the Humanities, received her M.Arch. from SCI-Arc, and has taught urban history, theory, and design studios at SCI-Arc, UCLA, and Woodbury. With support from the Graham, LEF, Bogliasco, and Frankel Foundations, the Metabolic Studio, the World Water Forum, Woodbury University, and major grants from the US Department of Housing and Urban Development and the US Environmental Protection Agency, the Arnolds have focused their teaching, research, and practice on drylands design since 1998. Peter serves ALI as Director of Research, Hadley as Executive Director.
- See more at: http://aridlands.org/lead/team/profile/hadley-peter-arnold#sthash.GNYWvPNx.dpuf
---
Monday, February 29th, 2016 at 7:00 pm, Richard F. Celeste Theater, Cornerstone Arts Center
The Future of Water
Peter Gleick, President and Co-Founder of the Pacific Insitute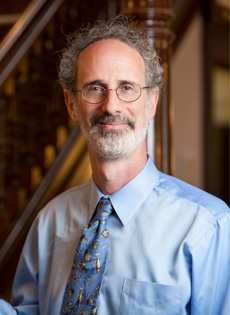 Dr. Peter Gleick is renowned the world over as a leading expert, innovator, and communicator on water and climate issues. He co-founded and leads the Pacific Institute based in Oakland, California. The Institute is an innovative and independent science-based organization that creates and advances solutions to the world's water challenges.
Dr. Gleick's work has redefined water from the realm of engineers to the world of social justice, sustainability, human rights, and integrated thinking. His influence on the field of water has been long and deep: he developed the first analysis of climate change impacts on water resources, the earliest comprehensive work on water and conflict, and defined basic human needs for water and the human right to water - work that has been used by the UN and in human rights court cases. He pioneered the concept of the "soft path for water," developed the idea of "peak water," and has written about the need for a "local water movement."
Dr. Gleick received the prestigious MacArthur "genius" Fellowship and was named "a visionary on the environment" by the BBC. He was elected both an Academician of the International Water Academy, in Oslo, Norway and a member of the U.S. National Academy of Sciences. Wired Magazine featured Dr. Gleick as "one of 15 people the next President should listen to." He received his B.S. from Yale University and an M.S. and Ph.D. from the University of California, Berkeley. Dr. Gleick serves on the boards of numerous journals and organizations, and is the author of many scientific papers and nine books, including the influential series The World's Water and Bottled and Sold: The Story Behind Our Obsession with Bottled Water, as well as the 2012 release A Twenty-First Century U.S. Water Policy
---
Monday, March 28th, 2016 at 7:00 pm, Gates Common Room, Palmer Hall
Western Water and the Big Shake-up
Daniel McCool, Director of the Environmental and Sustainability Studies Program, University of Utah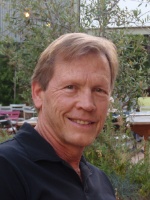 Daniel McCool is the Director of the Environmental and Sustainability Studies Program at the University of Utah. He will be speaking about Native American water rights and river restoration, addressing voices sometimes neglected in discussions about water in the West. Professor McCool's research focuses on water resource development, public lands policy, voting rights, and Indian water rights. He is the author of: River Republic: The Fall and Rise of America's Rivers (2012); Native Waters: Contemporary Indian Water Settlements and the Second Treaty Era (2002) and Command of the Waters: Iron Triangles, Federal Water Development, and Indian Water (1987/1994). He co-authored: Native Vote: American Indians, the Voting Rights Act, and Indian Voting (2007); Staking Out the Terrain: Power and Performance Among Natural Resource Agencies (1996, 2d ed); and Public Policy Theories, Models and Concepts (1995). He edited two books with his students: Waters of Zion: The Politics of Water in Utah (1995) and Contested Landscape: The Politics of Wilderness in Utah and the West (1999). His latest edited book is The Most Fundamental Right: Contrasting Perspectives on the Voting Rights Act (2012). He has served as a consultant for the National Oceanic and Atmospheric Administration, the U. S. Department of Justice, The ACLU's Voting Rights Project, and the Southwest Center for Environmental Research and Policy.