2015 State of the Rockies Report
This year we will be releasing the sections of our State of the Rockies Report over the course of April and May to highlight the impressive work of each of our student State of the Rockies Fellows. This year's Report, titled Large Area and Landscape Conservation in the Rocky Mountain West: Conserving Communities, Economies, and Environments, focuses on different elements of landscape-scale conservation. From state wolf management to the role ranching plays in conservation, the sections of this report are the result of a year of work from out State of the Rockies Project Fellows.
April 10, 2015-

Melting Alpine Glaciers in the Rocky Mountains

This is the first of five sections for the 2015 State of the Rockies Report. In this section, Rockies Project Fellow Kevin Moss, examines the different impacts of melting alpine glaciers in the Rocky Mountain West with a comparative study of glaciers in Montana's Glacier National Park and those in Wyoming's Wind River Range: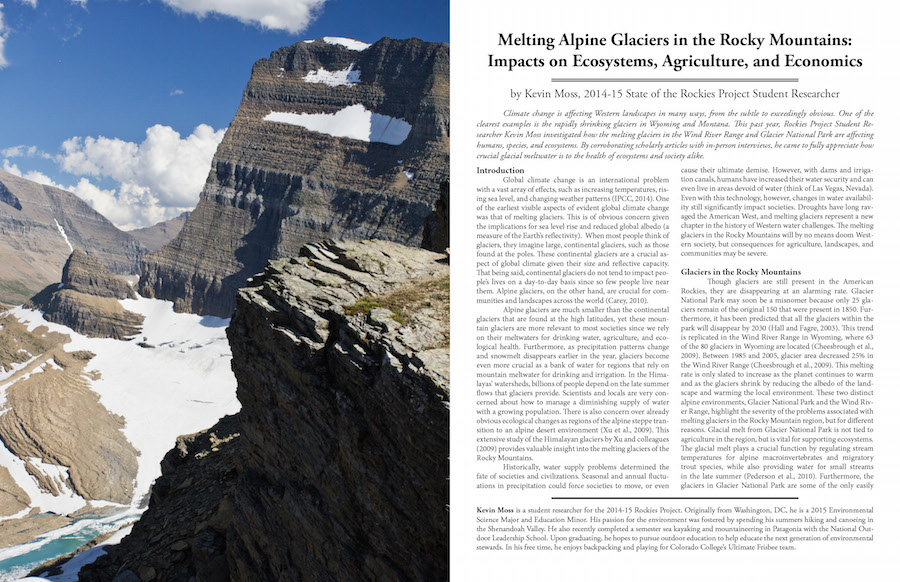 "Climate change is affecting Western landscapes in many ways, from the subtle to exceedingly obvious. One of the clearest examples is the rapidly shrinking glaciers in Wyoming and Montana. This past year, Rockies Project Student Researcher Kevin Moss investigated how the melting glaciers in the Wind River Range and Glacier National Park are affecting humans, species, and ecosystems. By corroborating scholarly articles with in-person interviews, he came to fully appreciate how crucial glacial meltwater is to the health of ecosystems and society alike."