2015-16 State of the Rockies Project
Scales of Western Water
Recognizing the critical role water plays in the American West and the Rockies in particular, we continue our commitment to conservation issues with this year's focus on western water issues. With declining snowpack in the Rockies, and less water in rivers, conservation corridor initiatives will face a tougher future. For example, Southwestern states such as Arizona and New Mexico have coped with severe drought for the last four to six years, and California in 2014-15 is now facing a severe drought. What can individuals and households do? How will western watersheds and states adapt, accommodate, or allocate scarce water resources? How are different regions and states poised to address these challenges?
We thus propose a scaled approach—from the rain droplet to the deltas—to study and understand the private, local, regional, state, and multi-state challenges that water availability under a changing climate will pose to all western communities who are concerned with their regional waters and landscapes.
Establishing a New Rockies Project Approach to Large Landscapes
The Rockies Project learned a great deal from two years of focus on large area public and private land conservation initiatives. Any westerner knows, however, that conserved land without water nearby is less valuable, less resilient in the long term. Moving forward, we intend to study, visit, and highlight how the multiple scales of water in the west will re-shape how we live, conserve, and think about water scarcity, so that liberal arts graduates at Colorado College fully understand the new dimensions to water in the Rockies and the American West.
We build upon many decades of ambitious and unique conservation in the United States, a country that largely invented the concept of protecting and preserving large segments of our public lands, especially in the American West. Establishment of national forests, national parks, wild and scenic rivers, and broad patches of public lands managed by the U.S. Bureau of Land Management all helped define our past efforts at landscape-scale conservation. These results created a mix of diverse philosophies. But new models for water conservation, calling for or using collaborative efforts require new assessments of their successes and limitations.
The Colorado College State of the Rockies Project looks forward to testing and fine-tuning these approaches to "the scale of western waters" across the eight-state Rockies region and beyond. Building upon our experience over the past four years on conservation landscapes in the Colorado River Basin and then in the larger Rocky Mountain West, we intend to find fresh approaches and emphasize the important role of giving today's youth a voice in the management, policy, and conservation dimensions of water challenges that they will inherit.
2015 Summer Research
With a group of four students with diverse academic backgrounds, The Rockies Project is diving into its thirteenth year of academic research. Each student adopted a particular "scale" of water to then explore and explain for the larger campus audience, and for our regional stakeholders who receive the Rockies Bulletin (Plains to Peak) publication or track us on social media efforts. Student researchers have been investigating their project through the student-faculty collaborative research approach that the Rockies Project has been utilizing for the last twelve years. This year's research focuses include:
Water and Ethics in Agriculture on the Western Slope
Native American Water Quality Rights
Water Pricing in Colorado
Cultural perspectives on the proposed Grand Canyon Escalade Project
By examining common themes related to water at diverse scales across the Rocky Mountain West, we analyze the changing scale and nature of water scarcity and availability in the West. The intricate and often ambiguous factors affecting water scarcity and availability stem from economic, social, cultural, and biological factors. Our analysis of these complex interactions provides insight to practitioners, policymakers, and citizens of the West. In addition to this broad examination of the state of water at diverse scales and conservation themes, we also directly address specific case studies that best represent the various approaches to conservation and water management in the Rockies. These case studies provide context to the broader trends examined throughout the West.
In order to achieve these goals, and ultimately a comprehensive understanding of these important issues, we engaged stakeholders on all sides of the debate. Through fieldwork, data analysis, and geographic information systems, we are forming a well-balanced perspective on these issues. Engagement has occurred through fieldwork throughout the Southwest during an extended trip Santa Fe, the Navajo Reservation, Flagstaff, the Grand Canyon, Southern Utah, and the Western Slope of Colorado. By seeking diverse perspectives, we strengthen our research and outreach.
---
2014-15 State of the Rockies Project
Large Area and Landscape Conservation in the Rocky Mountain West: Conserving Communities, Economies, and Environments
The 2014-15 State of the Rockies Project built on the previous year's theme, with a research focus on large landscape conservation topics in the Rocky Mountain West. Special attention was given to environmental governance, or how federal involvement, non-profit, watershed, tribal, and private initiatives shape conservation efforts. We analyzed their role in specific landscape conservation objectives. These objectives range from the protection of biodiversity, to economic sustainability, to cultural preservation efforts. The backdrop of this research included a complex array of diverse communities, economies, and environments in the Rocky Mountain West.
As economic drivers, demographic trends, and political attitudes change in the American West, so too management approaches have changed to meet the varying demands of communities and economies. Specifically, the organization, management, scale, jurisdiction, and invested stakeholders shaped new conservation efforts. Additionally, as internal economic and demographic forces shape landscapes from the inside, climate change continues to stretch landscapes and environmental managers across the West. Global climate change not only threatens natural environments, but also the human communities that are dependent on them for a way of life.
Thus, our 2014-15 focus was premised on a holistic approach to natural and human systems. Embedded in this focus is an understanding that there is an inseparable relationship between nature and society.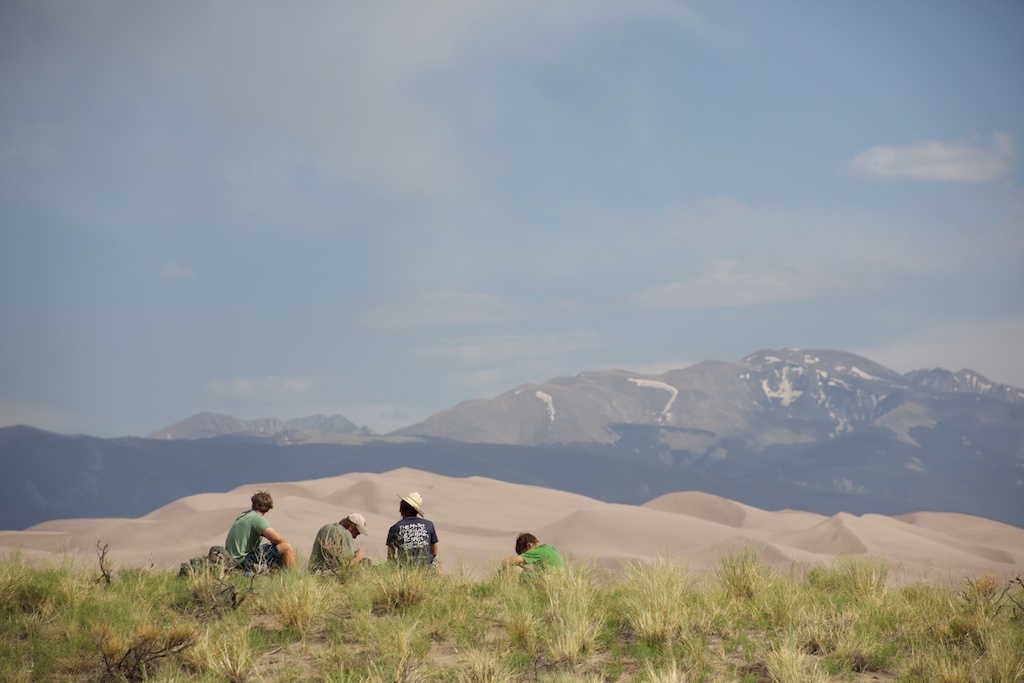 ---
The State of the Rockies Project 2013-14
Large Landscape Conservation in the Rockies: Exploring New Conservation Paradigms for the 21st Century
Establishing a New Rockies Project Approach to Large Landscapes
Building upon two years of focus on a very large conservation area in the Rockies: the Colorado River Basin, we returned during 2013-14 to an analysis of the eight state region's land and environment. We applied new techniques of "creative conservation" and "large landscape conservation" to provide comprehensive insight into innovative conservation actions and tools in the region. Using tabular and spatial techniques, a detailed inventory of Rockies' conservation efforts/initiatives was created. To highlight these important transformations in the conservation arena and the efforts already underway to further conservation in the Rockies, we addressed the topic through a three-pronged approach that included investigation on a regional scale, on a case-specific basis, and the incorporation of social and visual media through a field expedition to raise awareness of the issues surrounding conservation in the Rockies.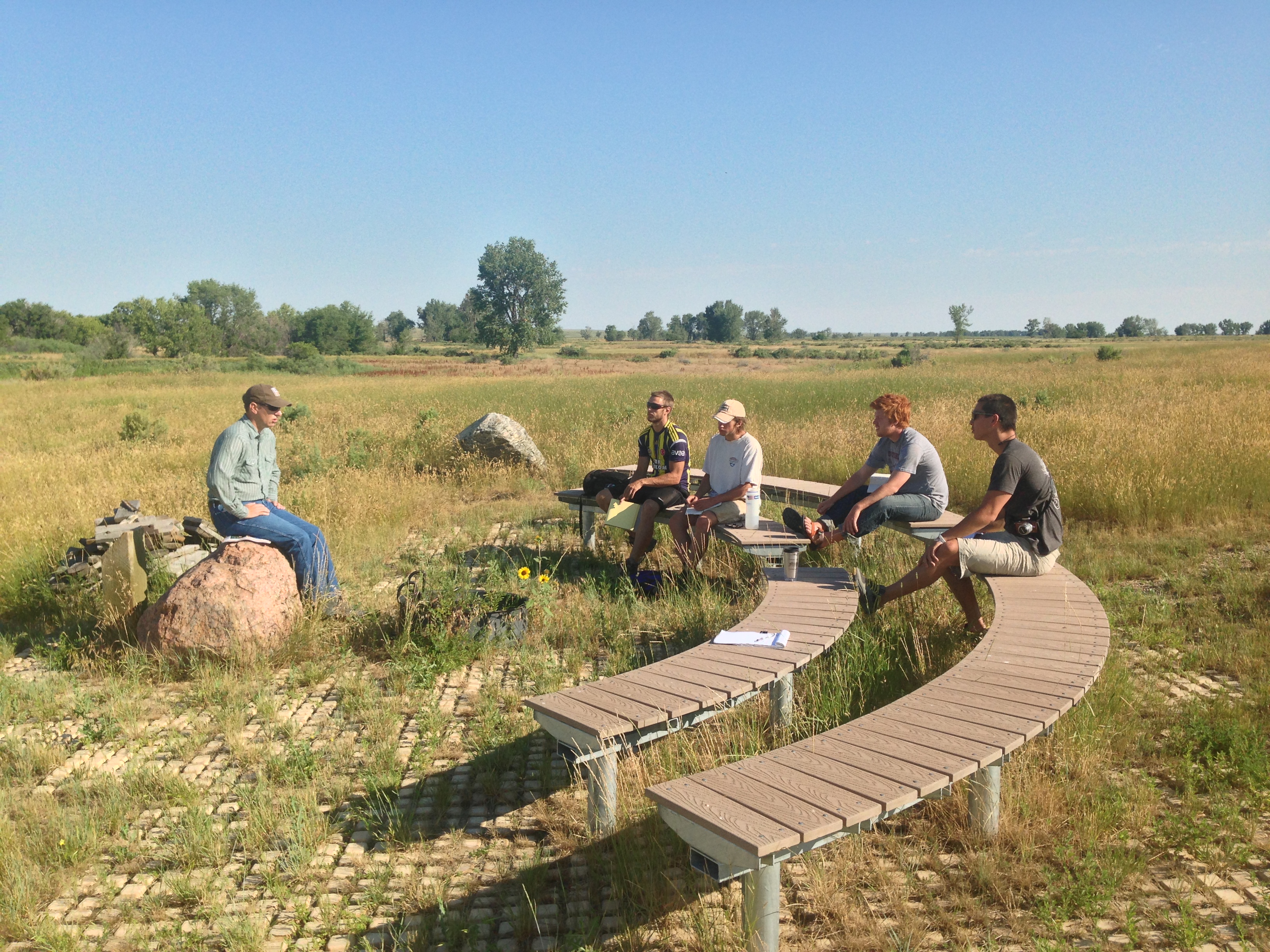 Rockies Project Spine of the Rockies Expedition
Developing off of two successful field expeditions throughout the Colorado River Basin in 2011 and 2012, we assembled a new expedition team for the summer of 2013 to investigate the Project's focus of Large Landscape Conservation. By travelling to a number of key large landscape conservation areas and leveraging the region's strong ties to outdoor recreation, we furthered awareness of these conservation efforts through traditional and emerging media. Areas of focus for this field expedition work included: Thompson Divide in Colorado, the Sangre de Cristo Conservation Area in Colorado, the Greater Yellowstone region in Wyoming and Montana, the Crown of the Continent in Montana and Alberta, and the Gila Wilderness in New Mexico. Our expedition team split their efforts between capturing the natural beauty of these areas through extended time in the backcountry and interviewing key stakeholders involved in conservation work to highlight the human element of the region's conservation work. Through blogs, photography, and the production of a video series, we seek to engage a greater audience in the discussion of Large Landscape Conservation even as we contribute to "citizen science" data for regions explored. The expedition utilized the online database iNaturalist to catalog wildlife observations in order to further the breadth and scope of scientific data in these areas of key conservation importance. To view the Rockies Project's iNaturalist observations click here.