Fountain Creek Watershed
By Lexie Milliken, Colorado College Class of 2016
Monument Creek, running along the western boundary of the CC campus, is one of the major tributaries to Fountain Creek, draining 235 of the 926 square miles in the Fountain Creek Watershed.1 Fountain Creek Watershed drains from the top of Pikes Peak into the Arkansas River in Pueblo, as seen in Figure 1.2 This water will eventually meet its confluence with the Mississippi River and flow into the Gulf of Mexico.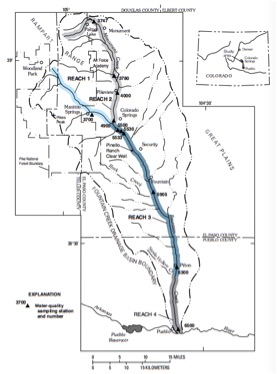 Figure 1) This map shows the extent of the Fountain Creek Watershed (Bossong 2001.)
The Fountain Creek Watershed is unique in the variety of ecosystems and terrain it encompasses. Understanding the variation in the environments in the watershed is essential to creating a sense of place in Colorado Springs. The contrast between the western and eastern parts of the watershed demonstrates the combination of prairie and mountain environments that makes this area so exceptional. The highest point in the watershed is the summit of Pikes Peak at 14115 feet on the western extent of the watershed in the Front Range. Hard crystalline rocks define the sheer topography in this area, resulting in steep gradient, fast flowing mountain streams. The eastern side of the watershed, made up of easily erodible sedimentary rock is at lower elevation. Here the gradient is much shallower and stream water moves more slowly on a sinuous path through grasslands and plains. The lowest point in the watershed is the confluence with the Arkansas River at Pueblo at 4639 feet, which makes the relief of the watershed 9475 feet!
The Fountain Creek Watershed runs through El Paso, Teller, and Pueblo counties where it is used for drinking water, agriculture, and recreation.3 About 25 percent of Colorado Springs' drinking water is derived from local sources. Water is diverted from local surface water sources including the north and south slopes of Pikes Peak, North and South Cheyenne Creek, Monument Creek, the Northfield Watershed, and Fountain Creek. Some water is also pumped from deep wells drilled into the Denver and Arapahoe Aquifers. Although this water is local, it would not normally be hydraulically connected with surface water in the watershed because of its depth.4
The additional 75 percent of drinking water is pumped about 200 miles from the headwaters of the upper Arkansas River and across the Continental Divide from the headwaters of the Colorado River Basin. This water comes from mountain streams near Aspen, Leadville, and Breckenridge and is stored in reservoirs along the Continental Divide. Water then travels through pipelines to Catamount and Rampart Reservoirs where it is held locally before reaching Colorado Springs.4
Fountain Creek has undergone many changes due to human impacts. An increasing population in the watershed has put additional stress on it by necessitating the importation of water from outside the watershed. Excess water pumped in from external sources is released to Fountain Creek after treatment.5 The additional water source allows Fountain Creek to sustain flow throughout the entire year and improves wetland and riparian habitats. However, the addition of 'non-native' water also increases the flow. Urbanization has increased the percent area of impervious surfaces because water is unable to penetrate the ground where buildings, roads, and parking lots are built. This has resulted in faster and more voluminous storm runoff to rivers.7 Storm runoff and discharged non-native water have increased the mean annual flow of Fountain Creek by 30 percent to 200 percent, depending on the section.6 As a result, the erosional factor of Fountain Creek downstream of Colorado Springs has increased 4 or 5 times.6
Despite changes to the stream morphology, the Fountain Creek Watershed is home to many healthy streams and scenic riparian habitats. Colorado Springs offers a vast network of trail systems to explore, learn about, and get to know our local environment and watershed.
References Cited
1 Mau, D.P., Stogner, R.W., Sr., and Edelmann, Patrick, 2007, Characterization of stormflows and wastewater treatment plant effluent discharges on water quality, suspended sediment, and stream morphology for Fountain and Monument Creek watersheds, Colorado, 1981–2006: U.S. Geological Survey Scientific Investigations Report 2007–5104, 76 p., http://pubs.usgs.gov/sir/2007/5104/pdf/sir07-5104_508.pdf.
2 Bossong, C.R., 2001, Summary of Water-Quality Data, October 1987 through September 1997, for Fountain and Monument Creeks, El Paso and Pueblo Counties, Colorado: US Geological Survey Water-Resources Investigations Report 00-4263, 73 p., http://pubs.usgs.gov/wri/wri00-4263/pdf/wrir00-4263.pdf.
3 Sangre de Cristo Group, 2015, Water Quality- Fountain Creek Watershed: Sierra Club: http://www.sierraclub.org/rocky-mountain-chapter/sangre-de-cristo/water-quality-fountain-creek-watershed (accessed June 2015).
4 Colorado Springs Utilities, 2014, 2014 Drinking Water Quality Report, p. 4, https://www.csu.org/CSUDocuments/waterqualityreport2014.pdf.
5 Fountain Creek Vision Task Force, 2009, Strategic Plan for the Fountain Creek Watershed: Fountain Creek Watershed Flood Control and Greenway District, p. 8-20, 72-77.
6 Sanderson, J.S., Rowan, N., Wilding, T., Bledsoe, B.P., Miller, W.J., and Poff, N.L., 2012, Getting to Scale with Environmental Flow Assessment: The Watershed Flow Evaluation Tool: River Research and Applications, v. 28, no. 9, p. 1369-1377, doi: 10.1002/rra.1542.
7 Edelmann, P., Ferguson, S.A., Stogner, R.W.Sr., August, M., Payne, W.F., and Bruce, J.F., 2002. Evaluation of water quality, suspended sediment, and stream morphology with an emphasis on effects of stormflow on Fountain and Monument Creek basins, Colorado Springs and vicinity, Colorado, 1981 through 2001: U.S. Geological Survey Water-Resources Investigations Report 02-4104, 59 p., http://pubs.usgs.gov/wri/wri024104/pdf/wrir02-4104.pdf.