Colorado College Skating School
Skating is a lot of fun, but it can also be frustrating for newcomers without much experience. That's why we recommend joining a learn to skate program that will make the learning process fun and enjoyable. Skating lessons teach the proper skills and techniques needed to skate, while also providing skaters with good fundamental skills that they build upon as they learn figure skating, hockey, or speed skating. Regardless of your skating goals, a learn to skate program is a great place to start the journey.
Lesson Details
Saturday mornings at 9:00am
Each lesson is 30 minutes with 15 minutes of practice ice after
Open to Skaters of all ages
Skaters are divided into groups based on age and ability.
Skate rentals are included
Lessons take place prior to Public Skate time, with access after included (which provide up to 2 hours of additional practice time)
Each student will receive a Public Skate Session punch card to use during the current enrolled session, ADMISSION ONLY, skates not included
Registered Learn to Skate USA Program required** (check their site for more information about lessons and benefits. This is a yearly registration only)
**Honnen Ice Area will waive the Learn to Skate registration fee for active duty military families with valid ID. Once registered with Learn to Skate USA, Honnen Ice Arena will discount the price of the session by the current registration fee (currently $17.50) for active duty military families.
New Skaters should arrive early to allow time for proper skate fitting.
We also recommend that participants wear proper cold weather attire as the facility may be cold even during warmer times of the year.
NO REFUNDS
NO MAKE UP CLASSES
NO DOUBLE BLADED SKATES
Under 6 or Beginners must wear helmet (Not provided)
Upcoming Sessions
January 13th - March 3rd, 2018
$120 (plus Yearly $17.25 Learn to Skate USA Membership fee**)
March 17th - May 5th, 2018
$120 (plus Yearly $17.25 Learn to Skate USA Membership fee**)
May 19th - June 9th, 2018
$60 (plus Yearly $17.25 Learn to Skate USA Membership fee**)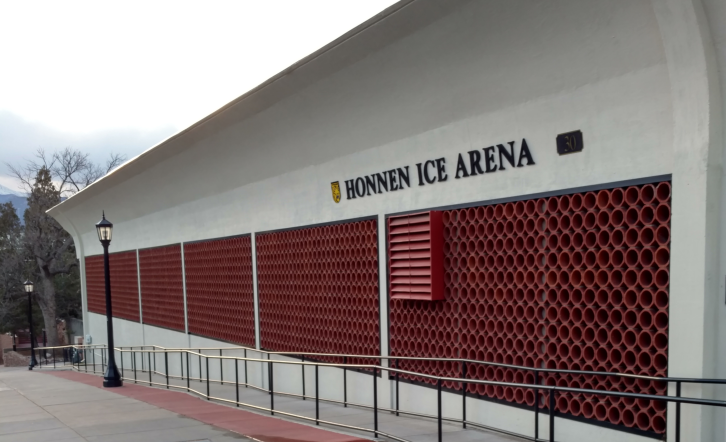 Contact Information
30 W Cache La Poudre St
Colorado Springs, CO 80903
719-389-6157
LINDA ALEXANDER
Director
719-389-6156
lalexander@​coloradocollege.edu

KEVIN SOMMER
Assistant Director
Learn to Skate Director
719-389-6913
ksommer@coloradocollege.edu

NICHOLAS WINKELBLECH
Ice Operations Tech / Supervisor
719-389-6157
nwinkelblech@coloradocollege.edu
Social Media

Honnen now accepts credit and debit cards with Square