Upcoming Events
Learn to Skate Open House: January 6th, 2018 10am-Noon
We will be having a open house for our learn to skate program on the 13th of January. If you are interested in registering this is a good time to find out more about the program. Come try a free lesson and meet the instructors.
Past Events
Tiger Challenge: collegiate skating competition Nov. 4th & 5th 2017
2016 Geezer Charity Hockey Game
Skater Spotlight
Marilynn Seamans
I Love Halloween. With a variety of vampire costumes, Curella DeVille, Olive Oyle, fairy, Ghost Rider's girlfriend, I was given the opportunity to expand my repertoire onto the ice as Mrs. Claus then my favorite as Olaf.

How did I get here from competitive swimmer, teacher and swim coach by 18. It only made sense to become a physical education major while attending Northern Michigan University in the upper peninsula of Michigan. Never a class after 1 pm because I literally sold my blood to have a season's pass. Skiing in blue jeans was the style. Living in or visiting a place like Colorado was a pipe dream.

But wait, I didn't become a teacher but a civil servant in Ohio. Great place for a job but not a great place to retire. I had a midlife crisis and started figure skating lessons, a secret desire since watching Peggy Fleming on TV competing in the Olympics. A passion quickly turned into an addiction despite having no natural talent.

I have participated in nearly every sport from judo to skydiving. My biggest sports challenge ever still to this day is figure skating, an endless number of skills to learn. I have surpassed my expectations and continue to learn. I met my coach at Honnen and she has been able to work around my physical limitation and became a friend. Call me a rink rat or skate junkie, but Honnen is the friendliest rink in town with best ice. You never know who you will meet here.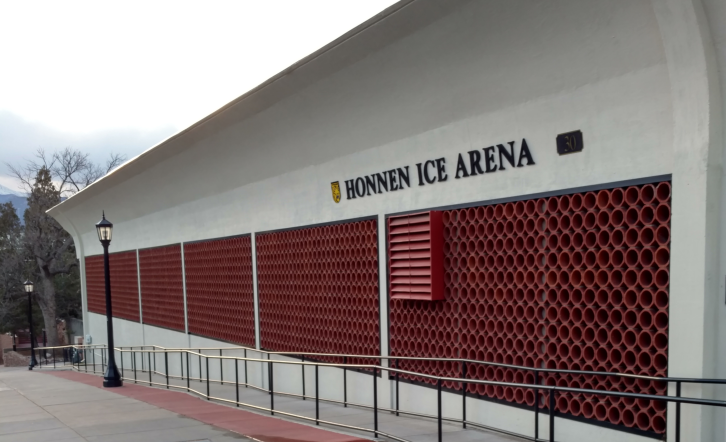 Contact Information
30 W Cache La Poudre St
Colorado Springs, CO 80903
719-389-6157
LINDA ALEXANDER
Director
719-389-6156
lalexander@​coloradocollege.edu

KEVIN SOMMER
Assistant Director
Learn to Skate Director
719-389-6913
ksommer@coloradocollege.edu

NICHOLAS WINKELBLECH
Ice Operations Tech / Supervisor
719-389-6157
nwinkelblech@coloradocollege.edu
Social Media

Honnen now accepts credit and debit cards with Square