CC Alert Levels
The CC Scientific Advisory Group, with input from county health officials, has developed a series of CC Alert Levels to guide risk-mitigation, operations, and interaction across campus.

Regardless of the current CC Alert Level, everyday risk-mitigation measures should always be practiced: social distancing, mask wearing, and hand washing. In addition, choosing low risk activities can help keep our community safer

The college has established four CC Alert Levels, to be followed in addition to El Paso County's alert levels. The number of new weekly cases is the primary criterion for determining the CC Alert Level. Other campus criteria include the availability of space where those with positive test results can isolate; the total number of quarantined individuals and the college's capacity to provide them with sufficient support; and COVID cases, positivity rates, and hospitalization rates in El Paso County. See our CC COVID-19 Data Dashboard
To keep the campus community as healthy as possible during the pandemic, the CC Alert Levels are designed to be as or more conservative than the county's alert levels. The CC Alert Levels are tied to CC's adaptive testing program. Our models have shown that in the event of outbreaks, testing, in combination with everyday risk-mitigation measures and contact tracing, is an effective way to reduce the number of cases and bring that caseload back down. The level of on-campus testing will be increased in response to increasing numbers of weekly cases on campus, so that we can better detect and contain COVID-19 outbreaks. If the number of positive cases decreases, the testing will decrease.
Most importantly: Participation in testing helps to detect infections early, so that chains of infection can be interrupted, further spread prevented, and the campus may stay at lower alert levels.
Guidance on how campus facilities are impacted and specific travel guidance will be communicated along with the CC Alert Level.
CC Alert Levels will not result in depopulating campus: If there's a large number of infections, the college will shift to a more restrictive alert level as described above. Sending students home could risk causing outbreaks elsewhere.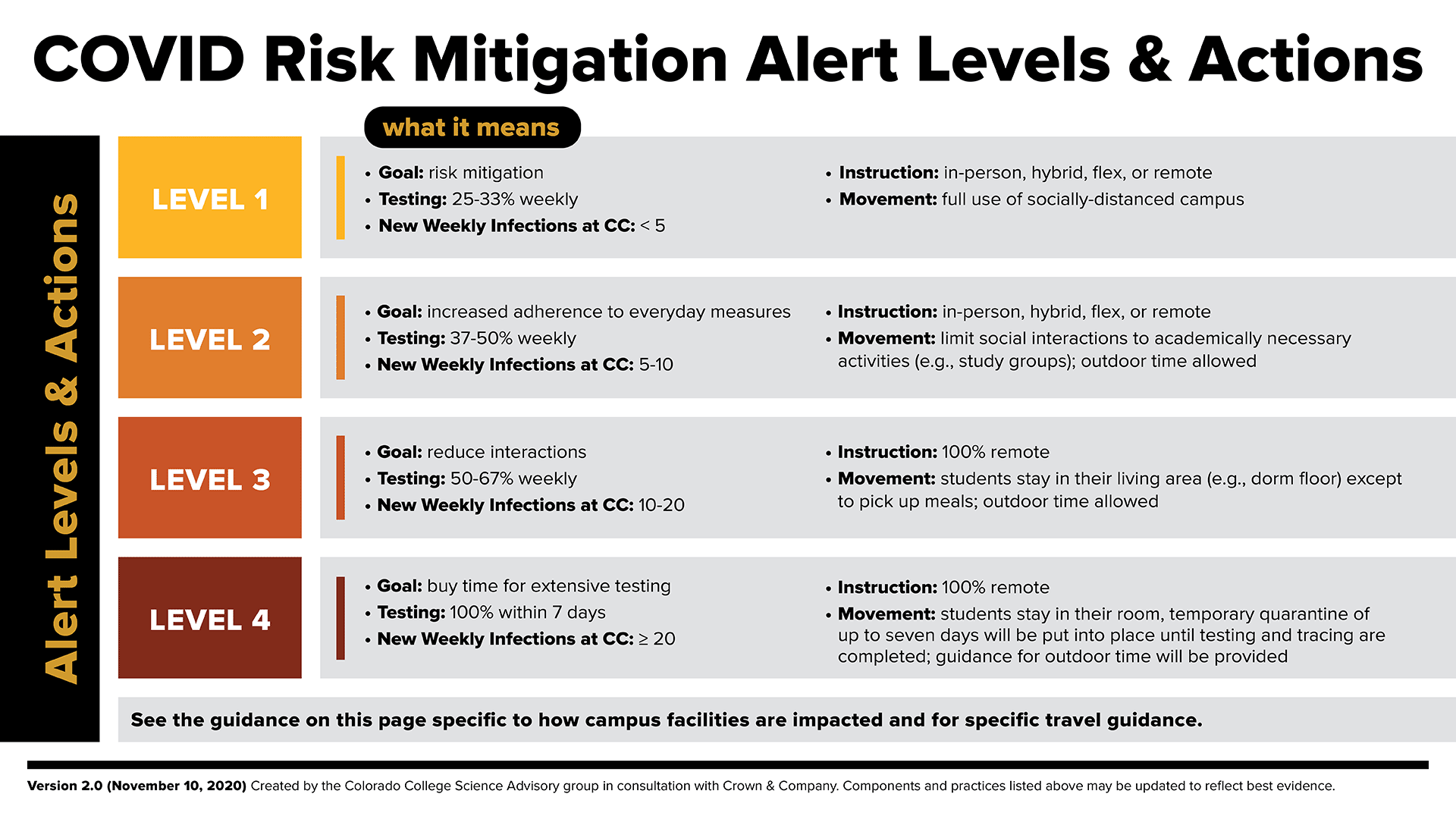 Level 1
This is the "new normal" where campus remains socially distanced, classes remain in their designated in-person, hybrid, flex, or remote format.
Level 2
The goal of this level is to detect and contain rising cases of COVID-19 by increasing testing and reinforcing the importance of adherence to social distancing, mask wearing, and hand washing. Reduced social interaction, limited to academically necessary activities such as study groups.
Level 3
To detect and contain COVID-19 outbreaks, this level further increases testing and restricts movement on campus; students must stay on their residence hall floor. Classes move to 100% distance learning.
Level 4
This level follows a surge in COVID cases by "hitting pause" and allowing for extensive testing and contact tracing. When the campus experiences more than 20 unconnected cases in one week, testing everyone is critical to stop the spread. A temporary quarantine of up to seven days will be put into place until testing and tracing are completed. The goal is to interrupt chains of infection and slow the spread. Then campus will return to lower alert level.
Facilities Operations
Check the Facilities Operations & Closures page or the following websites for current operations status: Tutt Library, Worner Campus Center, Campus Dining, Fitness Center, and the Colorado Springs Fine Arts Center at Colorado College.
Reduce the Risk
Prioritize lower risk activities vs. higher risk activities, especially when planning weekend or block break activities.