2020-21 Academic Year Update
Updated September 2, 2020
Despite our rigorous testing and response protocols, which do identify exposure and instances of the virus quickly, it is clear that our earlier plans to bring the rest of our student body to campus for Block 2 are no longer feasible. All classes are moving to remote delivery for the remainder of Block 1, and most classes will be in remote delivery for the remainder of the Fall Semester.
While most of our classes can be taught remotely, there are a few exceptions. Students already enrolled in an in-person class, a hybrid class that fulfills the lab general education requirement, or Senior Studio Seminar (AS411) for Blocks 2, 3, and/or 4 will be permitted on campus to attend classes. The enrollment for these classes is now capped. Students who are currently enrolled will receive an email from Vice Provost Pedro de Araujo and Acting Dean of Students/Acting Vice President for Student Life Rochelle Dickey with more details.
Over the next months we will study the situation, acquire the necessary testing capacity, and establish cohort protocols with the intent to resume on-campus classes and activities beginning with J block. For those students who opted not to take courses this semester, our expanded block calendar this year allows students to complete a full eight-block year from J Block through Block C in the summer.
The flexibility of the Block Plan allows us to adjust our academic calendar for the 2020-21 academic year, broadening scheduling options for students and providing more value to them during this unpredictable year. The addition of a new January block, in addition to half blocks and summer courses, means that students can take 10 blocks of courses for the usual 8-block tuition amount this academic year. Or they may choose to shift their academic year's start and end dates, while still meeting their requirements for the year.
See our academic calendar below, and visit our FAQs – which will be continually updated – for more information. If you have additional concerns about COVID-19 or our campus response, direct them to: covid19@coloradocollege.edu; please leave your phone number if you prefer a personal call back.
---
Academic calendar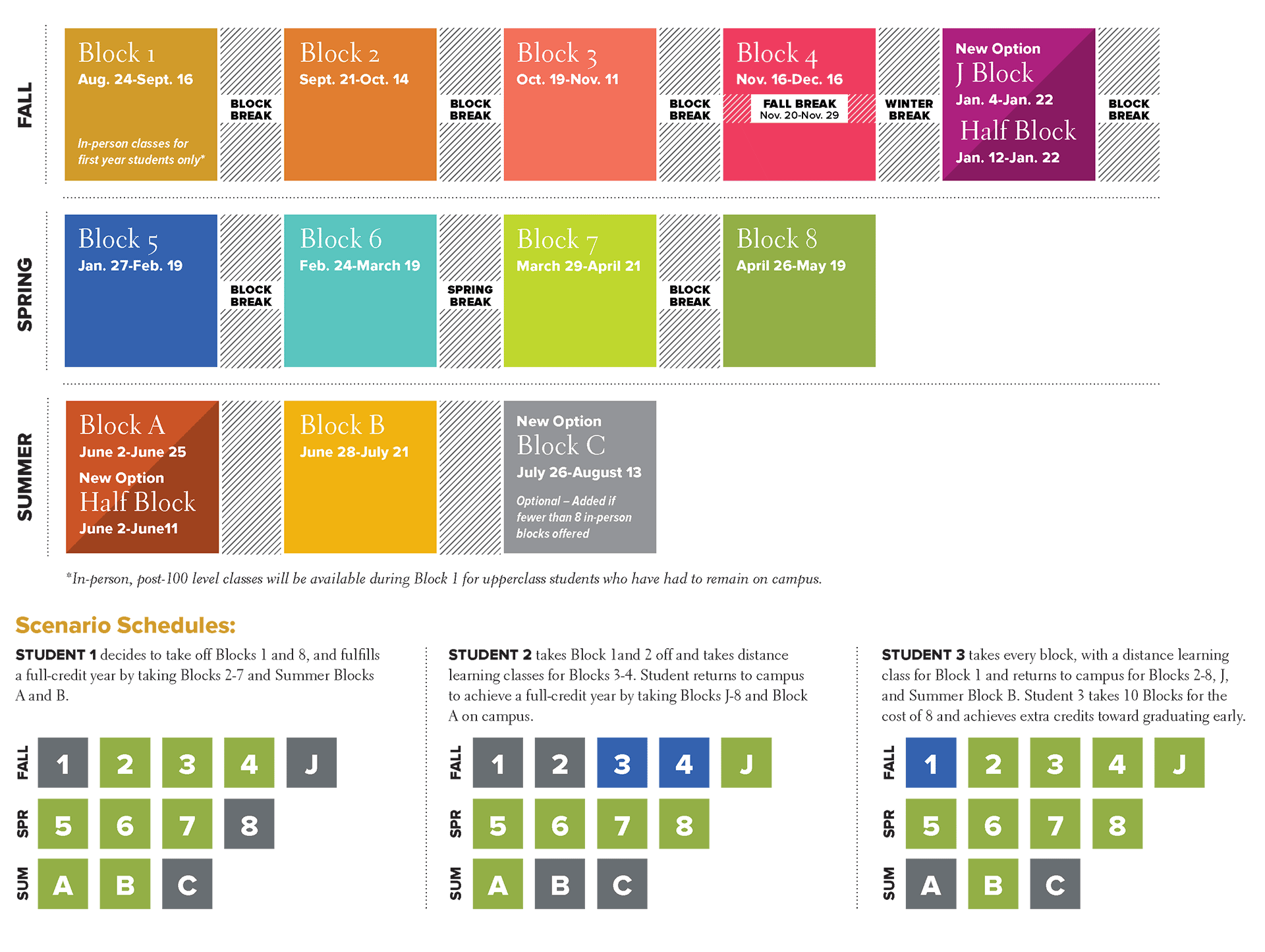 In May, we announced an adjusted and more flexible academic calendar for the 2020-21 academic year. This calendar offers more options and value, allowing students to take 10 blocks for the same comprehensive fee as a regular 8-block year, or to adjust their schedule as needed. An additional block in January, "J Block," is available as well as our usual credit and non-credit Half-Block classes; in summer additional Half Blocks will be added and a Block C.
Academic calendar for 2020-21:
Fall Semester
*New Student Orientation
August 14-22
Block 1
Aug. 24-Sept. 16
Block Break
Sept. 17-Sept. 20
Block 2
Sept. 21-Oct. 14
Block Break
Oct. 15- Oct.18
Block 3
Oct. 19-Nov. 11
Block Break
Nov. 12- Nov. 15
Block 4
Nov. 16- Dec. 16
Fall Break
Nov. 20-29
Winter Break
Dec. 17-Jan. 3
J Block (and Half Block** options)
Jan. 4-Jan. 22
Block Break
Jan. 23-26
Spring Semester
Winter Start Orientation
Jan. 23-Jan. 26
Block 5
Jan. 27-Feb. 19
Block Break
Feb. 20-23
Block 6
Feb. 24-March 19
Spring Break
March 20-28
Block 7
March 29-April 21
Block Break
April 22-25
Block 8
April 26-May 19
***Commencement Class of 2021
Sunday, May 23
Commencement Class of 2020
Sunday, May 30 (Memorial Day Weekend)
Summer Session
Block A (and Half Block)**
June 2-June 25
Block B
June 28-July 21
Block C
July 26-August 13 (three weeks - 15-day Block)
*Move-in and NSO will be Sept. 17-20 (Block Break 1) if Block 1 is distance learning only and Oct. 15-18 (Block Break 2) if both Blocks 1 and 2 are distance learning only.
**Half Block classes will also be offered during J Block and Block A.
***Students will need only 28 of 32 credits to participate in graduation in May (usually 30 of the 32) if they are enrolled in Blocks A and B.
COVID-19 Dashboard
See our CC COVID-19 Data Dashboard
Resources
General Resources Teaching & Learning Health & Wellness Outside Resources