2020-21 Academic Year Announcement
Updated June 26, 2020
2020-21 Academic Year Announcement
We know you have been eagerly awaiting our plan for the coming academic year. We are grateful for your patience as we navigate the complexities of changing county, state, and national orders and guidelines while we also work to ensure that our students can get the outstanding academic and co-curricular experience they expect from Colorado College.
Our top priority is the health and safety of students, faculty, staff, and the greater community — we must all do our part. And our mission, as always, is to deliver the finest liberal arts education in the country. Therefore, we want to come together in a way that allows us to deliver the distinctive and immersive Colorado College academic program, fostering student-faculty engagement, while responsibly adhering to health requirements and working to reduce the spread of COVID-19.
Colorado currently is not experiencing an increase in cases as is occurring in several other states. But we know that could change at any time. We recognize that some categories of people are known to be especially vulnerable to both contracting and risking death from COVID-19, and this unpredictable and highly contagious disease can affect people of all ages and backgrounds.
To guide our strategy, dozens of our faculty and staff colleagues are problem-solving and action-planning as members of summer working groups dedicated to helping CC adapt campus life amid the COVID-19 pandemic. They are working to make sure we're creating a safe, supported, and intentional return to campus. These groups are focusing on implementation, managing critical projects, and details to bring the recommendations to fruition by August, while still being nimble enough to react to changes in the environment.
A Phased Approach to Bringing Students to Campus
Today we are pleased to announce that Colorado College will take a phased approach to bringing students to campus this fall. Our first-year students will be welcomed to campus for a modified New Student Orientation and Block 1 classes, all achieved while observing social distancing and health/safety protocols. This plan helps us follow the state's recommendations for phased re-openings of workplaces and campuses.
These first weeks on campus, featuring move-in, on-campus programming, and local Priddy excursions, are essential to new students getting a good start in college, adjusting to the Block Plan, and gaining the sense of place that is so special at CC. Those first-year students who cannot attend in person will be able to take their classes via distance learning. Note that some faculty members teaching Block 1 classes for first-year-students may choose to teach via distance learning if they have COVID-19-related concerns.
In addition, RAs, NSO mentors, student-athletes in NCAA-authorized sports, new transfer students, and international students who are already here are invited to campus for NSO and Block 1.
Teaching Block 1 with fewer students on campus will help us prepare for the next phase, with all students on campus. We plan to welcome all upper-class students to campus in Block 2. Upper-class students will have options for distance learning courses in Block 1, if they choose to enroll. All upper-class students who are invited to campus in Block 1 (noted above) must enroll in one of these courses. Special accommodations will be made for in-person classes for international students on campus if that visa requirement is not waived, as it was in the Spring Semester. In order to accommodate those who cannot return to campus, classes will be offered in distance-learning mode throughout the entire Fall Semester.
Adjustments to Add Flexibility to the Academic Calendar
We are fortunate that the flexibility of the Block Plan allows us to adjust our academic calendar for the 2020-21 academic year, broadening scheduling options for students and providing more value to them during this unpredictable year. The addition of a new January block, in addition to half blocks and summer courses, means that students can take 10 blocks of courses for the usual 8-block tuition amount this academic year. Or they may choose to shift their academic year's start and end dates, while still meeting their requirements for the year.
Faculty members, including those teaching CC100 classes, have the option of teaching remotely if they have vulnerabilities or COVID-19 concerns. All faculty should be prepared to teach remotely or to offer a hybrid version of their classes, if possible, to accommodate the needs of faculty, staff, and students who may not be able to be on campus throughout the 2020-21 academic year.
On campus, we are following established health protocols for COVID-19, and will continue to comply with updated public health orders and guidelines. Students, faculty, and staff should expect travel restrictions throughout the Fall Semester and those who do travel out of state or to virus "hotspots" may be required to quarantine. Updated information on these restrictions will be shared closer to the opening date when we have current state guidance. Students who plan to travel outside the state for Fall Break (Thanksgiving) may not return to campus for the rest of Block 4; therefore, they should take Block 4 classes remotely if they intend to earn credit for that block.
We share more details on New Student Orientation; student housing, meals, and COVID-related community standards/student conduct; and health and safety in the attached short videos.
Virtual Town Halls on the Safe Return to Campus
In addition, starting next week, we will host virtual town halls on the safe return to campus. During these live discussions you will be able to submit questions via the chat function. All webinars require registration before the event via the links below.
The topics of discussion, schedule, and registration links for these hourlong sessions are:
New Students: Tuesday, June 30, 1 p.m. Mountain time (video; transcript)
CC Employees: Thursday, July 2, 9:30 a.m. Mountain time (video; transcript)
NCAA Athletics: Thursday, July 2, 1 p.m. Mountain time (video;)
Academics: Wednesday, July 8, 1 p.m. Mountain time
Safety and Testing: Thursday, July 9, 1 p.m. Mountain time
Housing & Meals: Friday, July 10, 10 a.m. Mountain time
See our plan below, and visit our FAQs – which will be continually updated – for more information. If you have additional concerns about COVID-19 or our campus response, direct them to: covid19@coloradocollege.edu; please leave your phone number if you prefer a personal call back.
We'd like to thank the many members of the faculty and staff who are contributing so much effort to working out our plans for this coming academic year under changing circumstances. We know not all of your questions will be answered today, but we are working on finalizing details, and will continue to communicate often as they are worked out.
Thank you for your patience and understanding as we navigate these times. We look forward to seeing you on campus in coming months.
Sincerely,
Jill Tiefenthaler
President
Mike Edmonds
Vice President for Student Life and Dean of Students, Acting Co-President-Elect
Robert G. Moore
Senior Vice President for Finance & Administration, Acting Co-President-Elect

---
CC's Fall Plan
Safety Protocols
We all must do our part to help our campus and our community stay safe. College leadership and working groups continually monitor the number of cases and situation related to COVID-19, and will adapt quickly if needed. We are implementing a multi-layered approach that includes:
social distancing at all times

wearing masks

handwashing

screening

testing

contact tracing

isolation and quarantine capability

holding classes and activities outdoors when the weather allows

classes and activities occurring only in small groups

hand sanitizer available throughout campus

Plexiglass shields at some front desks, counters, and cashier locations

proper ventilation in all areas
Testing will be conducted for any symptomatic students, faculty, and staff. We are arranging for testing to be conducted on campus by a large healthcare organization that can provide quick turnaround of test results. That organization will also work with our Athletics Department both to determine type of testing and testing schedules for varsity athletics, and to carry out that testing. A campus team of trained staff will work in collaboration with our public health department to conduct contact tracing.
We have designated isolation and quarantine spaces if needed for students living in campus housing, and are developing isolation and quarantine protocols that ensure that any students in isolation or quarantine have access to medical care, mental health supports and care, food delivery, and other basic needs/services. We are also looking at how technology might be utilized in our contact tracing process.
Travel will follow state guidelines:
Currently, anyone who has traveled to a hotspot should stay at home for at least three days, taking their temperature daily. Employees may return to work if they have no elevated temperature.
In addition to state guidelines, athletics teams will also follow NCAA and conference guidelines
Students, faculty, or staff who have been traveling internationally and are planning to re-enter the campus environment must follow state and local health department recommendations and requirements. At this time, this includes quarantine at home for 14 days, checking temperature twice a day, monitoring for onset of symptoms of COVID-19, and maintaining contact with the appropriate health department as directed.
In addition, we are researching technology solutions including density monitoring systems for larger buildings; a health-check app; and queuing systems to eliminate people standing in lines.
The Working Groups on Testing, Treatment, and Response; Prevention; and Administrative Policies are working on these safety protocols and requirements. Note: The Prevention working group is solely responsible for purchasing safety and sanitation supplies for COVID-19; no other department or division should buy or use CC resources for these items.
---
New Students
We are prioritizing the safety of our students, guests, faculty, and staff while also preserving the impactful experience of an in-person orientation and achieving the same outcomes and goals of our traditional New Student Orientation program, both on campus and through a more local Priddy Experience. NSO will be designed to meet Centers for Disease Control, local/state, and campus guidelines.
Move-In: An extended move-in will take place August 14-16 to allow for proper social distancing; students will be able to sign up for available timeslots in advance (more information coming soon). Students participating in early arrival programs, such as Bridge Scholars, International Orientation, and fall athletics, will be contacted by their specific program administrators with more information regarding move-in.
NSO Modified Schedule and Hybrid Delivery: New Student Orientation will be delivered using online modules, in-person sessions (following local/state guidelines), live-streaming, and small-group meetings. The revised NSO schedule will allow for better social distancing and safety, increased retention of required information, community building opportunities, reflection, and adjustment to campus, while preserving the key aspects of the NSO experience as much as possible.
Family and Parent Orientation: Due to space capacity and in an effort to limit the number of guests on campus and traveling from around the country and world, students are limited to having just one guest accompanying them to campus for move-in. Only one guest will be allowed in the halls at a time for move-in; family and parent programming will primarily be offered online via virtual sessions.
A live virtual town hall for incoming students and families will be offered at 1 p.m. Mountain time on Tuesday, June 30. In addition, updates will be provided via the CC Bound newsletters.
Our Working Group on First-Year Students is creating detailed student orientation plans, and identifying which activities will be in-person and which will be delivered virtually. It is also establishing a plan for CC100 Critical Inquiry Seminar and CC120 First-Year Writing Seminar (First-Year Program courses). The group is assigning and registering all first-year students, confirming faculty, and securing options for those students or faculty who may need to engage remotely, or should circumstances change in Blocks 1 and 2. This team is also determining a plan for transfer students.
---
Academic calendar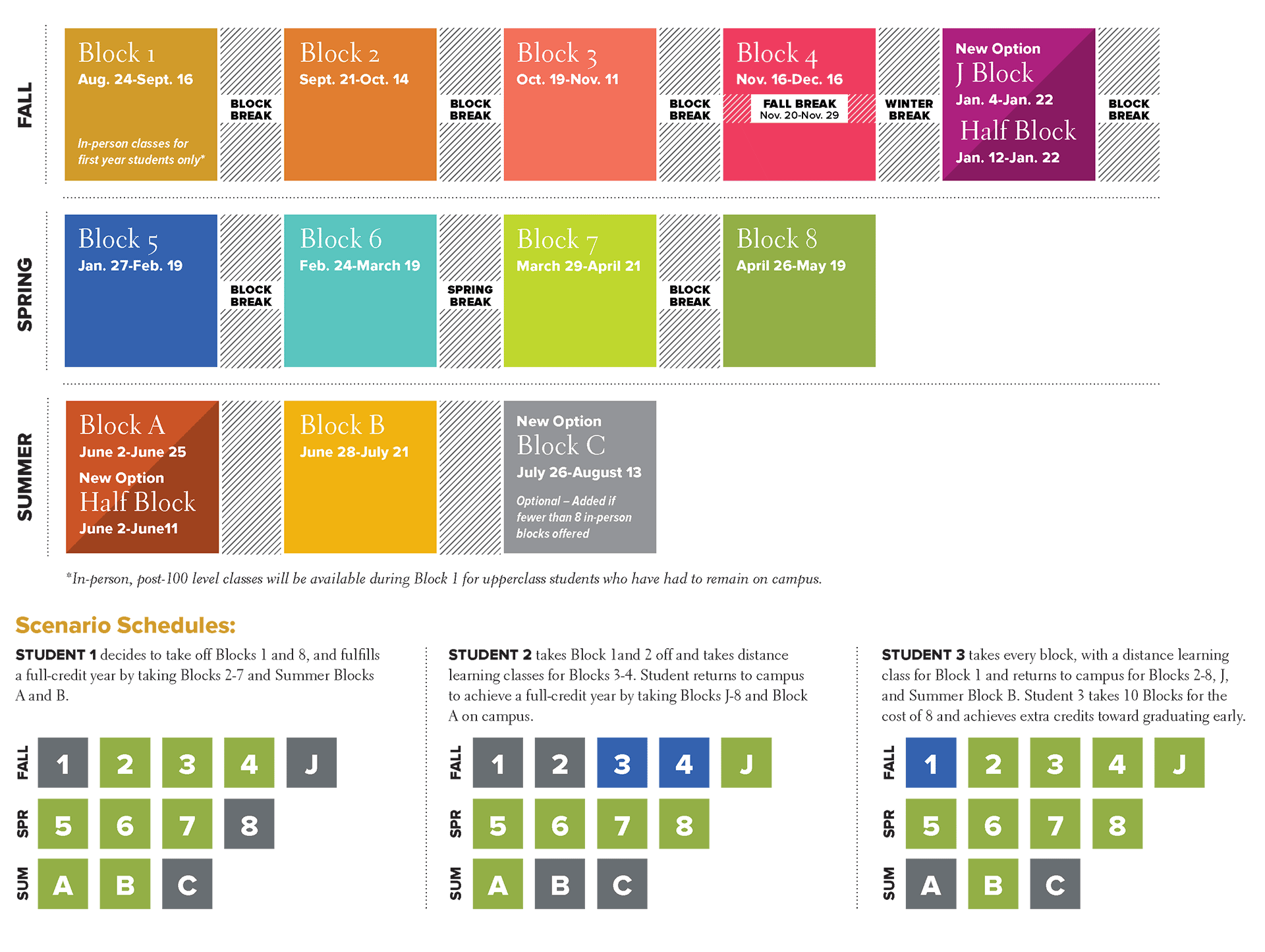 In May, we announced an adjusted and more flexible academic calendar for the 2020-21 academic year. This calendar offers more options and value, allowing students to take 10 blocks for the same comprehensive fee as a regular 8-block year, or to adjust their schedule as needed. An additional block in January, "J Block," is available as well as our usual credit and non-credit Half-Block classes; in summer additional Half Blocks will be added and a Block C may be added if needed.
Students will come to campus in phases: First-year students will be on campus for Block 1; upper-class students will take Block 1 via distance learning. Non-first-year students who will be on campus during Block 1 — RAs, mentors, student-athletes in NCAA-authorized sports, and international students who are already here — must be registered for a class and will take classes via distance learning. (We expect that only CC100-level classes will be taught in person unless the visa requirement that international students on campus be taught face-to-face does not continue to be waived, as it was for the Spring Semester.)
All upper-class students will come to campus starting in Block 2. In order to reduce the likelihood of virus transmission, if students leave Colorado or visit a virus hotspot over Fall Break, they will not be able to return to campus for Block 4; they may take Block 4 in distance-learning mode.
Faculty members, including those teaching CC100 courses, have the option of teaching remotely due to COVID-19 concerns. All faculty should be prepared to teach remotely or to offer a hybrid version of their classes, if possible, to accommodate the needs of students who may not be able to be on campus throughout the 2020-21 academic year. Faculty teaching remotely can seek course design assistance and explore ways to engage students by working with the Crown Faculty Center.
Our Working Group on Academic Program and Policies is planning a mix of distance learning, hybrid, and in-person classes for fall courses. It is also identifying ways to teach in outdoor and non-traditional spaces and looking into the possibility of Block 4 being taught entirely online. This could allow students to return home for an extended period during what may be a resurgence in COVID cases. This team is providing new and adjusted course offerings for Blocks 1 through J Block and the January Half Block, including online course options for each block. This group is also guiding the reopening of Fall 2020 course registration to include all new courses and changes to the previous schedule. We are aiming to open the updated fall registration period by the end of the July.
---
Student Life
Distancing, limiting the number of people in buildings and groups, wearing masks, handwashing, and adhering to our safety guidelines will help our student and entire campus community stay safe. Student activities are more likely to occur outdoors this year, and only in small groups.
Community Standards/Conduct Policies Related to COVID-19: Students will be required to provide documentation of required immunizations prior to arriving on campus. Student conduct policies will include expectations to comply with COVID-19 safety guidelines as outlined by the CDC, state, and county public health department.
Housing
We are working on plans to reduce the number of students in residential housing to prevent crowding. Measures include:
No temporary triple housing.
Providing some options for rooms with private bathrooms
Safety strategies for the use of common bathrooms
Increased cleaning and sanitation
Developing policies for having guests and changing rooms
Reconfiguring common areas to enhance spacing
Obtaining rooms for sick students to self-isolate safely until they are well
Campus Dining
Our campus food service provider, Bon Appetit, is following industry best practices to increase safety. Bon Appetit will be the only vendor allowed to cater at the college. Meal times may be extended over a longer period of time in order to eliminate crowding.
Athletics and Recreation: We plan for the return of fall NCAA-authorized sports to campus. The COVID-19 Athletics Action Team is developing plans to enhance a safe return to athletic activity. We will be following state, NCAA, and conference guidelines, including for travel and competition, and continue to develop plans for access to practice and competition.
Fitness Center: Following state and county health guidance, we are planning a phased opening of the Adam F. Press Fitness Center with capacity limits for campus community members beginning in early August. More information will be posted here: https://www.coloradocollege.edu/other/fitnesscenter/index.html
Club and Intramural: Club sports participation details are in progress, however it is likely the experience could be significantly altered. Intramural participation begins Block 2 and plans also continue to develop to provide organized sport and fitness opportunities to our students. For more information on recreation plans, contact Chris Starr, cstarr@coloradocollege.edu.
Our working group on Campus Life and Co-Curriculars is determining which activities will continue in-person and which will be virtual. It's also developing supports for an expected increased demand for mental health services. This team is providing a new plan and schedule for campus activities, and identifying in-person and virtual events. This plan will include specific activities and programming for block breaks, assuming travel restrictions for students.
---
Employees and the workplace
In order to allow for a safe return to work, the majority of employees have been working from home. Beginning in mid-July, some areas supporting students and faculty will return to campus, adhering to the state's 50% density limit: No more than 50% of our workforce may be on campus at any time and no more than 50% in any one building at a time.
Any employee who has traveled to a hotspot should stay at home for at least three days, and should take their temperature daily. Employees may return to work if they have no elevated temperature.
Masks are to be worn by employees anytime they are near others who don't live in their household.
The Colorado Springs Fine Arts Center at Colorado College Museum is working on a reopening plan, following state guidelines.
We want to protect employees who are at increased risk based on the CDC's guidelines. Employees should inform both their supervisor and HR if they are in this category.
Meetings: We encourage employees to continue meeting virtually even when on campus. Small groups may meet outdoors if distanced.
Outside speakers/visitors to meetings in enclosed spaces are discouraged.
Only catering from our food-services provider, Bon Appetit, is allowed. Bon Appetit is following industry best practices.
Vendors: At this time the campus remains closed to routine delivery of products from vendors.
The Working Group on Administrative Policies is establishing policies for staff, faculty, and student on-campus accommodations; determining employment and benefits policies for staff and faculty who cannot be on-campus; and creating policies for campus vendors, contractors, and visitors to include reporting requirements and on-campus check-ins. This team is setting campus event policies, including those for any external organizations, and setting travel policies for all members of the campus community, including mandatory reporting of personal travel.
Academic calendar for 2020-21:
Fall Semester
*New Student Orientation
August 14-22.
Block 1
Aug. 24-Sept. 16
Block Break
Sept. 16-Sept. 20
Block 2
Sept. 21-Oct. 14
Block Break
Oct. 14- Oct.18
Block 3
Oct. 19-Nov. 11
Block Break
Nov. 11- Nov. 15
Block 4
Nov. 16- Dec. 16
Fall Break
Nov. 20-29
Winter Break
Dec. 16-Jan. 3
J Block (and Half Block** options)
Jan. 4-Jan. 22
Block Break
Jan. 22-26
Spring Semester
Winter Start Orientation
Jan. 23-Jan. 26
Block 5
Jan. 27-Feb. 19
Block Break
Feb. 19-23
Block 6
Feb. 24-March 19
Spring Break
March 19-28
Block 7
March 29-April 21
Block Break
April 21-25
Block 8
April 26-May 19
***Commencement Class of 2021
Sunday, May 23
Commencement Class of 2020
Sunday, May 30 (Memorial Day Weekend)
Summer Session
Block A (and Half Block)**
June 2-June 25
Block B
June 28-July 21
****Block C
July 26-August 13 (three weeks - 15-day Block)
*Move-in and NSO will be Sept. 17-20 (Block Break 1) if Block 1 is distance learning only and Oct. 15-18 (Block Break 2) if both Blocks 1 and 2 are distance learning only.
**Half Block classes will also be offered during J Block and Block A.
***Students will need only 28 of 32 credits to participate in graduation in May (usually 30 of the 32) if they are enrolled in Blocks A and B.
****Block C will be offered if the first four blocks of the Fall Semester (Blocks 1-4) are distance learning only.