Senga Nengudi Fittz
Senga Nengudi Fittz
2016 Honorary Degree Recipient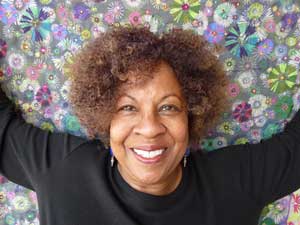 For more than 40 years, nationally recognized, Colorado Springs-based artist Senga Nengudi Fittz has incorporated visual arts with performance and dance in her work.
Her innovative work has been described as abstract using natural elements. Nengudi Fittz's pioneering work began in the 1970s in Los Angeles, California. She is also committed to arts education and has taught at organizations nationwide including the University of Colorado, Colorado Springs.
Nengudi Fittz's solo and group exhibitions and performances have appeared nationally and internationally. Locally, her work has been displayed at Colorado College, GOCA 1420, and the Colorado Springs Fine Arts Center. Her sculptures are in the permanent collection of the Tate Contemporary Museum; the Centre George Pompidou; the Museum of Modern Art; the Brooklyn Museum; the Studio Museum in Harlem; the Museum of Contemporary Art, Los Angeles; the Whitney Museum; the Carnegie Museum of Art, and many others.
In 2014, she held her first solo exhibition, "Senga Nengudi: Alt" at the White Cube Gallery in London. That same year, two shows ran concurrently in Denver, Colorado, a rare accomplishment for any artist. The exhibit, "Senga Nengudi: The Material Body" was featured at the Museum of Contemporary Art, the first museum to feature her body of work spanning four decades. Her show, "Senga Nengudi: The Performing Body" ran concurrently at RedLine. She has garnered numerous awards and honors for her work. In 2013, she received the Arts and Culture Award from the Arts, Business, and Education Consortium and the Pikes Peak Art Council. In 2010, she received the Women's Caucus for Art Lifetime Achievement Award. In 2005, she received the Anonymous Was A Woman Award and the Louis Comfort Tiffany Foundation Award. The Board of Regents, University of Colorado, presented her their Distinguished Service Award in 1994.
A native of Chicago, Nengudi Fittz grew up in California and earned her master's degree in sculpture from California State University in 1971, and in 1966, she studied Japanese Culture at Waseda University in Tokyo for a year. She received her bachelor's degree in art and dance from California State University in 1966.
She has served on the board of directors for the Kennedy Center Imagination Celebration, the Tutmose Academy and the Performing Arts Youth for Youth Organization. She is a founding member of the Sankofa African Dance & Cultural Organization, and the creator and first director of ARTSpace Community Gallery at the Hillside Community Center.
Nengudi Fittz lives in Colorado Springs with her husband Ellioutt Fittz.